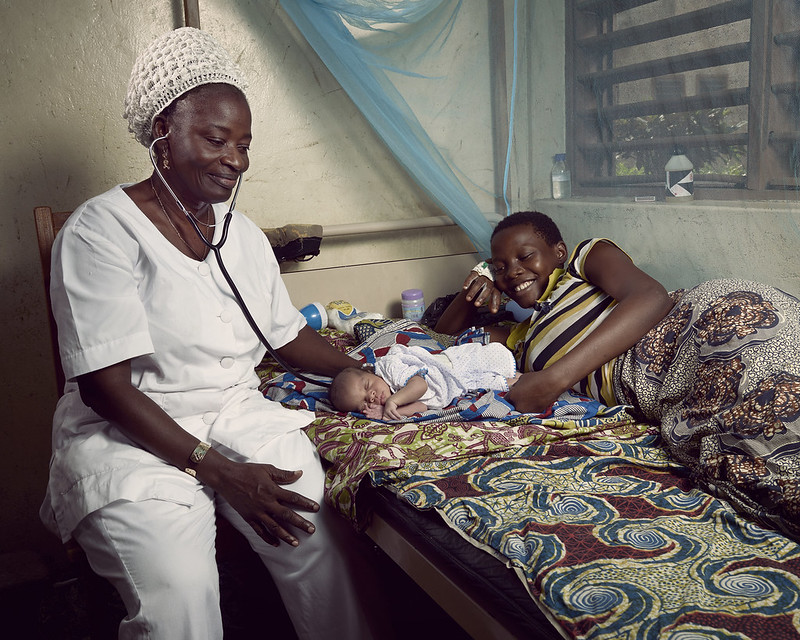 In September 2000, the United Nations released a list of eight Millennium Development Goals that aimed to enhance gender equality, literacy, education and health in developing nations. Goals four through six specifically target the need to improve child mortality rates, maternal health and disease prevention in underdeveloped regions. Achieving these goals requires information distribution among populations, thus equipping individuals with the resources necessary to practice safe self-care. Two healthcare apps called MedAfrica and the Mobile Alliance for Maternal Action (MAMA) are providing these resources to the most remote parts of Africa. The apps give life-saving health advice via voice calls, SMS and the web, and are working to eradicate healthcare inadequacies in Africa.
Poverty and Health Linked
The experiences of many developing countries showcase correlations between low poverty rates and the success of healthcare systems. Low-income regions face high child mortality, low economic and educational development and increased disease transmission. Overcrowded living conditions common in low-income areas aid in the rapid spread of disease. In many African nations, the lack of available medical practitioners increases infection rates, places a financial strain on families and reduces the availability of educational health resources. Kenya, for example, has more than 40 million residents but only 7,000 medical professionals, which presents a clear disparity in access to care compared to higher-income countries.
Pregnant mothers often suffer the most from poverty. In low-income countries, more than 500,000 women die every year either during or after pregnancy. According to Dr. Charles P. Larson, improper prenatal care not only affects mothers, but it also threatens children's growth and overall health. Children may face impaired cognition, causing intense behavioral problems and hindering school performance. The primary reason for these problems is a severe lack of access to healthcare information, which highlights a dire need to deliver accessible healthcare to underserved populations. Healthcare apps are helping many regions of Africa do just that.
MedAfrica
Shimba Technology launched MedAfrica in 2011 with the hope of providing health information and connectivity resources to people in Kenya and Uganda. The company's primary goal was to increase interaction between practitioners and their patients through different communication systems available on the app. However, like other healthcare apps, MedAfrica does far more than create conversation. While in-person consultations often monopolize a doctor's time, MedAfrica relieves pressure on overworked practitioners. The app's audio calls, SMS and online instructions give individuals the tools they need to deal with general problems while allowing immediate medical issues to have a doctor's time and attention.
MedAfrica users simply input their symptoms to receive diagnoses, basic information about medicine and a suggested treatment routine. If a patient needs to visit a doctor, the app provides a detailed registry, so the patient can choose who will monitor their care. The registry also defends against fraudulent providers, as every physician listed must undergo vetting and receive approval.
The app stands out from other healthcare apps for its success. MedAfrica won €15,000 in the 2012 Ericsson Application Awards, an annual competition that recognizes international app excellence. The app was also named one of the Top 10 Favorite Startups at Silicon Valley's DEMO Conference due to its "hit factor" and "Technology for Good" assessment. In the future, Shimba Technology plans to expand MedAfrica's reach in Africa before venturing into Eastern Europe and Southeast Asia.
MAMA
Limited access to medical counsel is particularly alarming for impoverished pregnant women who are at a greater risk for preterm birth, restricted intrauterine growth and maternal death. Former Secretary of State Hillary Clinton launched the Mobile Alliance for Maternal Action (MAMA) in 2011 to address this issue. MAMA now provides innovative solutions for health information deprivation in Bangladesh, India, Nigeria and South Africa. Since its inception, the app has collected $4.5 million in public and private investments.
Because communication channels differ in each country, MAMA alters its program based on phone and internet access, literacy rates and channel cost. For example, when literacy is low, MAMA uses audio messages instead of SMS. If internet access is widely available, the app relies on web connection. Local dialects in the app also help customize user experiences and increase usage rates. In these ways and more, MAMA is constantly changing to accommodate its users' locations and situations.
Additional functions of the app include peer support, knowledge sharing, and the option to turn on notifications. Some of the most significant MAMA app features are birth plan distributions, childcare and breastfeeding tips and the option for mothers to record their due dates in order to learn more about their pregnancy stages.
In just eight years, MAMA has gained almost 3.5 million subscribers in four countries alone, making it a success among a plethora of healthcare apps. MAMA recently invested $10 million into building its programs in Bangladesh, India and South Africa, three countries where the app has been largely successful.
One Step Closer
As MedAfrica and MAMA continue their work, the countries in which they operate will become one step closer to achieving at least three of the United Nations' Millennium Development Goals. Increased access to proper healthcare and self-care information reduces poverty by increasing self-sufficiency and allowing families to focus on education, entrepreneurship and other means of national development. Healthcare apps are one proven way to accomplish this goal.
– Natalie Clark
Photo: Flickr
https://borgenproject.org/wp-content/uploads/logo.jpg
0
0
Kim Thelwell
https://borgenproject.org/wp-content/uploads/logo.jpg
Kim Thelwell
2020-09-27 07:30:29
2020-09-25 14:31:26
Healthcare Apps Help Remote Populations in Africa