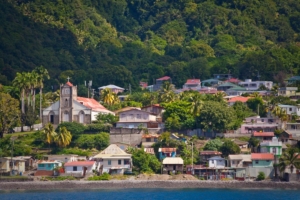 Dominica, a 290-square-mile piece of paradise, is picturesque and surprisingly untouched. This small island has a population of 73,286 and has supported itself on its own agriculture rather than tourism. Its life expectancy is high and a record number of residents live well into their 100s. Here are 10 facts about life expectancy in Dominica.
1o Facts About Life Expectancy in Dominica
Dominica boasts the sixth-highest life expectancy in the Americas, which stood at 77.4 years for the total population in 2018. The average male lives 74.4 years and the average female lives for 80.5 years.
Historically, Dominica has had low mortality rates although those numbers have been fluctuating over the years. In 2000, mortality rates were 7.3 per 1,000 in the population. This number rose in 2007 to 8.44 and came back down to 7.9 in 2018.
From 1990 to 2017, the mortality rate of children under age 5 has increased from 18.8 to 30.3. In addition, the mortality rate rose from 15.7 to 26.4 for children under age 1. These numbers seem high, but when one considers the island's small population, the combined number of deaths is surprisingly low. For instance, the three leading causes of death for children and infants under 5-years-old from 2006 and 2010 were respiratory disorders specific to the perinatal period, congenital malformations and bacterial sepsis of the newborn. This resulted in only 99 deaths amongst this age group in those four years.
Since 2000, trained health personnel has seen all pregnant women. No cases of vaccine-preventable diseases in children occurred between 2006 and 2010. Immunization coverage in 2009 remained at 100 percent for MMR, 99.4 percent for polio and 98.6 percent for BCG. In 2009, 96.8 percent of women visited public health facilities. In addition, around 3.4 percent visited private medical practitioners for prenatal care. Around 99 percent of births took place in a hospital. Moreover, mothers exclusively breastfed around 26 percent of babies for six months.
From 2007 to 2009, there were 296 adult deaths between ages 20 and 59 and there were 40 deaths of young adults ages 15-24 from 2005 to 2009. Fifty percent of these deaths were from external causes like car accidents and homicides.
Thirteen percent of Dominica's total population was reportedly elderly in 2010 and the number is steadily increasing. The Yes We Care program launched in 2009. It provides relief to the members of the elderly population that need it the most. This program offers income-tax-free pensions, free hospitalization and a minimum pension for all non-pensionable persons retiring from the public service.
People have cited Dominica's pristine, unspoiled environment as the main reason for longevity on the island. Dominica's waters are unpolluted and its vegetation is pesticide-free. A healthy diet also contributes to a high life expectancy. Traditionally, Dominicans' diets include natural products from the forest, herbs and herbal medicines.
Dominica holds the record for the highest number of centenarians in the world. Some call this island the home of the fountain of youth. At one point there were four centenarians on the same street. Surprisingly, there were 27 centenarians on the island. That is nearly four people per 10,000, 50 percent higher than Japan, and three times as many as in Britain. Moreover, the U.S. Dominica was the home of the oldest documented person, Ma Pampo who died in 2003 at age 128.
Most of the physical fitness that some attribute to the people of Dominica is due to the mountainous nature of the island with its interior covered in thick rainforest. The islanders worked the land for years and today's elderly had to walk long distances on rough terrain in their youth because there were few roads until well into the 1960s. Walking was a necessity of everyday life, along with hard physical work.
Some fear that the story of Dominica's remarkable centenarians will come to an end in another decade. This is because of the lifestyle changes of the island's younger generation including American-style fast-food restaurants popping up and televisions in even the poorest households. One in four of the population owns a car and toiling on the land is a last choice job for the young. Benefiting from better medical care and improved public health, while living a pre-modern lifestyle is coming to an end. The new generation is becoming obese. In contrast, Dominica still has a large number of the older generation who have not known bad habits.
Dominica is the perfect example of how lifestyle affects longevity. The fact that Dominicans have found ways to sustain themselves without giving into large scale tourism has preserved their way of life and extended many of their lives. These 10 facts about life expectancy in Dominica highlight and support the importance of a healthy diet and proper exercise.
– Janice Athill
Photo: Flickr

https://borgenproject.org/wp-content/uploads/logo.jpg
0
0
Lynsey Alexander
https://borgenproject.org/wp-content/uploads/logo.jpg
Lynsey Alexander
2020-03-10 01:30:04
2020-03-05 15:09:44
10 Facts About Life Expectancy in Dominica