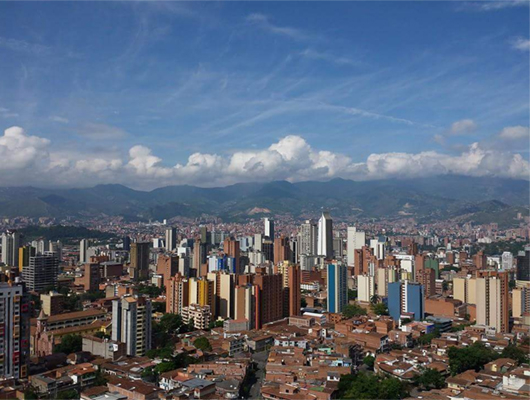 In the 1990s, Medellín, Colombia had the highest murder rate in the world. The city set out to transform itself and lift its poorest sectors out of extreme poverty through architecture, the revitalization of public spaces, education and improved transportation.
Medellín's new transportation systems are a major component of the city's transformative project. The Metro Cable, a cable car that travels above the city, connects informal settlements in the upper regions of Medellín to the metro system in the lower regions, enabling much faster access to transportation. The metro system is clean, modern, and efficient. It reduces travel time from an hour to around ten minutes. The cable car system moves tens of thousands of citizens each day.
Medellín's urban landscape sits upon steep hillsides. Residents used to have to climb hundreds and hundreds of stairs up these hills to commute to work and back. Today, the city has installed an escalator on this hill. It ascends 1,300 feet. For 12,000 residents, what was once a dreaded 30 story climb is now a quick 5 minute ride.
Another fundamental aspect of this urban transformation is the creation of public squares in the poorest areas of Medellín. Architects Horacio Valencia, head of Sustainable Urban Interventions at EPM (Empresas Públicas de Medellín), Carlos Pardo and Nicolás Hermelin, as well as the CEO of EPM (explain), Juan Esteban Calle, looked at images of the city from the air, and saw some unused, wooded areas. These, they thought, would be excellent ways to create public realms and bring a sense of community to impoverished, dangerous sections of the city.
Each public space is specifically adapted to the context and needs of the neighborhood it is situated in. One square, entitled Los Sueños, or The Dreams, "surrounds the solid concrete tank with jets of water, slides, plays of light and a designated area for events. Enclosed rooms are built into the topography to free up the largest possible area of open space, and house two multi-purpose classrooms, an internet café, public toilets and a launderette – a novelty in a city where it is not uncommon to rent a washing machine for half a day, and home-deliver it on a motorbike – describes The Architectural Review. The fresh public spaces have drawn residents out of their homes to interact with the urban fabric of their city.
Other initiatives involved in Medellín's transformation involve education and the creation of libraries throughout the city. Residents voted to direct government funds towards funding new schools and college scholarships. In 2002, under 20 percent of public school students used to test at the national average. In 2009, over 80 percent do. Futuristic looking libraries enable all classes of citizens access to computers and the infinite information that comes with them.
EPM's chief of operations, Federico Restrepo, now Medellín's city planner, said "We took a view that everything is interconnected — education, culture, libraries, safety, public spaces. Obviously it is not just that we built and renovated schools. You have to work on the quality of teaching and nutrition in conjunction with architecture. But the larger point is that the goal of government should be providing rich and poor with the same quality education, transportation and public architecture. In that way you increase the sense of ownership."
The Empresas Públicas de Medellín supplies the city with water, gas, sanitation, telecommunications and electricity. In Bogotá, the most impoverished slums lack basic needs like water and electricity, but in Medellín the EPM, mandated by the constitution, provides the most remote slums with these basics. The EPM has helped fund many of Medellín's transformative projects such as schools, public plazas, metros and parks.
– Aaron Andree
Sources: Architecture in Development, Architectural Review, The Guardian, The New York Times, Planetizen
Photo: Flickr
https://borgenproject.org/wp-content/uploads/logo.jpg
0
0
Borgen Project
https://borgenproject.org/wp-content/uploads/logo.jpg
Borgen Project
2015-07-24 18:28:13
2020-11-18 12:20:20
Medellín, Colombia's Urban Transformation