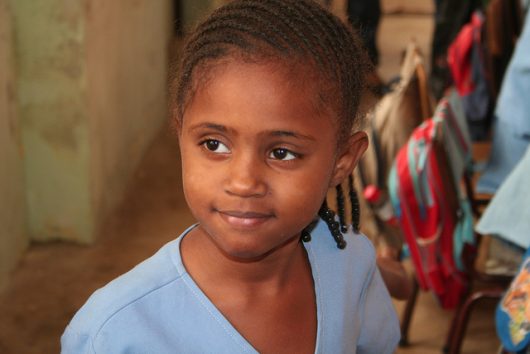 Cabo Verde is comprised of a group of 10 main islands off of Africa's northwest coast, separated into the northern Barlavento group and the Sotavento group in the south. Compared with low to middle-income countries, Cabo Verde ranks in the 61st percentile in learning, despite ranking in the 85th percentile in providing access to education. These statistics, however, do not preclude girls' education in Cabo Verde from further developing its policies to provide young girls with more opportunities than they are given now.    
Girls' Education in Cabo Verde Plagued by a Gender Gap
Although Cabo Verde benefits from a relatively high rate of youth literacy at 98 percent, there is a gender divide in longer-term education opportunities that is apparent in more specific statistics. Even though the female youth literacy rate is at 98 percent, the female adult literacy rate drops to 86 percent. In 2015, the male population aged 15 years and older had a literacy rate of 91.69 percent, while the female population had a rate of only 82.04 percent.
The policies of the island nation widen the gender gap in education. The gross enrollment ratio for primary education for males in 2015 was at 101 percent while for females it was at 94 percent; of all females that qualify for primary education, only 94 percent enroll. Beyond the low minimum education requirements, many girls have been suspended for pregnancy and cannot resume schooling until after birth. 
As only primary education is free and compulsory for students aged 7 to 13, enrollment rates in secondary schools and higher education drop due to a lack of financial and emotional resources. It is not uncommon for young girls to take on menial jobs, as these are the only jobs they are qualified for since they have not completed their education. Moreover, the shameful stigma of teen pregnancy is often a large enough barrier to keep girls from staying in school or trying to continue.
Progress in Policies Helps Girls Finish School
"Tens of thousands of pregnant girls and adolescent mothers are banned or discouraged from attending school across Africa," reported Human Rights Watch on June 16, 2018. Only recently has this policy been revised, giving hope for a change in these rates. The report "Leave No Girl Behind in Africa: Discrimination in Education Against Pregnant Students and Adolescent Mothers" has urged governments to ensure that pregnant girls have the ability to stay in school or at least be able to return to their studies after childbirth.
Twenty-six African countries have proceeded with the report's advice in protecting these girls' education. Cabo Verde has revoked all disciplinary actions against pregnant schoolgirls and replaced them with ones that support their re-entry. There are also special accommodations for teen mothers in school, such as permitting time for breastfeeding and health clinic appointments. These new policies do not guarantee that girls actually return to school, as they are not carefully overseen.
Since 2013, all countries associated with the African Union have adopted Agenda 2063, which focuses on the economic and social development of the continent. With a clear strategy, Africa aims to invest more in education, including "elimination of gender disparities at all levels of education," according to the official Agenda 2063 document. Additionally, governments are working towards ending child marriage and increasing sexual and reproductive health education, which is the largest factor inhibiting the development of girls' education in Cabo Verde.
Given Cabo Verde's high statistics regarding some aspects of its educational system, there is reason to believe that it values progress in this sector and will continue to address the current issues, particularly the gender gap in education. "More than half the population of Cabo Verde is under 22 years of age. There is no way not to prioritize the youth," Susan Delgado, head of the Cabo Verdean delegation and specialist in the Ministry of Education of Cabo Verde, told UNESCO. Recognizing that girls' education in Cabo Verde deserves reconstruction, much of the island nation's development will rely on providing equal opportunities for its youth.
– Alice Lieu
Photo: Flickr
https://borgenproject.org/wp-content/uploads/logo.jpg
0
0
Borgen Project
https://borgenproject.org/wp-content/uploads/logo.jpg
Borgen Project
2018-08-30 07:30:21
2019-12-17 13:06:55
New Policies Address Deficiencies in Girls' Education in Cabo Verde