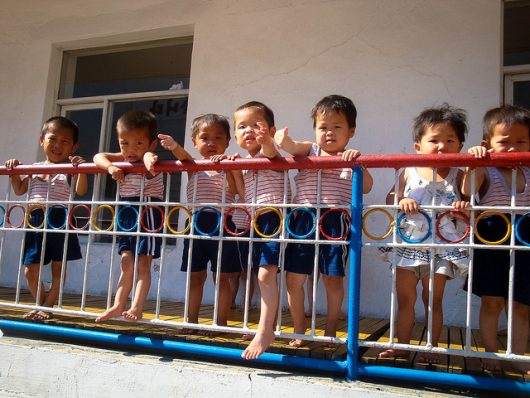 Despite constant attempts by the North Korean government to delegitimize critics of the country's severe living conditions and human rights violations, the dire status of its economy is one of the main causes of the consequent rise of North Korea poverty. Such steep levels of economic discomfort and overall hardship in everyday living stems from two main factors, namely the closeness of North Korean economy, and its strict and draconian political system.
A Closer Look
In a country where one in four children suffer from malnutrition, and episodes of defector citizens with parasites living in their stomach are reported, a closer look to the various economic sectors, industries and social relations can be very revealing. In terms of economic freedom, North Korea has been ranked 180th by the Heritage Foundation in 2018, preceded by Venezuela and followed by no one, effectively making it the least economically free country on the planet.
Moreover, there's no detectable tax system since the government owns and directs virtually every aspect of the economy. As a result, a massive share of the GDP is in fact produced by the same entity that is supposed to tax it.
Regulatory pressure is also a crucial factor that contributes to increase North Korea poverty by tightening up the economy, which grew at an alarmingly slow rate in 2013 (1.1 percent) and in 2014 (1 percent), and decreased in 2015 (-1.1 percent).
Regulations and Shortages
Since private enterprise is virtually non-existent, strict regulations against any resemblance of a private sector are in place, a move thus rendering starting and managing a business practically impossible. The combination of all these factors makes North Korea very reluctant to produce wealth and increase its living standards, especially with the presence of continuous restrictions in international trade and economic sanctions.
Shortage of food and energy need to be compensated by international parties such as China, to which North Korea has grown increasingly more dependent over the last few years. However, a report from the North Korean Economic Watch observed that rice prices, contrarily to what one might have anticipated, have been remarkably stable over the past year.
With economic sanctions in place, it is well conceivable to expect a significant rise in inflation, especially in an overall and continuously poor economy such as that of North Korea.
Such phenomena led experts to believe that the rise of black markets might be the missing link behind such oddities; this would have reinforced, though, the simple yet harsh truth that the extremely high rate of North Korea poverty is a direct result of an economy that simply isn't strong enough to provide basic and minimal items such as rice to its citizens and their standards of living.
New Rules
All of these instances occur while the government allocates a large amount of its attention and financial resources to the military and missile and nuclear development. This focus leaves primary industries such as agriculture on their own in addition to the high poverty rate and child malnutrition that North Koreans have to face every day.
Since South Korea officially withdrew its provision of farming fertilizers in 2008, the government started a program that delineates farmers are to use their own feces as fertilizers since livestock has became scarce.
Crop failure is also exacerbated by frequent inclement weather, lack of arable land and poor quality of the soil. Between these hardships and the use of human feces as fertilizer, health hazards have increased to the levels of large parasites growing in people's intestines as a result of poor health.
The hope is that a significant increase of awareness and improved political and anti-poverty policies will help alleviate the seemingly perennial hardship that North Korean citizens have come to experience as normal.
– Luca Di Fabio
Photo: Flickr
https://borgenproject.org/wp-content/uploads/logo.jpg
0
0
Borgen Project
https://borgenproject.org/wp-content/uploads/logo.jpg
Borgen Project
2018-03-26 01:30:38
2019-11-28 15:43:34
Working Through Disparate Economics of North Korea Poverty