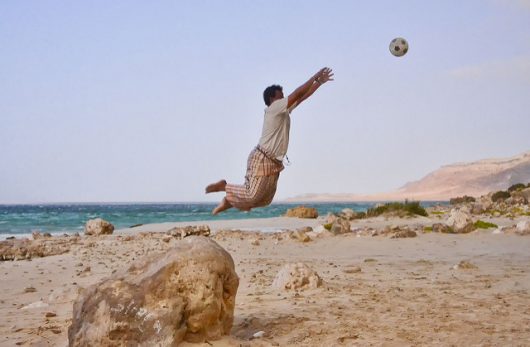 As uprisings in Yemen continue to intensify, over 22 million people (75 percent of the population) are in need of humanitarian assistance, making Yemen's population the highest number of people in need compared to the rest of the world.
In addition, Yemen's economy has declined since the GDP per capita decreased 61 percent and 1.25 million civil servants are not receiving their salaries. In recent years, basic food prices have increased by 98 percent and unemployment rates are as high as 50 percent. Since 2017, the population living below the poverty line in Yemen has increased by 30 percent, putting it at 79 percent.
Ahmed Shwaa, a 59-year-old farmer displaced by the war, said: "We were living in a peaceful area and we were eating what we planted. We do not care about politics, we are not men of war, all that matters is to live in peace. But now, we cannot provide food for our family and we cannot live in peace." For the citizens of Yemen, each day continues to be a struggle for survival.
Top 10 Facts About Living Conditions in Yemen
Since the uprisings began, over two million Yemeni civilians are victims of displacement. Among those displaced, 76 percent are women and children. Displacement is considered one of the key contributors to the country's increasing poverty rate. To date, at least one million people have returned to their home regions.
Over 60 percent of Yemen's population (18 million people) are food insecure and 8.4 million of these people are on the verge of famine. Additionally, 16 million Yemenis do not have access to safe water and basic hygiene, especially in rural areas. As a result, cases of malnutrition have increased, causing 50 percent of children to be stunted. In addition, acute malnutrition is among 2.9 million women and children.
Both Al-Qaeda in the Arabian Peninsula (AQAP) and the Islamic State in Yemen (IS-Y) have claimed responsibility for various bombings in Yemen. According to the Bureau of Investigative Journalism, the United States conducted 105 drone attacks that targeted AQAP and IS-Y that killed dozens in 2017. Moreover, the U.S. carried out two ground raids with the UAE, one of which killed 14 civilians and nine children.
Armed conflict in Yemen has caused the country to be the world's largest humanitarian crisis. Despite efforts made by humanitarian organizations to provide aid, Saudi-led coalitions have imposed restrictions on imports that hinder such efforts. The coalition has delayed fuel tankers, closed vital ports and prevented goods from entering seaports. Houthi-Saleh groups have impounded food and medical supplies, denied populations access to aid and imposed restrictions on aid workers.
According to Human Rights Watch (HRW), 85 unlawful coalition airstrikes have killed almost 1,000 civilians and destroyed homes and cities. Some of these attacks are considered to be war crimes. In 2017, Saudi Arabia made a pledge to civilian casualties resulting from coalition attacks. However, the U.N. Office of the U.N. High Commissioner for Human Rights (OHCHR) reports that coalition airstrikes are "the leading cause of civilian casualties."
As conflict progresses in Yemen, violence against women does as well. Violence against women has increased by 63 percent, according to UNFPA. Forced marriage rates, like child marriage, have also increased. At least 72 percent of girls are married before the age of 18. Additionally, Yemeni women endure great discrimination in law, practice and a lack of legal protection.
The cholera outbreak in Yemen has become the largest growing cholera outbreak. According to the World Health Organization (WHO), over 822,000 cases and 2,160 cholera-related deaths have emerged since the outbreak began in April 2017. Experts say the outbreak is manmade as a result of violence and other factors instigated by the war.
A Saudi-led bombing campaign destroyed Yemen's health system. Less than 50 percent of healthcare facilities are functioning, while 16 million people do not have access to basic health care. Since 2016, the government has failed to pay health workers regular salaries. Ghassan Abou Chaar, the Doctors Without Borders head of mission in Yemen said, "Health facilities aren't receiving critical operational costs, making it nearly impossible for them to properly function."
Doctors Without Borders (DWB) was able to open 16 cholera treatment centers within the first five months of the outbreak and has treated over 80,000 Yemeni citizens. DWB has implemented various interventions that locate rehydration points throughout the country, bring in medical professionals and distribute cholera kits to the community.
The International Committee of the Red Cross (ICRC) has been working to keep their humanitarian aid running despite restrictions made by Houthi-Saleh groups. ICRC supports local hospitals by training staff in first aid and is utilizing engineers to repair water infrastructure for Yemen. ICRC and the Yemen Red Crescent signed a partnership framework agreement with the mission of improving the capability of the Yemen Red Crescent to meet humanitarian needs.
Despite the top 10 facts about living conditions in Yemen, various humanitarian aid organizations are determined to improve such conditions. Hope remains that these conditions will improve so that Yemenis no longer have to struggle for survival.
– Diane Adame
Photo: Flickr
https://borgenproject.org/wp-content/uploads/logo.jpg
0
0
Borgen Project
https://borgenproject.org/wp-content/uploads/logo.jpg
Borgen Project
2018-09-17 01:30:26
2019-08-04 16:01:57
Top 10 Facts About Living Conditions in Yemen