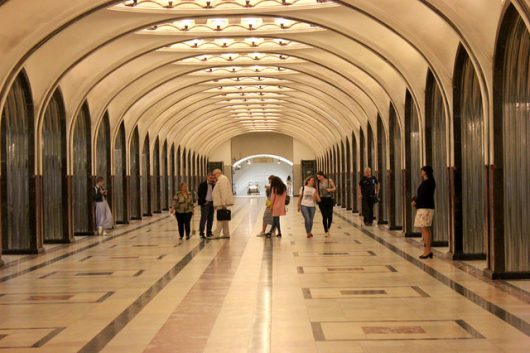 Much of what is generally known about Russia today is from generalized statements stemming from stereotypes. These stereotypes don't acknowledge the rich culture the country harbors, nor do they acknowledge that despite the economy—which, in the last two decades, has been turbulent—the standard of living in Russia has significantly increased. Below are facts about the living conditions in the Russian Federation to combat the some of these stereotypes.
Top 10 Facts About Living Conditions in the Russian Federation
Housing
As of 2018, the housing standard in the Russian Federation is lower than the standard upheld by the Organisation for Economic Co-operation and Development (OECD). For example, the average household net-adjusted disposable income per capita is about $16,657 per year, which is lower than the OECD average of $30,563 a year. Many in the Russian Federation take pride in owning property, and large properties at that. In fact, the main asset for the overwhelming majority of Russians is their residential real estate. However, real estate prices in city centers are outrageously high and can compete with prices in cities like Shanghai amongst others. Though many hold onto their properties, it is too expensive for some to maintain and thus, generates a cycle of debt that increases poverty. The OECD states that to combat this cycle, it would be in the best interest of many Russians to sell their property.
Income
Indeed, income in the Russian Federation has struggled to meet the rising prices of city life and the overall cost of living. In the years between 2011 and 2014, Russia saw an 11 percent increase in disposable income and an expansion in the consumer economy, however, the economic crises in 2015 and 2016 took its toll on the country. This has thus ranked the Russian Federation as below average in income, wealth and earnings. According to a survey named the Global Wealth Report, within the 12 months between 2015 and 2016, the average income of households decreased from $12,086 to $10,344. In fact, this fall in income continued in 2016, where wages fell nearly 95 percent. Moreover, the ruble—the currency used in the Russian Federation—has decreased in value. In 2007, the U.S. dollar was equal to about 25 rubles, yet it fell in 2016 to 64 rubles.
Poverty
Many steps have been taken to improve the poverty in the Russian Federation, however, it remains one of the largest impoverished countries with a developed economy. As of 2017, 89 percent of the overall wealth of the country is controlled by 10 percent of households—this is higher than both the U.S. and China. In 2016, 13.4 percent of the Russian population lived below subsistence levels, and though this number has improved, the poverty level in Russia is still very high. In fact, the Accounting Chamber predicts that by 2019 there will be about 20.4 million people, in Russia, living below the poverty line. The gap between the rich and poor is growing, and it is hindering the possibilities of improvements to living conditions in the Russian Federation.
Transportation
Overall transportation in the Russian Federation is struggling. Though public transport exists, again, many Russians, out of pride, opt for owning a car. In fact, in 2016 it was found that Russia had 58 cars per 100 households. In 2017 alone about 1,595,737 new cars were sold in total. Yet, the preference of cars over public transport has made traffic unbearable nearer to the cities. It is said that the traffic around Moscow is far worse than rush hour in many cities worldwide.
Health
Overall health and life expectancy have been rated as moderate by Forbes. In 2005, life expectancy for men and women was low, 58.8 and 72 years respectively. Though it has drastically improved and is close to the average of OECD, it remains that access to health care and education is not guaranteed for all.
Climate and Environment
The climate and environment have proven to be one of Russia's biggest enemies in maintaining a high rating in living conditions. There is a high level of pollution in the cities, and though not as bad as other cities, it remains a noticeable problem. Secondly, the weather which though not in the direct control of the Russian people is often too extreme for many humans to handle.
Life Satisfaction
Many in the Russian Federation share an overall low satisfaction with life. Though it is not alarmingly low, the numbers still put Russia on par with other countries like Ukraine. On average, Russians gave their satisfaction a rating of 6 (on a 0-10 scale) which was only slightly lower than the average OECD rating of 6.5. It was stated by many that amongst other things listed here, water quality and safety could improve.
Civic Engagement
Unfortunately, the Russian Federation also has a below average rating in civic engagement and social connections. Much of this can be tied back to wealth, and many of the poor feeling that they do not have the capability of changing their environment. In fact, the voter turnout in the Russian Federation was at 65 percent, which though not much lower than OECD's 69 percent, is still quite low.
Education
Though access to education is not guaranteed for all, the Russian Federation actually ranks above the average in education. Over 95 percent of 25-64 aged adults aged have completed upper secondary education. This is significantly higher than the OECD average of 74 percent. Moreover, test scores are much almost 10 points higher than the OECD's average. There is not a divide between genders in education either, as 94 percent of men successfully complete high school, while 96 percent of women do the same.
Employment
Though there has been a turbulent past with unemployment in the Russian Federation, the country has, in the last 8 years, seen a huge effort towards ending unemployment. Currently, the unemployment rate is 4.1 percent as of July 2018; this is only slightly larger than the U.S. at 3.8 percent.  It was found that about 75 percent of men have paid work, while 65 percent of women have the same. Overall, about 70 percent of people from ages 15-64 have a paid job, which again, is above the OECD employment average of 67 percent.
Indeed, there is much work that can be done by the Russian Federation to improve the standard of living. These top 10 facts about living conditions in the Russian Federation demonstrate that the country is taking steps towards bettering their country, but there remains a lot to improve.
– Isabella Agostini
Photo: Flickr
https://borgenproject.org/wp-content/uploads/logo.jpg
0
0
Borgen Project
https://borgenproject.org/wp-content/uploads/logo.jpg
Borgen Project
2018-09-20 23:38:34
2019-11-26 15:23:02
Living Conditions in the Russian Federation: Facts