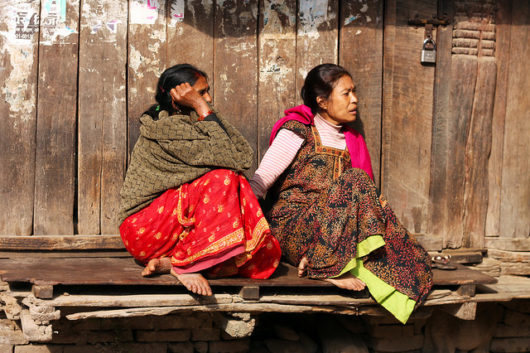 The world's tallest mountains and most remote areas exist in Nepal, a landlocked country caught between India and China. As a new democracy, Nepal is still trying to become a stable nation after years of war and environmental catastrophe. Here are the top 10 facts about living conditions in Nepal:
Top 10 Facts About Living Conditions in Nepal
Nepal is a country of almost 30 million people, more than 3 million of whom live below the poverty line. Almost 80 percent of Nepal's population live in rural areas, and 75 percent of Nepal's population works in the agrarian sector.
Due to lack of funding throughout the country, internet access, adequate roads, electricity, safe infrastructure, ATMs and adequate healthcare are all hard to find in Nepal. Nepal does have great hydropower potential, and new partnerships with China should help to create jobs and stabilize Nepal's energy access.
Nepal is currently trying to rebuild after two earthquakes within a month of each other decimated the infrastructure and killed 9,000 people in 2015. Problems were compounded in 2017 by extreme flooding during the monsoon season
Shortly after the catastrophic earthquakes of 2015, Nepal suffered economically due to an Indian-enforced blockade at the border between the two countries. Nepal is heavily dependent on India as its biggest trade partner. The blockades lasted more than four months, dropping more than 30 percent of Nepal's imports and exports during the chaotic months following the earthquakes.
Nepal faced a civil war that lasted from the mid-1990s through the mid-2000s, causing great administrative turmoil and resulting in crimes against humanity. Almost 17,000 people died in the bloody conflict. The civil war came about as communists railed against the Nepalese Monarchy, which transitioned multiple times in and out of absolutism and constitutionalism until it was abolished in 2007. Hopefully, stability is on the horizon after the ratification of a new constitution finally took place in 2015.
Local elections in 2017 were the first in twenty years. BBC reported many at the ballot boxes hoping that these elections were the beginning of a new era in Nepal's government and would lead to a crackdown on corruption.
There is still a lot of progress to be made for women's rights in Nepal. Almost 40 percent of Nepalese girls are married before they are 18 years old. Fewer than 50 percent of Nepalese women are literate while more than 70 percent of Nepalese men are literate. The Nepalese government is taking steps to end gender inequality, though. In March 2016, Nepal launched a Girl Summit aimed at ending child marriage, and the new Nepalese government has a reserved number of seats specifically for women.
Although the Nepalese government has been plagued by turnover, administrative turmoil and mired in corruption, more than 300 different nongovernmental organizations are on the ground making efforts to rebuild Nepalese homes and infrastructure and improve Nepalese lives. The U.S. has also ended the Temporary Protected Status originally issued to the Nepalese who were in The U.S. during the 2015 earthquakes, meaning The U.S. government believes the country has recovered enough to be safe and stable enough for Nepalese to return.
Many young Nepalese men emigrate to The Persian Gulf to find work because the agrarian economy cannot support the Nepalese population. Men who do emigrate for work are investing in their children's education. They're being exposed to new ways of life and bringing 25 percent of Nepal's gross domestic product from abroad officially; although, unofficially, it could be as much as 40 percent. This influx of foreign money is being used to build solid homes and purchase goods that help rural Nepalese have a better understanding of the world at large, such as radios and TVs. Nepal has passed legislation stating foreign countries that wish to employ Nepalese workers must pay for their visas and travel costs in order to keep Nepalese workers from falling into crippling debt at the hands of third-party recruiting and employment agencies. It is a step in the right direction, but more needs to be done to ensure the safety of Nepalese citizens when working abroad.
The tourism industry is starting to bounce back after movies like Everest (2015), Free Solo (2018) and Dawn Wall (2018) have all shone a romantic light on the world of climbing and mountaineering. Historic Nepalese treks like the Annapurna circuit are becoming more and more accessible to the outside world. More than 5,000 tourists trekked the Annapurna circuit in 2015, and the numbers have only risen since.
As Nepal moves forward, the government will need to address the issues listed in the top 10 facts about living conditions in Nepal as well as many other problems that are born out of extreme poverty. With a new government at the helm and with international aid, Nepal has the chance to continue to make progress and become a thriving economy.
– Laura Landrum
Photo: Flickr
https://borgenproject.org/wp-content/uploads/logo.jpg
0
0
Kim Thelwell
https://borgenproject.org/wp-content/uploads/logo.jpg
Kim Thelwell
2018-11-03 01:30:45
2019-08-14 11:13:25
Top 10 Facts About Living Conditions in Nepal