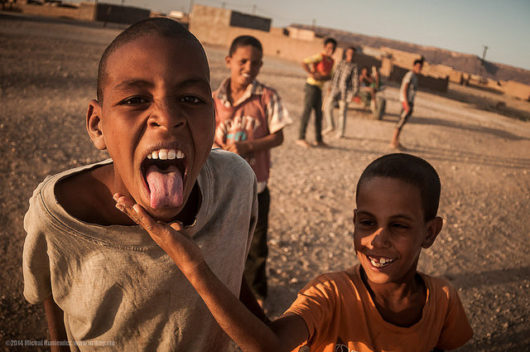 With potential in its iron, copper and fishing industries, the West African nation of Mauritania could see economic improvements in the coming years. However, the country remains crippled by a multidimensional crisis caused by food insecurity, a high rate of malnutrition, limited access to water, institutional barriers to educational opportunities and an existing system of slavery. Here are 10 facts about living conditions in Mauritania.
Top 10 Facts About Living Conditions in Mauritania
Malnutrition. In Mauritania, climate-related effects on crops, such as droughts and inconsistent rains, have caused food shortages. Over 130,000 children, including nearly 32,000 children with severe acute malnutrition (SAM), and 31,000 pregnant and lactating women, will require nutritional care and treatment in 2019.
Energy. In Mauritania, only 29 percent of the nation has access to electricity. However, the Mauritanian government has made it a priority to expand its electricity supply in a bid to reduce poverty. Efforts to increase access include encouraging investment into the renewable energy sector in order to stimulate the economy.
Education. Children aged 6 to 14 are required to attend school in Mauritania but systematic barriers have prevented many students from getting the education they deserve. Mauritania's civil registration process requires families to produce official paperwork for children to be admitted to primary schools, but such policies disproportionately affect low-income families who lack the necessary documents and have found replacing them to be an arduous process. Only 40 percent of children from the poorest households are registered compared with 85 percent of children from the wealthiest households. In addition, such social and ethnic barriers are known to discriminate against Mauritania's Haratine (Hassaniya-speaking former slaves or descendants of slaves) or Afro-Mauritanian populations.
Gender Equality. Mauritanian women and girls face many cultural and social battles. Grooming young women to take on the role of a wife and then forcing them to marry before the age of 18 is a common and accepted practice. In addition, freedom of choice remains elusive for girls in Mauritania. Female Genital Mutilation (FGM) is also a commonplace practice with a prevalence rate of 66 percent. However, data from UNICEF shows a change in attitude around FGM leading to tougher legislation.
Right to Water. The only available water table is in Trarza (southwestern Mauritania). Leaky pipes in the impoverished areas of the city have contributed to an inadequate distribution system resulting in only 68 percent of the population having access to water. Still, this population is restricted to less than 50 liters per day per person. In rural areas, drinking water shortages are more recurrent. Efforts to increase access to drinking water remain strong in the West African country. With support from technical and financial partners and implementation of the necessary projects and programs, humanitarian groups believe the West African country can meet its goal of supplying water access to 100 percent of the population by the year 2020 with a 2030 deadline.
Slavery. Mauritania was the last country to make slavery illegal in 1981, just 38 years ago. Still, thousands of people — mostly from the minority Haratine or Afro-Mauritanian groups — find themselves living as bonded laborers, domestic servants or child brides. It is estimated that up to 20 percent of the population is enslaved, forced to work on farms or in homes with no possibility of freedom, education or pay. Recently, two slave owners were jailed receiving the toughest sentence to date for slave owners at 10 and 20 years. Despite these historic sentences and the fact that Mauritania criminalized slavery in 2015, the Sahel country has jailed more anti-slavery activist than slave owners. The African Union has urged Mauritania to issue harsher sentences for this crime.
Access to Health Care. Currently, the country is suffering from a poor health care system resulting in very high maternal mortality and infant mortality rates. In addition, only a small percentage of the population is covered by the national insurance scheme. Divisions in government and political agenda have made it coordination efforts challenging for the donors and NGOs on the ground.
Infrastructure. Although Mauritania is 90 percent desert the economy relies heavily on agriculture as a main sector of the economy. However, the major agricultural industries: meat, milk and fish are being held back by a lack of processing facilities. It is hoped that increased investment in areas such as hydrocarbon development will help bolster agriculture in the country.
WASH practices. In the capital city of Nouakchott, signs of improvement are palpable. For example, water basins have been installed and classroom instruction on proper handwashing and better hygiene practices have been implemented, benefiting more than 6,500 people. Improved conditions for students also means fewer absences from school.
Medical Waste Disposal. Proper medical waste disposal in these regions are creating healthier environments. With the installation of six biomedical waste incinerators, health centers are reducing the health risks that are posed by exposure to infectious microorganisms found in medical waste. Moreover, proper medical waste management and disposal help protect the environment from hazardous substances allowing for soil, water and air to be used for growing food.
As these top 10 facts about living conditions in Mauritania show, the country faces an uphill battle as it continues to progress into a self-sustaining country. However, government initiatives along with support from international aid groups continue to tackle social and systematic barriers in order to change the status quo.
– Leroy Adams
Photo: Flickr
https://borgenproject.org/wp-content/uploads/logo.jpg
0
0
Kim Thelwell
https://borgenproject.org/wp-content/uploads/logo.jpg
Kim Thelwell
2019-02-28 01:30:09
2019-12-16 11:57:58
Top 10 Facts About Living Conditions in Mauritania