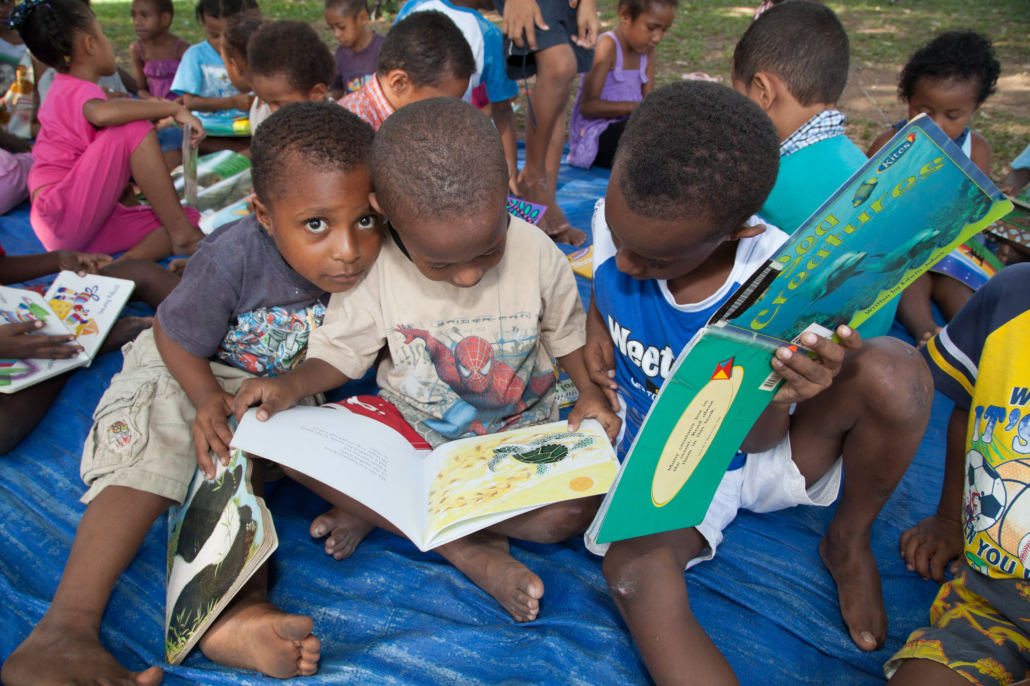 In sub-Saharan Africa, more than one in three adults cannot read and 22 percent of primary aged children are not in school. A staggering 48 million youths ranging from ages 15 to 24 are illiterate. In fact, 182 million adults are unable to read and write. Global organizations around the world mobilized literacy programs in sub-Saharan Africa to provide children opportunities to develop and thrive.
Defining the Literacy Crisis
According to the African Library Project, UNESCO defines a literate person as someone who can read and write a short, simple statement about their life. Illiteracy denies people opportunity because it impacts the individual's active citizenship, health, empowerment and the state of their poverty.
In sub-Saharan Africa, the World Literacy Foundation reports that 27 percent of people are illiterate. This is a part of the world where the cost of a children's book can be a month's salary. According to the World Literacy Foundation, millions of classrooms in Africa are located "off the grid" and have limited educational resources and no books.
The reading crisis has led to several strategies for improvement, such as:
 promoting a culture of reading
 encouraging parents to read to their children
 making books accessible in schools and improving initial teacher education through literacy programs in sub-Saharan Africa.
Why South Africa?
South Africa was ranked last out of 50 countries in the 2016 Progress in International Reading Literacy (PIRLS) study. The study tested reading comprehension of learners in their fourth year of primary schooling. The organization found that 78 percent of South African pupils at this level could not read for meaning. Consequently, this suggests the need for literacy programs in sub-Saharan Africa.
According to a reading project called The Book Bus, Malawi is ranked as one of the poorest countries in the world. The country faces challenges in education because the student-to-teacher ratio is 120:1. The organization noted how the numbers impacted the vital role teachers play in the classroom. This is especially crucial as books are rare and very expensive in this part of the world, often costing more than one month's wages.
As a response, The Book Bus reading project has partnered with two local schools in Malawi to support teachers with their literacy programs in sub-Saharan Africa. According to the organization, the Book Bus Reading Team visits the schools weekly and listens to the children read.
Literacy Programs in sub-Saharan Africa
Room to Read began working in South Africa in 2006 as a literacy program. The program was directed toward:
teacher training in literacy,
school libraries
reading materials across many official languages.
The organization has published materials in all eleven of South Africa's official languages. Their literacy program aligns closely with the government's educational policies and priorities. Currently, Room to Read in South Africa has reached 469 schools, 1,021 teachers and 362,180 students.
Room to Read collaborates with local communities and governments in developing countries. The program focuses on literacy and gender equality in education. Additionally, the nonprofit works with local villages to build schools and libraries filled with children's books across South Africa. Room to Read also develops programs to support girls and encourage them to pursue an education.
Publisher Tom Maschler founded the registered charity, The Book Bus, in 2008. Mashchler began work with schools in Zambia, delivering books and working with teachers and volunteers to get more children reading. The program administered reading tests to each child and recorded the scores. Comparatively, the same test was conducted six months later and the results reflected an increase in literacy by an average of 35 percent.
Unique Methods to Literacy Programs
The World Literacy Foundation, under the initiative called Sun Books, designed and developed an app. That app is pre-loaded in a solar-powered device, containing digital content and e-books in English and the local language. The foundation provided the device to classrooms for early primary-level children, along with training for teachers about the device.
According to the foundation, the use of the device is effective regardless of internet or electricity. In territories like Uganda, where only 27 percent of the population has access to electricity and has limited internet access, this is particularly vital.
The Book Bus promotes the image that choosing the right books is crucial to ensure the books are relevant and engaging to each child. Accordingly, the program aids the children as a literacy program in sub-Saharan Africa. It also provides the children access to new worlds and helps expand their knowledge.
How Literacy Promotes Change
Each year, Book Aid creates and supports thousands of school libraries with the belief that books have the power the change lives. This belief is the foundation of their vision, mission and the values which guide the organization.
Additionally, Book Aid provides aid from primary school to university, aiding students and pupils with the books to help them succeed and reach their full potential.
Through collaboration with local governments, Room to Read educates communities on the importance of literacy. Furthermore, the program shows how to play a role in enabling students to succeed through literacy programs in sub-Saharan Africa.
Above all, organizations such as these make it possible to help children combat poverty through literacy programs in sub-Saharan Africa. Donations to help expand Room to Read, Book Aid, The Book Bus and several other global literacy programs can be found on their websites. The sites also provide information on more ways to take action.
– AnaCarolina Chavez
Photo: Flickr
https://borgenproject.org/wp-content/uploads/logo.jpg
0
0
Kim Thelwell
https://borgenproject.org/wp-content/uploads/logo.jpg
Kim Thelwell
2019-06-21 04:24:09
2019-06-21 04:24:35
The Impact of Literacy Programs in sub-Saharan Africa