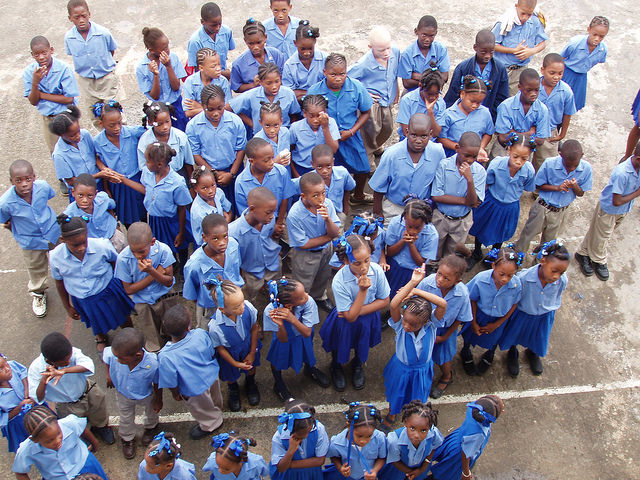 In the Eastern Caribbean, the Commonwealth of Dominica is a small island country along the Lesser Antilles. Originally inhabited by the Kalinga, and then colonized by Europeans, the country of almost 70 thousand gained national independence in 1978. As a middle-income developing country, Dominica has taken great strides toward promoting girls' education and the prosperity of all its citizens. Fundamental to the government's stance that education is essential to securing political, social and economic prosperity, the conviction prevails that all citizens regardless of ethnicity, gender or class have a right to an education.
Investing in girls' education in Dominica is one of the best investments the country can make. Educated girls are healthier, participate more in the formal labor market with higher wages, have fewer children and provide a better life for future generations of the community as a whole. Traditionally, girls faced multiple disadvantages including extreme poverty, underserved locality and belonging to a minority ethnic group, which made completing their education even more of a challenge. Since the opening of new roadways and full access to a free public education for all its citizens, replacing a historically exclusive religious system of education, girls' education in Dominica has flourished.
Educational Opportunities
Girls' education in Dominica is a success story among the broader educational initiatives enacted in the country. Girls face no barrier to educational opportunities in matters of gender discrimination. All children between the ages of five and sixteen are required to attend school according to The Education Act of 1997. The government provides both primary and secondary education in Dominica with minimal charges for students and their families. This includes free textbooks and special assistance for poor students as well as grant money available for those seeking tertiary programs.
As a result, net primary enrollment in 2011/20112 was at 100 percent of the youth population. In fact, inclusion efforts in schooling have been so successful, girls have often had higher enrollment rates than boys in the past. In primary school education, during the school years 2006/07–2008/09, statistics show approximately 52 percent of students enrolled in school were girls. Additionally, girls show they often do better in primary school, repeating levels half as frequently as boys, and are least likely to drop out of school. This trend continued in secondary school where, in 2007, there was a female-to-male ratio of 1.06:1 in attendance.
Gender Gap in Education
According to the Caribbean Examinations Council (CXC), females outperform males in secondary schooling. They often outperform in English and Social Studies as well as traditionally male-dominated subjects like Mathematics and Science. While gender segregation as a result of cultural convictions still influences the educational path of females, girls today are more likely than ever to enter traditionally male-dominated fields like agriculture and technology in Dominica.
However, pregnancy remains a contentious issue. While dropouts in secondary school due to pregnancy have declined to the lowest rate in Dominica's history, social stigma has historically strained the Education Act of 1997, which allows girls to return to school after pregnancies. The fate of girls returning from pregnancies often remains in the hands of the religious and personal beliefs of school administrations, sometimes encouraging unnecessary dropouts, while males involved in these pregnancies continue their education regardless. Although females continue to prevail in university settings, the higher they advance in their education, the smaller the ratio of female to male enrollment becomes. This is likely due to childbearing/family responsibilities and inadequate child care facilities to assist in their higher educational pursuits.
In the 1980's, there were no laws in Dominica requiring children to attend school. Since taking initiatives like The Education Act, education has been a successful path for girls to advance themselves socially and economically. With an economy predominantly in agriculture and marked by men, by investing in girls' education, Dominica not only combats social stigmas limiting their lifelong opportunities but also opens up new doors in the service sector for the country as a whole.
– Joseph Ventura
Photo: Flickr
https://borgenproject.org/wp-content/uploads/logo.jpg
0
0
Borgen Project
https://borgenproject.org/wp-content/uploads/logo.jpg
Borgen Project
2018-07-24 01:30:49
2019-12-17 13:52:11
Girls' Education in Dominica