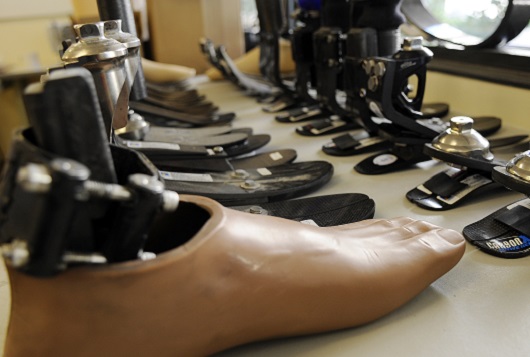 LIMBS International is a non-profit organization dedicated to creating affordable and durable prosthetics for the poor.
The demand for affordable prosthetics in the developing world is great and the supply is lacking. Prostheses that are affordable and sturdy enough are hard to come by.
Approximately 40 million people in the developing world are in need of prosthetics yet only five percent have any prosthetic options. Whether or not the five percent can afford the options is a whole other question.
LIMBS International works to reduce the number of amputees lacking prosthetics through innovative designs created with developing countries in mind. The organization is focused on finding cheaper and more efficient ways to produce practical prosthetics and has developed the first mass-produced, low-cost, multi-axis prosthetic knee.
The philosophy that LIMBS International uses is a holistic plan focused on education, community rehabilitation and technology development. The organization trains teachers to educate children on the needs of amputees in developing countries.
It also focuses on rebuilding the community through the Community Based Rehabilitation program to help address social, mental and emotional trauma that amputees have experienced. The technological development has an emphasis on creating low-cost, high-quality prosthetics.
Taking this further, the organization trains people to repair the prosthetic devices in their country of focus using material available in the region.
The prosthetic knee that LIMBS has built is manufactured in Bangladesh to be used in large-scale relief efforts by clinics and international organizations after natural disasters.
LIMBS International has launched a project called Project: Mobility to fit 250,000 amputees in the world with prostheses by 2024. The distribution of LIMBS International's LIMBox to clinics that LIMBS partners with as well as to NGOs around the world will help reach that goal on time.
The organization is currently working in nine different countries: Bangladesh, Bolivia, Cambodia, Dominican Republic, El Salvador, Guatemala, India, Kenya and Mexico.
– Iona Brannon
Sources: LIMBS International
Photo: Wikipedia
https://borgenproject.org/wp-content/uploads/logo.jpg
0
0
Borgen Project
https://borgenproject.org/wp-content/uploads/logo.jpg
Borgen Project
2015-09-23 04:57:50
2020-06-26 12:44:36
LIMBS International: Prosthetics for the Poor