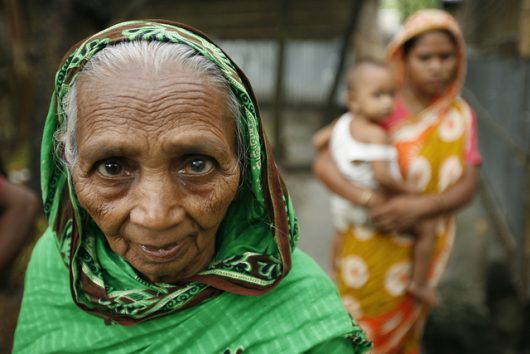 The small South Asian nation of Bangladesh has undergone economic development and extremely rapid population growth. Despite economic growth in the country, Bangladesh struggles with overwhelming poverty. In order to gain a better understanding of poverty and how it's changing in the country, below are the top 10 facts about poverty in Bangladesh.
List of Top 10 Facts About Poverty in Bangladesh
Bangladesh's economy has grown rapidly since developing the industry and service sectors of the economy. This led to increased job opportunities and standard of living. In 1980, Bangladesh had a GDP of $18.14 billion. As of 2016, the country's economy has risen to a staggering estimated $261.4 billion, ranking as the 43rd highest in the world.
Although Bangladesh's GDP has always been relatively high due to agriculture, GDP growth in the country has increased exponentially in recent years. This GDP development was catalyzed in the early 1990s, with approximately 5.76 percent average GDP growth. As of 2017, Bangladesh has continued to maintain its growth at 7.3 percent.
Industry and services form a large part of Bangladesh's economy, with specialized jobs and manufacturing continuing to increase. The service industry accounts for a majority of the GDP in Bangladesh at an estimated 56.5 percent, while industry and agriculture contributions compose 29.2 percent and 14.2 percent of the GDP respectively. Although the service industry contributes the most to Bangladesh's economy, 63.2 percent of the country's 163 million people work in industry and agriculture.
The unemployment rate in Bangladesh is low, with an estimated 4 percent unemployment rate. While economic opportunity has been improved for many Bangladeshis, this number is somewhat inaccurate due to underemployment rates. An estimated 40 percent of laborers are underemployed and work only a few hours a week with very low wages.
Poverty rates in Bangladesh have also steadily dropped as the country's economy improves. In 2010, 31.5 percent of the population was deemed to live below the line of poverty, which is defined as living on $1.90 a day. This number dropped to 24.3 percent by 2016.
In addition to decreasing poverty rates in Bangladesh, the number of those in extreme poverty, living on just $1.90 purchasing power parity a day has also dropped significantly. The rate of employed workers living in extreme poverty was at 73.5 percent in 2010 and has dropped drastically to 14.8 percent in 2016. Poverty and hunger, however, remain serious issues in Bangladesh. According to 2014-2016 estimates from Asian Development Bank, an estimated 15.1 percent of the population suffers from undernourishment.
Life expectancy in Bangladesh has risen drastically, catalyzed by rapid infrastructural and economic expansion. In 1960, the average lifetime of Bangladeshis was approximately 46 years and has more than increased to 72.5 years by 2016.
School enrollment in Bangladesh has increased as development began to increase. In 1980, only 20.5 percent of primary school students completed their full studies, while this number has increased to 66.2 percent by 2016. This increase in academic persistence is likely attributed to more opportunity for skilled laborers and decreased levels in poverty.
Despite increased primary school enrollment in Bangladesh, the adult literacy rate in the country is relatively low at 72.76 percent. In young adults aged 15-24, however, the literacy rate is much higher at 92.24 percent, and the female literacy rates are relatively higher at 93.54 percent than males at 90.91 percent.
In the capital city of Dhaka, issues of population density have arisen, as the city's population is over 18 million people (in the Greater Dhaka area), nearly an eleventh of the country's population. This population density is one of the highest in the world.
These top 10 facts about poverty in Bangladesh showcase an improved economy that offers more opportunities for its many citizens. A drastic increase in the service and skilled industries along with manufacturing and agricultural growth, has allowed the country to improve its standard of living.
Although the economy has rapidly developed, poverty for many in Bangladesh still persists. With more development and emphasis on education and diversified economy, poverty will continue to decrease in Bangladesh.
– Matthew Cline
Photo: Flickr
https://borgenproject.org/wp-content/uploads/logo.jpg
0
0
Borgen Project
https://borgenproject.org/wp-content/uploads/logo.jpg
Borgen Project
2018-09-21 20:57:02
2019-08-14 10:46:47
Top 10 Facts about Poverty in Bangladesh