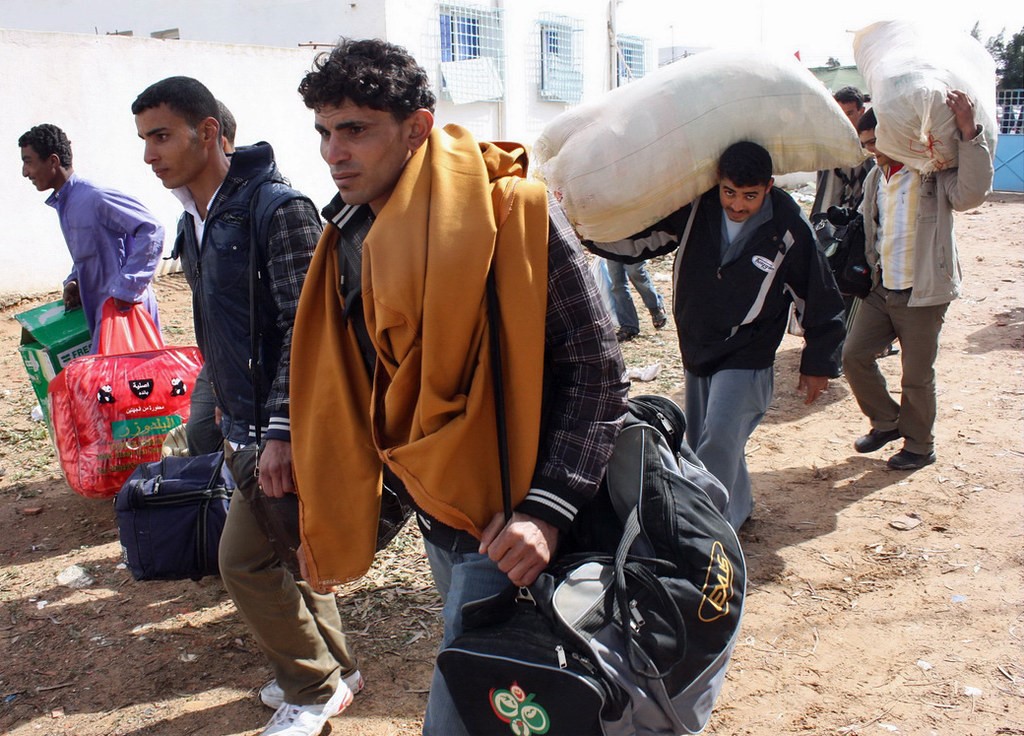 In the wake of the Arab Spring revolts in Egypt and Tunisia, protests broke out in Benghazi, Libya in February 2011. The protest was over the arrest of human rights lawyer Fethi Tarbell. When the government responded with greater and deadlier force to suppress the protests, demonstrators took up arms against the Qaddafi regime. NATO forces intervened in support of the rebels, who found and killed Qaddafi in October of that year. Libya has experienced a civil war between the Libyan National Army and the General National Congress. The ongoing conflict has had severe consequences for the Libyan people. Here are four humanitarian costs of the Libyan Civil War.
4 Humanitarian Costs of the Libyan Civil War
Displacement: The Libyan Civil War has resulted in the displacement of tons of Libyans. According to the United Nations Refugee Agency, the amount of internally displaced people (IDPs) in Libya was upwards of 217,000 people as of late 2017. By January 2020, the estimated number of IDPs rose to 343,180 Libyans. In addition to these IDPs, Libya is housing tens of thousands of refugees. Because of its proximity to Europe, Libya has remained a hub for migrants and asylum-seekers despite the civil war. Currently, Libya has 46,913 registered refugees and asylum-seekers. Refugees and migrants living in Libya face unsafe living conditions. This can lead to a litany of abuses at the hands of smugglers and members of militias and gangs including rapes, beatings and killings. This is due to weak law enforcement in Libya. Both internally displaced Libyans and refugees from other countries are often exposed to the violence of the civil war.
Poor Living Conditions: The civil war has significantly worsened living conditions for Libyans. Three percent of Libya's population, or 229,468 people, live in extreme poverty. Rural Libyans more commonly live in these conditions when measured proportionally. The incredibly high unemployment rate has worsened economic living conditions of young Libyans. At 48.7 percent, Libya now has the fourth-highest youth unemployment rate in the entire world. More young people in Libya are unemployed per capita than in the Gaza Strip or in Syria. More than 1.3 million are in need of humanitarian assistance in Libya. In addition, hundreds of thousands of them lack adequate access to health care and essential medicines, reliable food, drinking water sources, safe shelter and education.
Violation of Human Rights: An important consequence of the civil war is the transgression of basic rights, such as freedom of religion and freedom of speech and expression. Since the civil war broke out in 2011, armed militias and ISIS fighters have threatened and attacked religious minorities. This includes Sufis, Ibadis and Christians. They destroyed religious sites in Libya with impunity. Unidentified groups have committed several attacks of violence against Sufi religious sites including a historic Sufi mosque in Tripoli and Sidi Abu Gharara. The violation of freedom of speech and expression occurs when groups have intimidated, threatened and physically attacked activists, journalists, bloggers and media professionals. Journalists and members of the media have experienced arrests and detainments without charge.
Human Trafficking: Another problem that has intensified during the civil war is human trafficking. According to the CIA World Factbook, Libya is a destination and transit country for men and women from Sub-Saharan Africa and Asia subjected to forced labor and forced prostitution. Migrants who seek employment in Libya as laborers and domestic workers or who transit Libya en route to Europe are vulnerable to forced labor. Traffickers often force migrants to work on farms and construction sites. Additionally, they frequently force women to work in brothels. Militias and armed groups have been forcibly enlisting children under 18 years old since 2013. The civil war exacerbates this problem. The violence and unrest of the conflict hinder the ability of international actors and of the Libyan government to gather information on human trafficking. Libya's judicial system is dysfunctional. Thus, the government cannot investigate, prosecute or convict traffickers, complicit detention camp guards or government officials, or militias or armed groups that used child soldiers. The Libyan government cannot protect trafficking victims.
International Response
These four humanitarian costs of the Libyan Civil War have significant negative effects on local civilians. In response to the civil war and its effects, organizations like the U.N. sought to provide aid to the Libyan people. The UNHCR has instituted a Quick Impact Project (QIPs) in Libya. It is a small project that helps support those in need with health, education, shelter or water and sanitation sectors. UNHCR provides vital assistance to refugees and migrants at 12 disembarkation points in western Libya. Other activities include working to end the detention of refugees and asylum seekers, resettlement, family reunification and voluntary repatriation.
– Sarah Frazer
Photo: Flickr
https://borgenproject.org/wp-content/uploads/logo.jpg
0
0
Lynsey Alexander
https://borgenproject.org/wp-content/uploads/logo.jpg
Lynsey Alexander
2020-02-20 20:30:51
2020-03-05 10:10:19
4 Humanitarian Costs of the Libyan Civil War