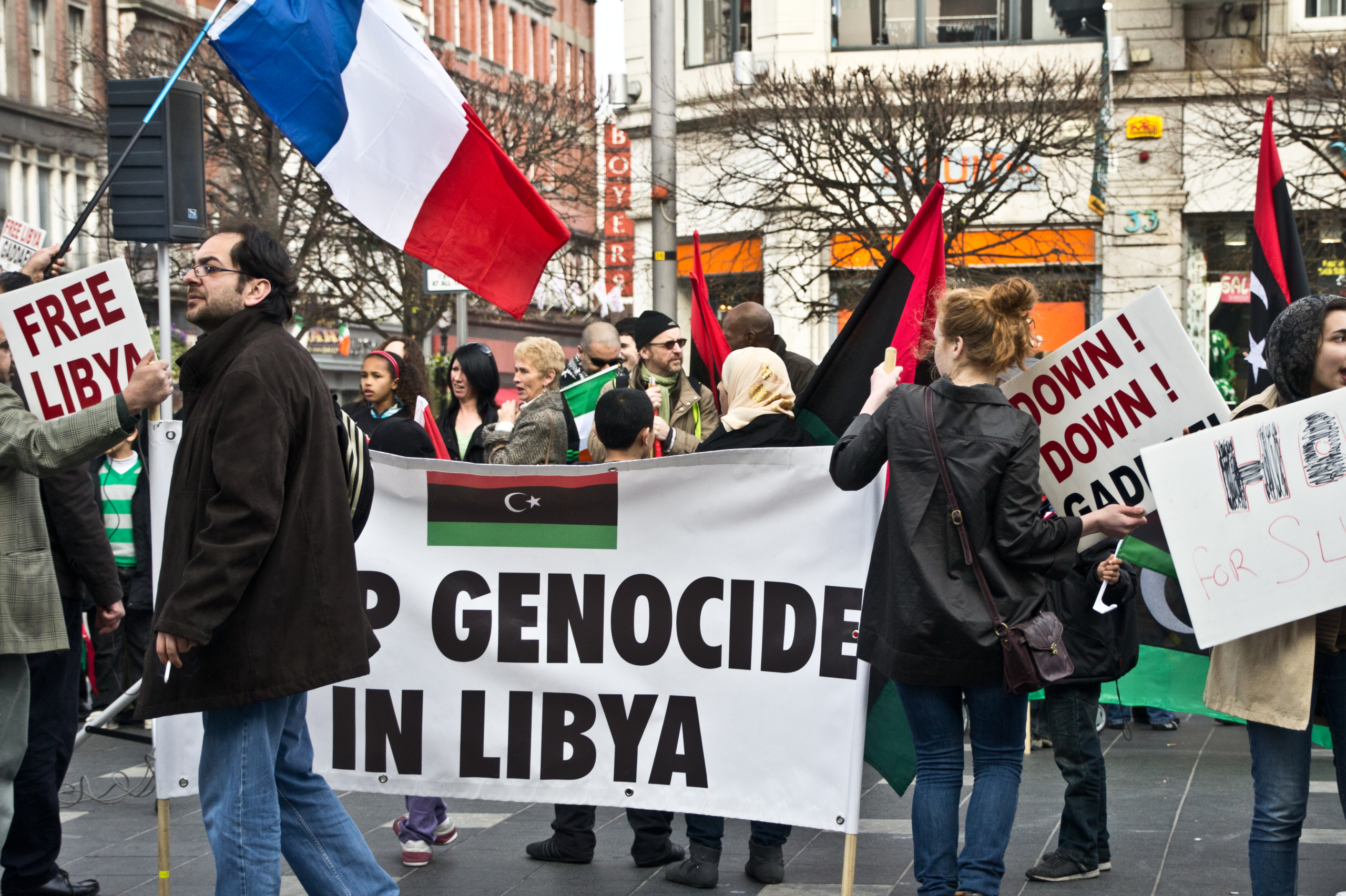 Violence broke out in Libya in 2011 as a result of anti-government protests in Benghazi and Tripoli that ultimately resulted in over 200 deaths. The Prime Minister at the time, Muammar al-Gaddafi, blamed the protests and general societal unrest on al-Qaeda, despite the rise in protests being largely influenced by other uprisings in Egypt and Tunisia as part of the Arab Spring. Eventually, the opposing National Transitional Council was recognized by multiple nations, including the United States, as Libya's legitimate government representative. This opposition-led movement arose out of a defection from Gaddafi's government. His government was one that the Libyan people saw as corrupt, and Gaddafi himself was alleged to have committed crimes against humanity. Since its spring to legitimacy in 2011, the National Transitional Council has found itself situated in a civil war in Libya.
Civil War in Libya
Rebel groups form and commit acts of terrorism amidst international discussions on ways to help Libya transition to democracy. Gaddafi was eventually killed in October of 2011 and the nation's freedom was announced in Benghazi just days afterward. However, this did not mean peace for the nation, as conflict has continued to engulf citizens as the war in Libya continues.
Some sources claim that the civil war in Libya technically began in 2011 and has continued since then, while others argue that violence renewed itself in 2014 and that the present war in Libya should be considered to have started from this point. Regardless of the timeline dispute, it is clear that the country has struggled with stability following Gaddafi's death. This instability has made it difficult to rebuild necessary government institutions, a problem that has worsened over the years as more armed groups have spread throughout the country and attempted to lay claim to the territory.
Plans to End the War
With the war continuing all the way into 2020, some international groups have laid out new comprehensive plans to tackle the civil war in Libya. The UN Support Mission in Libya has recently launched a process consisting of three parts meant to bring the warring parties together for negotiations. These talks will hopefully consist of topics such as the current economic situation and security matters.
The first piece of this project was launched very recently on January 6, 2020. Representatives from both parties were able to meet in Tunis to primarily discuss economic and financial issues entangled within the war in Libya. For now, this is progress. The second part of this initiative will involve security issues like a ceasefire, the arms embargo, counter-terrorism efforts and disarmament practices to quell violence. Now that the first part of this UN-led initiative has taken place, it seems that there is renewed hope for tackling the civil war in Libya.
The UN is not the only organization with plans to address the war in Libya, however. An initiative known as Libya Vision 2020 has come alive thanks to the efforts from the Libya Institute for Advanced Studies based in Tripoli. This plan aims to specifically target developmental projects in the nation that look to recover from the war in Libya. It plans to accomplish its goals by implementing peace, security, rule of law, governance and public sector reform and above all, a stable democratic institution. Of course, a comprehensive plan like this first requires the war in Libya to at least take a turn toward negotiations before moving forward with any sort of developmental efforts.
International Support
The international community should keep an eye out for ways to help Libya. The United States, in particular, should consider immediate action, both for the interest of helping potentially end the war in Libya as well as benefiting the nation as a whole. The United States could potentially play an integral role in developing a credible framework for negotiations to take place. The U.S. currently supports the previously created Government of National Accord, which was negotiated through the UN. The continued alliance of the U.S. government, combined with the willingness of U.S. officials to consistently work with international organizations like the U.N. and Libyan forces, could lead to substantial progress toward mitigating the crisis in Libya.
All in all, hope for Libya is not lost. The country needs a comprehensive plan and intervention in order to be pulled from this crisis, but it is in no way impossible. Hopefully, the new decade will bring peace and prosperity to a nation that has been plagued with conflict for nearly ten years.
– Hannah Easley
Photo: Flickr
https://borgenproject.org/wp-content/uploads/logo.jpg
0
0
Lynsey Alexander
https://borgenproject.org/wp-content/uploads/logo.jpg
Lynsey Alexander
2020-03-05 06:00:24
2020-03-03 13:50:16
Tackling the Civil War in Libya