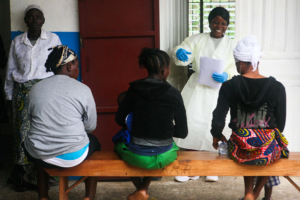 When applied to the umbilical cord and stump, the antiseptic chlorhexidine has been shown to reduce neonatal deaths by preventing infection. Liberia, which has high rates of infant mortality, has included chlorhexidine in its national health policy. As health is closely linked to poverty, this is an important measure in improving both the health and prosperity of Liberians. Chlorhexidine and infant mortality in Liberia represent a global health success story.  
Liberia and Public Health: A Brief Background 
Liberia is a country in western Africa with a population of around five million and a per capita income of $710. The country faces a variety of public health crises. For instance, life expectancy in Liberia is 64 years for women and 62 years for men, and the infant mortality rate was 50 per 1,000 live births as of 2018. Neonatal disorders are the third most common cause of death, exceeded only by malaria and diarrheal diseases, which also commonly affect infants and young children.
Chlorhexidine
Around the world, 21% of neonatal deaths are caused by severe bacterial infection. This amounts to over 500,000 neonatal deaths annually. Fortunately, simple and affordable interventions can greatly reduce the occurrence of neonatal infection. Chlorhexidine is a prime example. It is an affordable antiseptic that is easy to manufacture and use. Hospitals often use chlorhexidine as a preoperative skin disinfectant, as well as for sterilizing surgical instruments.
When chlorhexidine is applied to the umbilical cord stumps of newborns, it can prevent infection and the complications of infection. Studies demonstrate that using chlorhexidine on newborns can decrease the risk of severe infection by 68% and can decrease the risk of neonatal mortality by 23%. Chlorhexidine is now used in neonates in several countries around the world, including the Democratic Republic of the Congo, Malawi, Madagascar, Afghanistan, Pakistan, Nepal and Bangladesh.
Using Chlorhexidine in Liberia
In Liberia, the newborn mortality rate was 26 per 1,000 live births in 2013. Neonatal deaths accounted for 35% of deaths of children under the age of five, and severe infections were the cause of 28% of neonatal deaths. To address this problem, Liberia adopted a chlorhexidine policy in 2013 requiring the application of chlorhexidine. The Liberian Ministry of Health and Social Welfare stated, "Henceforth 7.1% chlorhexidine digluconate (4% free chlorhexidine) will be applied to the tip of the [umbilical] cord, the stump and around the base of the stump cord of all babies delivered in Liberia immediately after cutting the cord as with repeat application once daily until the cord separates." The policy follows WHO guidelines for infants born in areas of high neonatal mortality. Chlorhexidine was also added to Liberia's essential medicines list.
Liberia has benefitted from the support of the U.S. Agency for International Development (USAID) Maternal and Child Survival Program and NGO partners like Save the Children. These organizations have helped Liberian healthcare to implement chlorhexidine use, train health workers and ensure supply and intake. The policy reduced infant mortality in Liberia by 2.2% annually.
The Ministry of Health and various organizations have made important strides in reducing the rates of infant mortality in Liberia. Using chlorhexidine in Liberia is a powerful example of how simple interventions can effectively improve health, save lives and help to end poverty. 
– Isabelle Breier
https://borgenproject.org/wp-content/uploads/The_Borgen_Project_Logo_small.jpg
0
0
Lynsey Alexander
https://borgenproject.org/wp-content/uploads/The_Borgen_Project_Logo_small.jpg
Lynsey Alexander
2020-07-21 19:10:16
2020-07-21 19:10:15
Reducing Infant Mortality in Liberia Using Chlorhexidine