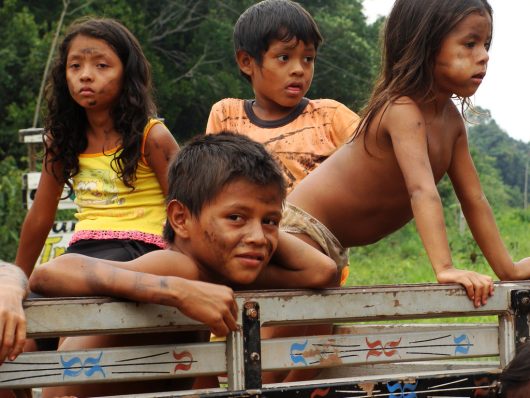 The Amazonian Center for Environmental Resources (ACEER) is a nonprofit organization focused preserving the Peruvian and Amazonian rainforests. With climate change and deforestation at the forefront of global issues at the moment, the organization does its part by educating on rainforest preservation. ACEER's contributions don't just help the environment, its work also strives to reduce global poverty by helping the natives in the Amazonian rainforests and Peruvian regions.
ACEER's work to decrease deforestation helps the natives in the Amazonian rainforests keep their homes. Deforestation destroys the habitats of many animal and plant species which also destroys indigenous peoples' home as the forests serve as their main source of food and shelter.
The organization's AMIGOS! program strives to give the children in Amazonian areas a quality education. The AMIGOS! program does a lot to help the Peruvian schools in cities such as Puerto Maldonado and Iquitos and rural areas. The program has been around since 1995, teaching hundreds of children about rainforest ecology, history and conservation every year. AMIGOS! uses creative ways to teach those subjects, such as their Puppet House which feature characters like Yoqui the Brave Pirate who teaches children about protecting the rainforest's ecosystems.
There is also a school-village partnership program to participate in community service projects such as installing solar pasteurization systems for clean drinking water and offering workshops for medicinal plant gardening. Since these Peruvian schools are one-roomed schools with almost no textbooks and few supplies, teachers lack resources to give children a quality education. American schools provide supplies such as pencils, chalkboards, and exercise books to these schools in need.
The organization also provides programs to study the water quality in the rainforests to ensure there is drinking water for the natives in the Amazonian rainforests as well as the wildlife. One such program is the Leaf Pack Program which has a network of teachers, students, and others studying the water quality in streams by using an experimental kit. The Leaf Pack experimental kit collects samples from a local stream and shares the data to determine if the water is safe enough to drink.
In 2012, ACEER received a major grant from the Blue Moon Fund to conduct ecosystem assessment along the Transoceanic Highway in Peru to make sure the water is drinkable. This organization has also worked with TriVita Inc. to bring safe drinking water to the Amazonian village by installing new surface water systems in 2014.
ACEER's work does a lot to save the rainforest, but helping the environment has also helped the locals who live there. After all, global poverty and environmental issues are closely linked, so the efforts of this organization work with both issues to make the world better.
– Emma Majewski
Photo: Flickr
https://borgenproject.org/wp-content/uploads/logo.jpg
0
0
Borgen Project
https://borgenproject.org/wp-content/uploads/logo.jpg
Borgen Project
2017-02-12 01:30:47
2020-05-26 21:09:17
Know Your Cause: The Natives in the Amazonian Rainforests