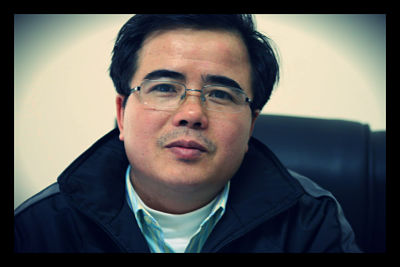 Prominent human rights lawyer Le Quoc Quan was recently convicted for tax evasion in Vietnam in another example of Vietnam's arbitrary detention practices aimed at those criticizing the Communist Party.
This is not the first time Le Quoc Quan has run afoul with the Vietnamese authorities.
In 2007, Quon returned to his home country after spending several months researching civil society and economic development in Washington, D.C., at which time he was promptly arrested on trumped up charges of subversion. After much public anger over his arrest he was released, but the authorities kept close watch of his activities.
His most recent run-in with the law came in December 2013, when he criticized Article 4 in the Vietnam constitution, which enshrines the superiority of the Communist Party.
The court convicted him of tax evasion, a common charge for those who are considered political dissidents by the Communist party. He is currently imprisoned in Hanoi.
Despite the seeming hopelessness of his situation, Le Quoc Quan has not lost his vigorous penchant for dissent. As of February, he is currently on a hunger strike within prison.
His situation has garnered international attention, specifically from the United Nations, who has called for his immediate release or for an independent court to conduct his trial.
Unfortunately, Quan's predicament seems to be too common of an occurrence in a country that rests in the firm grip of the Communist Party; the only legal party in Vietnam.
The list of episodes exhibiting Vietnam's unwillingness to support basic human rights enjoyed in more developed nations is quite lengthy. For instance, no independent media is permitted; freedom of assembly, expression and religion are extremely restricted.
Also, workers who toil away in factories are not allowed to speak out against the harsh working conditions they endure. In 2010, several factory workers were convicted and imprisoned with sentences ranging from seven years to nine years simply for organizing their fellow workers in the shoe factory that employed them.
Le Quoc Quan's future seems uncertain, but not without a glimmer of hope. The appellate division of the Hanoi Supreme People's Court will hear his case on February 18.
The international attention Quan has gained could tip the court's ruling in his favor. But despite the possibility of a small victory, Vietnam has significant steps to take before their human rights situation improves.
In a brazen display of hypocrisy, the Vietnamese government announced several lofty goals at its Universal Periodic Review conducted by the UN Human Rights Council. The country's representative stated that protecting human rights through judicial reform is a chief government concern.
Several of the measures stated such, as the right to a fair trial, providing independent judges to serve on courts and allowing lawyers to freely defend their clients would be a welcome change. But many nations remain skeptical of the government's alleged enthusiasm for initiating these much needed reforms.
– Zachary Lindberg
Sources: Human Rights Watch, The Diplomat
Photo: Front-line Defenders
https://borgenproject.org/wp-content/uploads/The_Borgen_Project_Logo_small.jpg
0
0
Borgen Project
https://borgenproject.org/wp-content/uploads/The_Borgen_Project_Logo_small.jpg
Borgen Project
2014-02-25 04:00:54
2016-02-29 09:15:02
Vietnam Convicts Human Rights Lawyer Le Quoc Quan