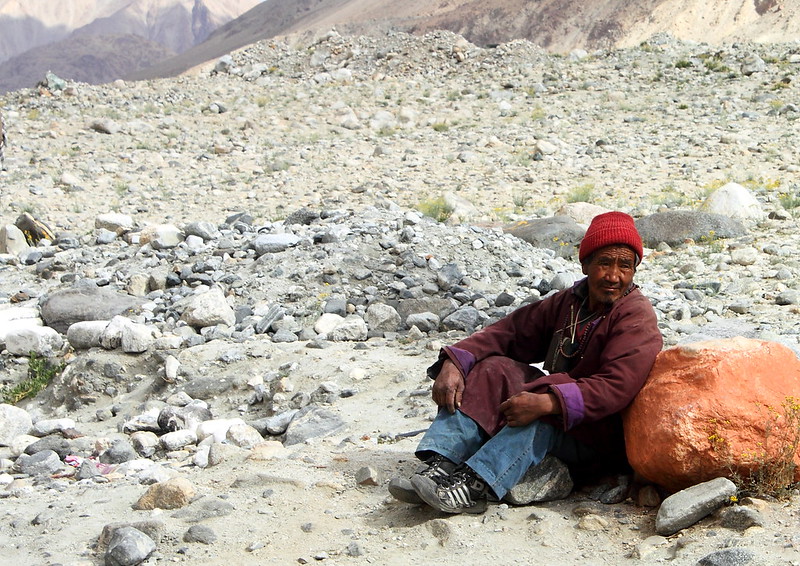 In the mountain desert of Ladakh, a region located in Northern India, water has long been a valued and scarce resource. Ladakh is located in the Himalayas with a base elevation of roughly 8,000 feet and peaks reaching over 25,000 feet. Ladakhis rely almost entirely on glacial and permafrost melt for water. However, in recent years, due to rapidly receding glaciers, water shortages in Ladakh have become more severe. In years to come, experts expect this problem to worsen. Despite this issue, Ladakhis continue to innovate and adapt to the harsh and changing climate. Ice stupas are one example of this innovation.
Melting Glaciers Causing Spring Water Shortages
Water shortages in Ladakh are worst in the springtime, when farmers, who make up roughly 80% of the Ladakhi population, need to sow their fields. During the spring, glacial streams have not begun to flow yet since most glaciers are located higher in the mountains where temperatures are lower. As glaciers continue to recede, streams start flowing later and the water shortages of spring become longer and more damaging. The later farmers have to wait to start sowing their fields, the lower their yields and profits become.
Ladakhis have highly organized water management systems that have been developed over thousands of years. They primarily rely on mud canals and dams to distribute and store water as well as strict water usage rules to ensure water is used efficiently. These systems have been successful in Ladakh for generations but have proven to be insufficient in handling the changing climate.
Storing Winter Water in Ice Reservoirs
Observing the intensifying water shortages in Ladakh, Chewang Norphel, a local civil engineer, set out to design a method of storing water during the winter so that it could be used in the spring. There are many stories of Ladakhis creating man-made ice structures to store water, but many were inefficient, and there were no scientific methods to the practice. Norphel created his first artificial glacier in 1986 by creating a series of embankments along a stream that slow the water and create shallow pools just a few inches deep to ensure the water freezes. Built in October, these ice reservoirs collect and store water that would otherwise be wasted throughout the winter months. In the spring, they begin to melt, providing water for farmers that need it for irrigation.
Since creating his first artificial glacier in 1986, Norphel has created 16 more artificial glaciers. Sonam Wangchuk, inspired by Norphel's artificial glaciers, put together a team in the fall of 2013 to create an improved ice reservoir. Wangchuk and his team developed a prototype for the ice stupa, a large cone of ice that can store more water and melts slower than Norphel's design. When the small-scale prototype provided water well into May, Wangchuk knew they had discovered an important solution.
Ice stupas, named after the Buddhist structures that are built to house sacred relics, can be complex projects to build but work based on simple concepts. Water runs through an underground pipe from higher elevation down to the site of the ice stupa where, due to natural water pressure, it rises up through a vertical pipe without any pump. The water sprays out of a sprinkler at the top of the pipe and freezes as it falls onto a conical shape of branches. The conical shape gives the ice stupas a large advantage over Norphel's artificial glaciers, as direct sunlight hits less surface area, meaning that the stupas melt slower and provide water for longer. Throughout the winter, this water freezes into huge cones of ice that can reach 30 to 50 meters high.
Each of these ice stupas can store millions of liters of water, enough to support farmers through the crucial spring months until the summer when glacial streams start flowing. Many of the ice stupa projects to date have been designed to support poplar and willow tree fields, which are two of the most profitable crops to grow in the area and require large amounts of water.
A More Comprehensive Solution
As the glaciers continue to recede, the need for ice stupas and other innovative water management solutions will only keep increasing. Darren Clark, a member of the ice stupa project from 2014 to 2019, says the ice stupas have benefited communities and are important symbols that alert Ladakhis of the changing climate and increased water shortages. Many Ladakhis were skeptical of the ice stupa projects initially, but, as spring water shortages in Ladakh continue to worsen, ice stupas are becoming more essential each year.
Clark sees ice stupas as just part of the solution for the future of water management in Ladakh. He would like to see improved water infrastructure and plumbing systems that can collect more meltwater throughout the year and distribute it more efficiently. One system could create ice stupas in the winter months and act as regular water distribution throughout the spring, summer and fall. Clark views such a system as an essential adaptation for Ladakhis in future years as snowpacks continue to diminish and glaciers recede.
Issues of water shortages in high mountain deserts are a growing problem in mountain communities everywhere. Clark has helped design and build similar ice stupa systems in Peru and Switzerland and is currently in the process of writing a book on how improved water management systems could benefit high mountain desert communities around the world. With millions of people living in mountain deserts relying primarily on glacial melt for water, improved water management systems — including ice stupas — will be an essential part of combating climate change in years to come.
– William Dormer
Photo: Flickr
https://borgenproject.org/wp-content/uploads/logo.jpg
0
0
Kim Thelwell
https://borgenproject.org/wp-content/uploads/logo.jpg
Kim Thelwell
2020-09-12 08:48:25
2020-09-12 08:48:25
How Ice Stupas Prevent Water Shortages in Ladakh