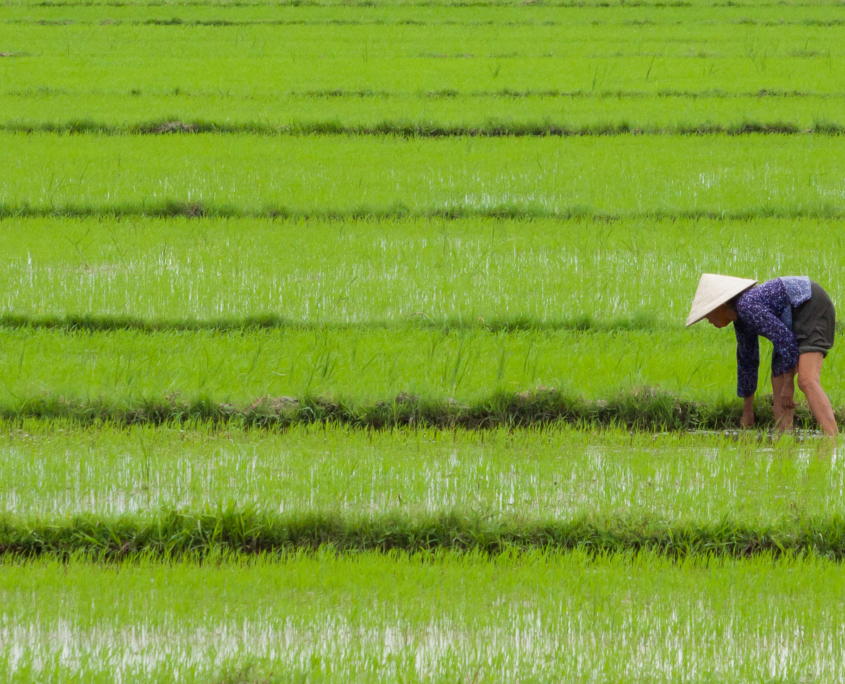 Within the past years, the Vietnamese agricultural sector has experienced multiple changes and improvements in labor conditions. Considering previous conditions of unsustainable work ethics and disadvantageous labor compensation, many Vietnamese farmers struggled with unstable trade agreements and a lack of farm and production management, leaving workers with uncertainty in their labor. Changes in Vietnam's federal regulation and farming methodology are expected to improve conditions for Vietnam farmers.
The New Vietnam Labor Code
To start, the Vietnamese government implemented revisions to the Vietnam Labor Code, which are taking place this year. The policy changes include coverage for laborers without working contracts, which widens the new code's coverage from 20 million workers to 55 million. New policy additions also include laws against gender discrimination and sexual misconduct, protecting employers and providing equal opportunity in the agricultural sector. Employers now have an option for maternal leave if they choose to and law passages define sexual harassment clearly now for better prevention.
The code protects workers from unfair wage contracts, as it enables employers and laborers to negotiate and collectively set wages and conditions. Workers may also join a workers' organization of their choice, to ensure protection and fair contracts for those represented. Furthermore, the government now establishes previously absent minimum wage and overtime caps.
New Policies to Improve Conditions for Vietnam Farmers
Along with the new labor code, new measures have taken place to better manage production and trade relations, which have sometimes been caught in scams between export companies and incorrect dealing agreements. There have also been cases of exports violating plant safety regulations, possibly resulting in investigations that halt production processes at farms and packaging facilities. To prevent shortcomings and create accountability, the Vietnamese local authorities are working toward structured management of agricultural production, which tries to monitor traceability for pest control and fertilizer sources better and will improve conditions for Vietnam farmers.
In addition to these new management policies, the Vietnamese agriculture sector is looking for new sustainable ways to reuse farming spaces and incorporate advanced technology. An incentive to implement those is the constant instability of weather conditions, which can result in drought and saltwater intrusion. The Vietnamese state continues to combat these threats with freshwater reservoirs and irrigation systems, yet it still affects many farms. In regions with insufficient rice growth, the Vietnamese Department of Crop Production approved the plan to convert these rice fields into fruit-growing plants or for other agricultural activities that acquire a higher income. However, to combat weather inconsistency and its consequences, rice farms have implemented new technologies such as modern combine harvesters and rice processing gadgets for efficient production.
Solar Panels for Farmers in Need
Other new improvements in Vietnam have been implemented to benefit a broader section of farming communities. The UNEP's EmPower project is a notable change, working on installing solar panels for animal farms that are burdened with bad access to electricity and financial instability. Struggling families and farmers will receive solar power for free and can use the electricity for ventilation systems and incubation equipment used to heat chicken rearings. This introduction of solar power not only alleviates electricity costs for Vietnamese farmers, but also for indigenous populations that take advantage of this source of energy. Furthermore, the ones affected called this new addition a solution to their needs during the pandemic.
In conclusion, various measures and policy adjustments have taken place in 2021 to improve conditions for Vietnam farmers. The Vietnamese government's newfound regulation of agriculture and management procedures bring about order and stability to Vietnamese farmers, and the implementation of technologies creates greater productivity in several farming districts. Considering the new changes, Vietnamese farmers newly receive a reliable income and accountability in their labor.
– Linda Chong
Photo: Flickr
https://borgenproject.org/wp-content/uploads/logo.jpg
0
0
Kim Thelwell
https://borgenproject.org/wp-content/uploads/logo.jpg
Kim Thelwell
2021-03-15 02:30:43
2021-03-15 02:27:14
Efforts to Improve Conditions for Vietnam Farmers