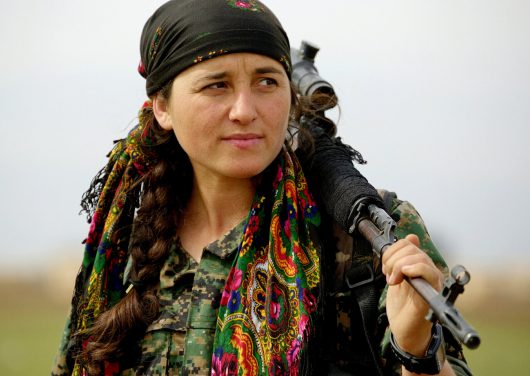 In Northern Syria, the Kurdish communities have established three administrative and autonomous regions. These regions are called cantons and each enjoys their own legislative, administrative and legal bodies. Although these cantons are part of the Syrian territory, the Kurdish communities enjoyed autonomy in the wake of the Syrian crisis and oppression from the Islamic State fighters. These three cantons are named Afrin, Jezira and Kobani.
The Kurdish democracy model is an outcome of the Rojava movement, which seeks autonomy for Kurdish communities in Syria. The model is manifested in the Rojava constitution, which is also known as the social contract. It was approved on Jan. 6, 2016.
The preamble of the constitution reads as: "We the peoples of the democratic autonomous regions…by our free will have announced this contract to establish justice, freedom and democracy … without discrimination on the basis of religion, language, faith sect or gender."
This Kurdish democracy model does not accept any imposed ideas of nation-state, centralized, military or religious state. It solemnly believes in human rights, democracy, free will and strives to protect those goals no matter what the cost is.
In every canton, there is a Legislative Assembly, an Executive Assembly, a High Election Commission, a Constitutional Assembly and Regional Assemblies. The Rojava Movement resembles historic acts of resistance such as the Algerian war against France and the Warsaw battle against invading Germany.
The Rojava cantons are remarkable examples of beacons of hope emerging from the Syrian civil war. Rojava maintained its independence and created its own democracy. In the Kurdish democracy model, the top three officials have to be from Arab, Kurdish and an Assyrian/Armenian Christian. One of these has to be women. In this phase of the Kurdish struggle, the Kurdish democracy model could start a global movement towards a better implementation of democracy and a cooperative socioeconomic model.
Financial Times describes the Kurdish democratic model as a power to people model. It is a radical experiment in narrow stretches of Northern Syria. In Rojava, which is hard to access due to Turkish blockade, the authority rests in the communal level (the village). In the villages, every social group has a say in decision making. The communities enjoy self-governing measures.
Furthermore, all minorities are included and everyone gets a chance to speak and participate in governing matters. This might seem radical to even the old-established democracies. But for the Kurds, after decades of oppression, this is one thing to look forward upon with eyes full of hope.
– Noman Ahmed
Photo: Flickr
https://borgenproject.org/wp-content/uploads/logo.jpg
0
0
Borgen Project
https://borgenproject.org/wp-content/uploads/logo.jpg
Borgen Project
2016-11-10 11:56:36
2020-05-21 11:33:42
The Kurdish Democracy Model