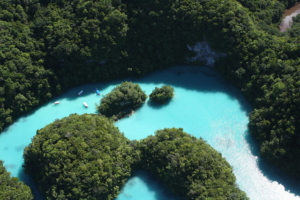 The Republic of Palau is a tropical island country made up of more than 300 islands, of which only nine are inhabited. With the surrounding blue waters, Palau's marine environment is among the largest and most diverse in the world. This is why supporting the life of these ecosystems is critical for healthy living conditions in Palau. The country has a relatively high standard of living compared to other Pacific Island countries but the greatest risks to living conditions are increasing impacts of climate change, such as rising sea levels. The following top six facts about living conditions in Palau concern the environment, economy and society.
Top 6 Facts About Living Conditions in Palau
The government of Palau collaborated with the U.N. and created the Advancing Sustainable Resource Management to Improve Livelihoods and Protect Biodiversity in Palau project to enhance the management of sustainable resources, improve livelihoods of citizens and protect biodiversity in Palau. The project, which began in 2017 and will conclude in 2021, supports ecosystems in the context of small island life. Many national partners support the project and stakeholders from different industries can share different approaches to developing sustainable strategies.
Palau is specifically dependent on foreign grants. In Palau, banks do not lend much domestically and instead, invest most of their assets abroad. A report on Palau by the International Monetary Fund, in conjunction with Palauan government officials, stated that in 2017, the loan to deposit ratio remained low at 12.2 percent. Credit to the private sector stood at 11.9 percent of GDP, despite an increase in domestic credit of 15.4 percent.
Palau is an independent and sovereign state but is in free association with the U.S., which provides Palau with defense, funding and access to social services. Though this has helped levels of development in the country, the dependency could pose a risk if Palau stopped receiving foreign assistance. To manage the economy more closely, the government established the first Palauan financial bodies in the early 21st century.
Education is mandatory for children in Palau between the ages of 6 and 14. The Ministry of Education has created a Palau College and Career Access Program that assists Palauan kids with college and career planning. For example, it hosts a database, Kuder, which allows students to explore different career pathways based on their interests and skills.
The Palau Ministry of Education, both independently and in accordance with the U.S., offers scholarships and grants to Palauans who want to further their education abroad since the country has no higher education institutions. Additionally, the Palau National Scholarship Board created the Palau Fellowship Program to encourage Palauan university students to return to help the Republic and become leaders in their community. In 2019, 26 students were awarded the fellowship to intern at a Palauan organization relevant to each student's career interests.
Rural communities depend on small-scale agriculture, fishing and selling goods to sustain their livelihoods. Nonprofits like the Palau Conservation Society work to sustain both the citizens and the environmental heritage of Palau. One of its programs, the Conservation and Protected Areas Program, trains Palauans in community-based action to establish management plans and manage conservation sites of their own.
These top six facts about living conditions in Palau present the many challenges the Republic faces but also the solutions and strategies that have been created as a result. As Palau moves into the future, its government, in collaboration with the U.S., is making strides, especially in protecting the country from possible ecological threats and in offering more opportunities to young Palauan students.
– Melina Benjamin
Photo: Flickr
https://borgenproject.org/wp-content/uploads/logo.jpg
0
0
Kim Thelwell
https://borgenproject.org/wp-content/uploads/logo.jpg
Kim Thelwell
2019-08-30 01:30:21
2019-12-18 12:21:55
Top 6 Facts About Living Conditions in Palau