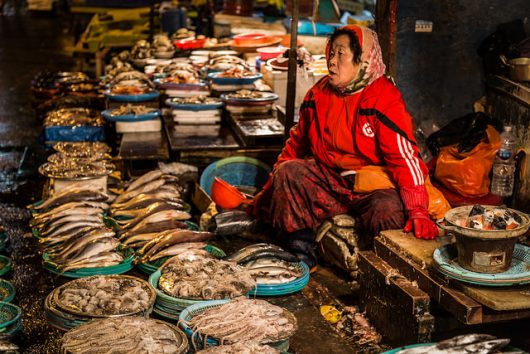 A quick economic recovery after the end of World War II and the signing of the Korean War Armistice in 1953 has mitigated growing rates of poverty and hunger in South Korea. Poverty, however, is a particular threat to the elderly population in South Korea, which has been aptly named the "forgotten" generation.
According to a 2011 report by the government-funded Korea Labor Institute, 48.6% of the country's elderly — individuals aged 65 and over — struggled with relative poverty. Relative poverty, as opposed to absolute poverty, is defined as earning 50% or less of the median household income.
More recently, the Organization for Economic Co-operation and Development (OECD) found that approximately half of the country's elderly were living in poverty in 2015. This poverty rate has been considered the highest among the 34 nations studied by the OECD.
Pastor Choi Seong-Won has been an organizer of a weekly mobile-kitchen for 18 years. He has helped to alleviate the economic hardships of the elderly homeless by providing lunches over the weekends. Seong-Won told CNN that the reason for this emergence of elderly poverty and hunger in South Korea "is the more than two years of serious economic crisis in Korea, along with the global economic downturn. Wealthy people will be fine no matter the situation, but people going through economic struggles say now is a really difficult time."
Other local churches in Korea have fed 300 to 500 seniors as they lined up for food. However, charitable meals will not solve the problem of elderly poverty and hunger in South Korea alone.
Bernard Rowan, professor of political science at Chicago State University, also discussed the causes of poverty in the Korea Times. Rowan cites population growth among the elderly in Korea shifts in cultural traditions as causal factors. Traditionally, Korean culture has placed great emphasis on respecting seniors. The present-day lifestyle, however, has left many parents and grandparents to find work for themselves.
"That may include their emotional lives too," Rowan explains. "A great many live incredibly alone."
A Rise in Suicide Rates
Yet, these rates in poverty among the elderly have not only affected hunger in South Korea but have also contributed to higher rates of suicide. According to Statistics Korea, 50.3 out of every 100,000 Seoul citizens 60 years or older took their lives in 2014, the highest rate among all Korean age groups.
Seventy-year-old Seong Young-sook expressed her struggles to a CNN reporter saying, "I feel that my generation is being forgotten." She continued, "I tried to kill myself next to my husband's grave. Someone discovered me and I survived."
Given that elderly poverty and hunger in South Korea are both affecting suicide rates, strategy and swift action are key to alleviating the problem.
Brainstorming and Enacting Solutions
In order to relieve elderly hunger in South Korea, the government recently updated its 1988 national pension system, now offering a "basic pension" retirement program. This expansion targets the poorest seniors and provides them with less than $200 a month.
The government plans to reach 90% of the population over the age of 64 by 2060.
Rowan also shared strategies to help reduce poverty among the elderly. The author suggests increasing the number of employment and volunteer opportunities for Korean elders in order to tap their knowledge and experience as well as continue to engage the demographic.
Kim Bok-soon, author of the Korea Labor Institute report, also offered a similar solution that goes beyond the pension program. He believes that the government's labor market policy should be revised to accommodate elderly workers.
Public officials must continue to take action to alleviate elderly hunger in South Korea as well as high suicide rates.
– Priscilla Son
Photo: Flickr
https://borgenproject.org/wp-content/uploads/logo.jpg
0
0
Borgen Project
https://borgenproject.org/wp-content/uploads/logo.jpg
Borgen Project
2016-09-08 01:30:22
2020-06-16 12:34:51
Alleviating Elderly Hunger in South Korea