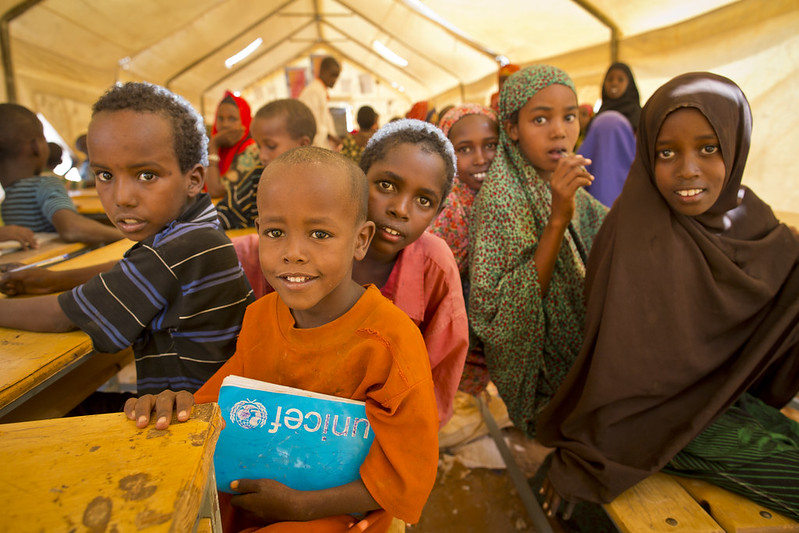 A 2017 report from the United Nations Educational, Scientific and Cultural Organization (UNESCO) reveals that around "617 million children and adolescents worldwide are not achieving minimum proficiency levels in reading and mathematics." This means that 56% "of all children won't be able to read or handle mathematics with proficiency by the time they are of age to complete primary education" and 6% of adolescents will not "achieve minimum proficiency levels when they should be completing lower secondary school." These statistics indicate an educational crisis that could put an entire generation at risk and endanger global development goals. Enuma improves education programs and aims to increase minimum proficiency levels in disadvantaged areas throughout the world.
School-Aged Children in Sub-Saharan Africa
In sub-Saharan Africa alone, more than 200 million children are not achieving minimum proficiency in reading. In this region, about "88% of all children and adolescents will not be able to read proficiently by the time they are of age to complete primary and lower secondary education." This deficiency disproportionately impacts girls as 90% of girls in sub-Saharan Africa will not "meet minimum proficiency levels in reading by the time they are of age to complete primary education."
Of the 387 million primary-age children who cannot read proficiently, around 65% are enrolled in school. Nearly 137 million adolescents of lower secondary age who are in classrooms are still not proficient in reading. The UNESCO report indicates that poor quality education is a major cause of the problem.
The Power of Quality Education
Another UNESCO report reveals that close to 60 million people could rise out of poverty if every adult had two additional years of quality education. If all adults finished high school, 420 million people could rise out of poverty, thereby reducing the percentage of indigent people by more than 50% globally and by around 66% in South Asia and sub-Saharan Africa. These statistics highlight the power of education as a tool for global poverty reduction as education provides a gateway to skilled and higher-paying jobs.
Enuma's Kitkit School Program
Enuma improves education by working to address the issue of children's low proficiency in math and reading. Co-founded in 2012 by CEO Sooinn Lee and Chief Engineer Gunho Lee, Enuma empowers school children, particularly those with special needs, to be independent learners. Through educational research, the organization takes a unique approach to software design for learning. Enuma's Kitkit School program supports universal access and quality learning for all children, regardless of their location, while prioritizing those who lack the opportunity to improve proficiency levels in math and reading.
Based on an open-sourced code, Kitkit School researchers revise the program constantly to improve its learning efficacy, ensuring that the software is responsive to needs in new languages and contexts. Students can access Kitkit School anywhere, meaning every child can take advantage of Enuma's educational opportunities. The program's design engages and empowers early learners and eliminates barriers to learning success.
Kitkit School Program Impact
Along with Imagine Worldwide and the International Rescue Committee, Enuma is "bringing Kitkit School for Rohingya Learners to Cox's Bazar, Bangladesh." Fleeing Myanmar, more than 900,000 Rohingya have found refuge in Cox's Bazar. More than 50% of the refugees are children or teenagers, most of whom have never attended school.
Looking to Tanzania, where about 23% of school-aged children aged 7 to 13 are not attending school, Kitkit School improved learning outcomes both at home and in school. In Kenya's Kalobeyei Settlement of the Kakuma Refugee Settlement, "Xavier Project partnered with Enuma to improve access to quality education for 240 refugee and host community children," increasing test scores and proficiency levels in math and reading.
In addition, Enuma improves education by forming partnerships, one of which is with Good Neighbors Rwanda to provide remote learning software to children at Kagina Primary School in Kagina, Rwanda. This effort has improved the children's basic math skills and literacy.
Strategic Partners for Literacy Programs
Starting with Indonesia in 2021, Enuma is finding strategic partners to develop and distribute its software in regions such as Africa, Southeast Asia and Latin America. Enuma plans to release its literacy module free to the public while enabling its partners to run literacy programs around the globe.
Enuma's Kitkit School software co-won the Global Learning XPRIZE in 2019 for its ability to support children's independent learning in low-resource locations. Helping children in East Africa, South Asia and Korea, the Kitkit School program became the 2020 winner of the United Nations' STI Forum Call for Innovations that advance the Sustainable Development Goals.
Given the clear link between poverty and lack of education, Enuma's learning programs represent a move in the right direction for children around the world.
– Sarah Betuel
Photo: Flickr
https://borgenproject.org/wp-content/uploads/logo.jpg
0
0
Kim Thelwell
https://borgenproject.org/wp-content/uploads/logo.jpg
Kim Thelwell
2021-08-14 13:27:29
2021-10-09 16:01:28
Enuma Improves Education Programs