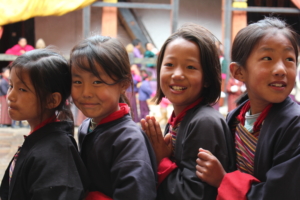 The traditional tool to measure the success of a nation is by its Gross Domestic Product (GDP). GDP refers to the total value of goods produced and services provided by a country in a given year. GDP can provide an accurate depiction of the economic success of a nation, but it does not measure true fulfillment and well-being properly. An alternative measure of success is Bhutan's Gross National Happiness Index.
Humble Beginnings
Bhutan's government has a long history of striving for its peoples' happiness. King Jigme Singye Wangchuck, King of Bhutan from 1972 to 2006, made it his goal to increase the overall happiness and well-being of the Bhutanese people. The King declared that "Gross National Happiness is more important than Gross National Product," and in doing so, coined the phrase "Gross National Happiness."
Moreover, King Jigme Singye Wangchuck developed a set of procedures that could produce an accurate measurement of happiness, Bhutan's Gross National Happiness Index. The concept behind the Gross National Happiness (GNH) Index is that well-being should not solely be based on economic success and that development cannot be sustainable without accounting for the more holistic aspects of progress.
Gross National Happiness in Practice
Bhutan's GNH Index consists of nine different domains: 1. Psychological well-being; 2. Health; 3. Education; 4. Time use; 5. Cultural diversity and resilience; 6. Good governance; 7. Community vitality; 8. Ecological diversity and resilience; and 9. Living standards. Including all nine domains in the overall evaluation of happiness and well-being allows for the Bhutanese government to implement policy that is designed to target the domains where improvement is needed most. The GNH Index can also be broken down by demographic groups, allowing comparison between men and women or districts. Each of the nine domains is determined by examining 33 different indicators, giving leaders a comprehensive understanding of the various aspects that contribute to well-being.
GNH is the main tool used to ensure that development does not come at the expense of the Bhutanese people. Bhutan has grown as an economic power in recent years with an increase in large-scale hydropower projects, but the downside to this growth is that many rural workers and farmers have been displaced on account of these projects. Therefore, Bhutan has made it a priority to see that GNH and GDP can grow and exist in harmony.
Growth as a Result
Since GNH was adopted as the main measure of growth in Bhutan, almost 100 percent of its children are enrolled in school and the country has nearly doubled its life expectancy. Educational policy has also been affected by GNH principles. Children now learn about agricultural practices and environmental protection alongside math and science. Meditation is also a typical part of the school day as well. In addition, the country's waste-management program ensures that all materials used in schools are recycled.
Journalists caught wind of this small Himalayan nation committed to increasing the happiness of its people, and with increased coverage, the ideas behind Bhutan's GNH Index spread across the world. Well-being and happiness conferences increased in almost every part of the globe, and in 2012, the UN decided to follow Bhutan's example in taking a more holistic approach toward development, making the GNH Index their main development indicator, a decision which was backed by 68 different countries.
Thanks to Bhutan, the world's definition of what a successful country is may be changing. While GDP is still widely used as a measure of development, the use of Bhutan's Gross National Happiness Index is increasing in popularity right alongside it.
– Ryley Bright
Photo: Flickr

https://borgenproject.org/wp-content/uploads/logo.jpg
0
0
Kim Thelwell
https://borgenproject.org/wp-content/uploads/logo.jpg
Kim Thelwell
2019-09-22 01:30:10
2019-12-17 12:34:52
Bhutan's Gross National Happiness Index