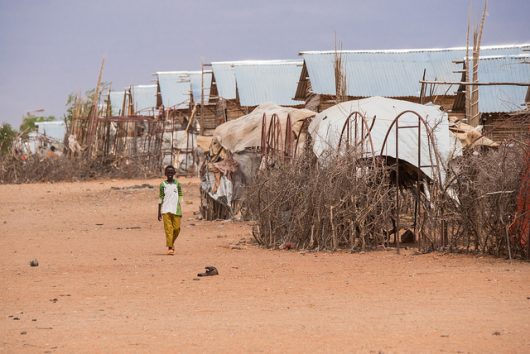 Refugee camps are supposed to be temporary living settlements for displaced people fleeing violence and persecution from their home countries. While the accommodations within refugee camps are built on short-term solutions, the idea of "temporary" for refugees grows obsolete as their living situations become more permanent.
A refugee spends an average of 12 years living in a camp according to the New York Times. These camps face their own significant problems. In the last 10 years, the number of displaced people in the world tripled. Over 60 million people are now displaced, said the United Nations High Commissioner for Refugees (UNHCR). Refugee camps are constantly subjected to insufficient funding and support from the international community, overcrowding, scarcity of food, shortage of clean water and poor sanitation.
Without adequate food, refugees are susceptible to chronic malnutrition, which increases their risk of disease or illness. While the UNHCR recommends a daily minimum of 20 liters per person per day, many refugee camps fail to meet these standards. A lack of clean water and poor sanitation systems result in more diseases, such as diarrhea and cholera.
Proactive health measures, however, are being taken. To combat malnutrition and nutrient deficiencies, some refugee camps have implemented community gardens. At the Meheba refugee camp in Zambia, for example, refugees can grow their own food and add fruits and vegetables to their diets. Calls for improvements in both the latrine and sufficient waste disposal systems have also been made, as these will not only improve sanitation but also prevent disease.
The Kilis Refugee Camp in Turkey resembles more of a permanent shelter. There are no tents, but sturdy containers instead. The camp has amenities that many others lack; electricity, maintenance, a clinic and grocery stores. Within the grounds, there are also schools and counselors.
However nice the camp is, the prolonged stay of many of the refugees makes it more difficult to maintain psychological well-being. The placement of refugee camps away from society and the increasing length of stay by their residents make it hard for the people to remain engaged. Without employment and integration, refugees cannot practice their skill sets or feel connected to the local community.
UNHCR Engineer and Physical Planning & Shelter Officer Anicet Adjahossou found that one solution to strengthen community building within refugee camps was to work with anthropologists and refugees to redesign the standard refugee camp grid format into a new housing layout.
In 2012, Adjahoosu worked with UNHCR at the Dollo Ado refugee camp in Ethiopia to organize the homes into sets of U-shaped enclosures. The innovative arrangement prompts more family interaction and allows for larger communal areas. Also included were locations for schools, water distribution points, markets and health centers.
In addition to improving the living conditions in refugee camps, more aid must be given to prevent and end conflicts, so that we do not continue to see an increase in people forced to flee their homes in search of safety. Luckily, it appears that advocates like Anicet Adjehossou are taking the lead.
– Erica Rawles
Photo: Flickr
https://borgenproject.org/wp-content/uploads/logo.jpg
0
0
Borgen Project
https://borgenproject.org/wp-content/uploads/logo.jpg
Borgen Project
2016-08-10 01:30:28
2020-06-17 18:25:28
Refugee Camps: Temporary Solutions to Long-Term Problems