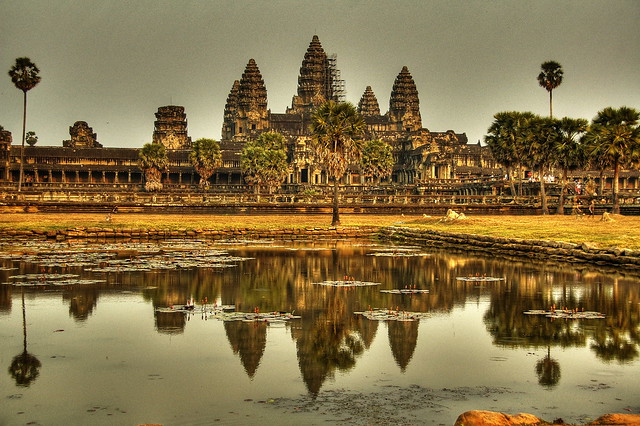 Cambodia is a small South-East Asian nation bordered by Thailand, Laos and Vietnam. The nation is still recovering from the damages wrought by the Khmer Rouge regime that ruled from 1951 – 1999. The unfortunate legacies are numerous. Despite this, Cambodia is making strides to face the many challenges that being a rising developing nation entails. Overall, living conditions in Cambodia are steadily improving.
Top 10 Facts About Living Conditions in Cambodia
Cambodia has a population of 15.9 million people. Ninety percent of them are of Khmer origin while the remaining 10 percent are Vietnamese, Chinese or a member of another minority. The country is made up of predominantly rural dwellers, who have settled in villages in areas near rivers. Only 12 percent of the population lives in the capital, Phnom Penh.
 The average life expectancy is 67 years old for males and 71 years for females. The median age of the population is 24. There is a high prevalence of HIV and AIDS in Cambodia, among the highest in Asia. In 2016, 71,000 people were living with HIV. The government is making concerted efforts to combat this illness and increase awareness of how to keep it from spreading.
Health care is an issue that the government is overlooking as it makes strides in its policies to benefit its people. Health care only comprises 1 percent of the overall GDP. There is a massive disparity between the quality and availability of medical resources in rural and urban areas. In rural areas, many people are forced to travel long distances to get the care that they need. The Social Security System currently in place only covers employment injuries for formal workers, making it hard to get coverage.
The education system in Cambodia was largely destroyed by the Khmer Rouge Revolution when education was banned. Schools were destroyed and teachers were executed. The government is making great efforts to build this system back up, dedicating 18.31 percent of the national budget to education. They have almost achieved universal access to primary education at 97.7 percent. Cambodia has strengthened gender parity with girls making up 48.2 percent of students. The country has built 1,000 new schools in the last 10 years.
The Cambodian government is dedicated to child protection. It is improving child development and strengthening child protection services by addressing violence against children and the use of residential care institutions. The government has a goal to reduce the use of these institutions by 30 percent and to prevent family and child separation.
While poverty has decreased significantly in Cambodia, many families survive while hovering just above the poverty line of $1.25 per day. Three of four people live on less than $3 a day. Most of these people are rural, but urban poverty is also on the rise.
Urban slums account for 25 percent of the population of Phnom Penh. These areas face many challenges, including poor sanitation and hygiene, high rates of diarrhea and malnutrition. They lack toilets, decent drainage and garbage disposal systems. These slums are overcrowded and ridden with poverty and domestic violence.
One in four women are survivors of physical, emotional or sexual violence. One in five women between the ages of 15 and 49 have experienced physical violence by the age of 15. In Cambodian society, violence against women is frowned upon, but domestic violence is acceptable. This creates a culture where women have the pretense of protection but are not safe in their own homes.
Cambodia's elderly population is growing as they become more prosperous. People above 60 years of age makeup 6.34 percent of the population, at 849,911 people. The country expects this population to triple in the coming decades. They are a largely forgotten group of people in development and democracy debates. Most presume that they are taken care of by their families. These people contribute to society by taking care of children and those afflicted with HIV and AIDS.
There is a general disregard in Cambodia for those with disabilities. They are generally denied normal opportunities to live comfortably and improve their lives. Because of this injustice, they often end up begging on the street to feed themselves and their families. Rehabilitation centers are limited in cities and rural areas, particularly for children and women with disabilities.
While the national government is putting intense focus on improving living conditions in Cambodia, there are still aspects that need work. The country needs to focus on poverty, domestic violence and those with disabilities to try to protect their citizens from the pain they receive at home and then increase the health care accessibility so that these victims can receive the care that they need.
– Michela Rahaim
Photo: Flickr
https://borgenproject.org/wp-content/uploads/logo.jpg
0
0
Kim Thelwell
https://borgenproject.org/wp-content/uploads/logo.jpg
Kim Thelwell
2019-06-22 08:25:13
2019-08-13 11:39:25
Top 10 Facts About Living Conditions in Cambodia