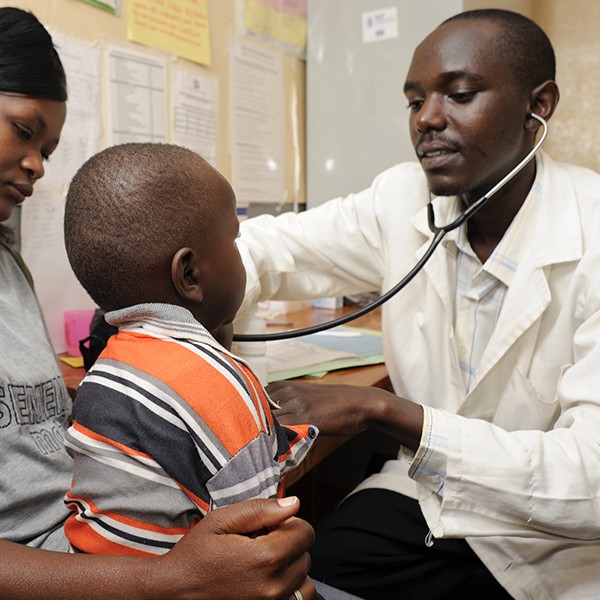 Located on the mid-eastern coast of Africa, the nation of Kenya is home to more than 50 million people. Despite the country's strong tourism industry, which centers around internationally renowned landmarks such as the Musai Mara National Reserve, it still struggles with issues pertaining to extreme poverty.
One of the main effects resulting from this poverty is a very low life expectancy rate. The inverse relationship between wealth and life expectancy is largely due to the nature of poverty. For instance, the inability to see a doctor, access contraception, buy medicine, etc. all compound the chances of early mortality. Poverty has impacts beyond general health too, like exposing people dis-proportionally to unsafe living conditions.
This informs the reality in Kenya, where people over the age of 65 make up only 2.7 percent of the population, and the average life expectancy is only 59 years. Here are 10 facts about life expectancy in Kenya to help explain why that number is so low.
10 Facts About Life Expectancy in Kenya
High poverty rates: More than 50 percent of people live below the poverty line. In addition, in Kenya, 40 percent of people live on less than two dollars a day.
High child mortality rates: The under 5 mortality rate in Kenya lands at 85 deaths per 1,000 births. This number is dramatically higher than the global average of 40. This is a huge issue, as the World Bank claims the number one way to increase life expectancy is to reduce child mortality.
Number of physicians: There is one doctor for every 10,000 people in Kenya. In addition, the country's health care system has historically been dysfunctional. This manifested into a 100-day strike in 2017 by doctors over poor working conditions and pay. It was followed, late that year, by a nurse's strike for similar reasons. This has led to overloaded and under-resourced facilities, which dis-incentivizes people to go into the field.
Lack of admittance to public hospitals: Because of the disorganization in the public health system, almost no patients get admitted into Kenya's public health facilities. This creates an especially tremendous impact on the maternal mortality rate, as women do not have access to proper birthing spaces. This is one unfortunate truth in the 10 facts about life expectancy in Kenya.
Lack of medical student retention: The presence of a broken health care system establishes a negative image of the medical field in Kenya. Therefore, 40 percent of Kenyans who graduate with medical degrees choose to find work elsewhere. This furthers the national shortage, preventing millions of people from having access to medical needs.
Lack of access to clean water: While millions of people in first world countries do not stop to think about how much water they use on a daily basis, around 60 percent of Kenyans do not have access to clean water. Thus, there is an extremely high nationwide risk of contracted water-borne diseases such as malaria, cholera and typhoid fever.
No universal health care system: Kenya's government does not offer a universal health care system, so millions of people are uninsured. On account of this, many avoid clinical care–which is oftentimes necessary. Under this system, small treatable issues tend to develop into potentially fatal diseases.
Poorly kept health facilities: Since the government lacks adequate funding to keep the hospitals clean and sanitary, many fall into disrepair. Additionally, the lack of resources creates a shortage of medical equipment and a poorly operated management system.
Kenya Quality Model for Health: In 2018, Germany's Federal Ministry for Economic Cooperation and Development partnered with the group Amref Health Africa to create a set of national health standards called the Kenya Quality Model for Health. Currently, workers are being trained in KQMH nationwide in over 47 facilities, while they receive monthly visits from Amref trainers. This program will hopefully improve the quality of care in Kenya and in turn life expectancy.
Expansive treatment measures are being implemented: The lack of health care access mainly centers around rural western Kenya, where transportation is frequently an issue. In 2018, the Academic Model Providing Access to Healthcare (AMPATH) joined with the Abbott Fund to help solve this problem. The partnership has trained more than 1,000 workers to deliver doses of insulin to people with diabetes mainly in western Kenya. They have also invested $5 million to screen people for diabetes and provide them with the proper medical instruments. This unique approach to health care will hopefully expand to other treatments, decreasing the number of people who do not receive care.
– Liam Manion
Photo: Flickr
https://borgenproject.org/wp-content/uploads/logo.jpg
0
0
Kim Thelwell
https://borgenproject.org/wp-content/uploads/logo.jpg
Kim Thelwell
2019-07-28 01:30:53
2019-09-02 13:43:44
10 Facts About Life Expectancy in Kenya