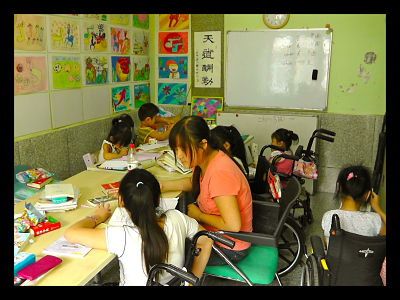 Agape Family Life House is a foster home and care center for orphans in the city of Langfang, China. The home specializes in medical treatment and care for children with Osteogenesis Imperfecta or brittle bones. The home also supports adoption and placement of children into new homes where they can be loved and cared for properly.
Agape Family Life House was founded by Keith and Cheryl Wyse from the United States. In 2002, the Wyses felt called to move to China to aid handicapped children. The Wyses had already adopted their own daughters from China, Rebekah and Rachelle, twins suffering from OI. So they sold everything they owned and moved to China to pursue their passion. Eventually they would open Agape Family Life House in Langfang which cares for 29 people from age 1.5 to 27. They would also start the Bread of Life Bakery, a bakery that employs some of the oldest girls who were living at the home. The Wyses also dedicated themselves to working with local hospitals and American hospitals to bring surgical procedures and treatments to China. Together with Dr. Wu Guo Hua of the Langfang Orthopedic Hospital, Keith Wyse co-founded the OI Association of China.
Children who suffer from OI have bones that can fracture or break with the slightest bump or injury. As a result, they are often left with severely stunted growth or deformed bones and limbs. Thus the children often grow very slowly and maintain a very youthful appearance despite their actual age. Individuals with OI also often have blue tinged eyes that supplant the usual white sclera of normal eyes.
The children that Agape Fmaily Life House serves are known as "children of glass". The children of the Agape Family Life House come from all parts of China and varying degrees of poverty. One boy, Joseph, is all the way from the province of Xin Jiang that borders Kazakhstan. Another child Lydia was delivered to Agape Family Life House with a broken arm and a note that read "When she dies, just give this note to the authorities and they will understand that it was not your fault." Other children have been sent by their orphanages in various provinces to the home to receive better medical treatment.
In each case, children are found or sent to Agape Family Life House because they could not be cared for in their original homes. Other children are simply abandoned by parents who could either not afford to care for a child with OI or for whatever reason, did not want the child. Children who grow up with OI in China face a bleak future if they cannot be treated medically. Furthermore, people with OI in China face the strong possibility of falling into poverty and destitution if they cannot find employment or support.
There are many ways to support Agape Family Life House. Anybody can make individual donations or financially sponsor a child. Donations can also be made to a fund that supports parents interested in adopting any of the children from Agape Family Life House. The home also offers many opportunities to volunteer or intern with the home. Volunteers can interact with children or help around anywhere at the home. Long term or short term arrangements can be made as well. With increasing help from volunteers in the recent years, Agape Family Life House has been able to expand and provide a second chance for many orphans in China. 
– Grace Zhao
Sources: Agape Family Life House, CCTV
Photo: International Voice of the Orphan
https://borgenproject.org/wp-content/uploads/logo.jpg
0
0
Borgen Project
https://borgenproject.org/wp-content/uploads/logo.jpg
Borgen Project
2013-08-20 07:46:58
2017-11-30 10:46:26
Agape Family Life House