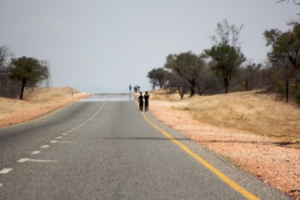 In developing countries like Zimbabwe where more than 67 percent of the population lives in rural areas, adequate roadways are essential for communities in the countryside to have access to education, jobs and health care. However, even those city roads in Zimbabwe that are paved, are filled with potholes while others have totally washed away. Rural areas have largely remained unlinked by asphalt roads, and the Zimbabwean government has historically lacked the necessary funds to launch an infrastructure overhaul that would not only maintain urban roads but also expand the transportation network to rural areas as well.
Road Improvements
However, improvements for roads in Zimbabwe are now underway. Extensive infrastructure developments have begun as of February 2019 to create more adequate highways to facilitate increases in traffic and create a safer environment for drivers. These developments will help ensure the quicker movement of goods and people across the region and are expected to help spur further economic development in the country. Regional connectivity will also improve, as the project has been planned in conjunction with Mozambique and South Africa. Zimbabwean President Emmerson Mnangagwa has already opened the newly-refurbished Tanganda-Ngundu Highway that connects the eastern part of Zimbabwe to South Africa.
The revamping of these roads is in line with Vision 2030 — a development initiative launched by the Zimbabwean government to upgrade the country to an upper-middle-class economy by 2030. The project has already created a spike in employment due to the rapid infrastructure overhaul construction operations, reflected in the Zimbabwe National Road Administration (ZINARA) minister's statement calling everyone who wants money to come help build the roads, "Those who are ready to work on the roads come and get your money."
While the renovation of highways and other essential roads in Zimbabwe is of utmost importance, rural communities are seeing significantly less attention. But that does not mean they are forgotten. In January 2019, the Zimbabwean government expressed interest with local officials of Kanyemba to expand updated roads to the rural province. Kanyemba is a largely underdeveloped province in northern Zimbabwe, and under the new infrastructure developments, the province officially received township status.
Looking Forward
With the expected economic growth after the road infrastructure improvements have been completed, rural areas are likely to develop as well. Once the government has more capital to put into its infrastructure services, it will be able to implement more extensive road network programs to reach beyond its main cities and highways to regions like Kanyemba. Zimbabwe's future development, once rural roads are improved and/or created, will likely bring adequate jobs, health care and education to the more remote corners of the country. If all these expectations come to light, Zimbabwe has a great chance at realizing its goal of becoming an upper-middle-income country by 2030 in accordance with Vision 2030.
– Graham Gordon
Photo: Flickr
https://borgenproject.org/wp-content/uploads/logo.jpg
0
0
Kim Thelwell
https://borgenproject.org/wp-content/uploads/logo.jpg
Kim Thelwell
2019-10-23 08:44:32
2019-12-17 13:39:14
Roads in Zimbabwe: Development Can Reduce Poverty