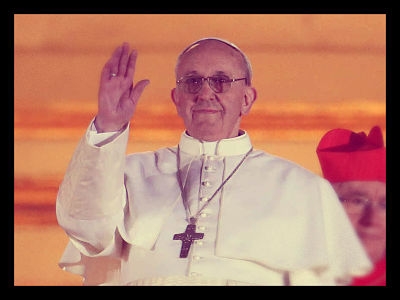 After two days of deliberation in the papal conclave, the first non-European pope was elected yesterday at the Vatican. Jorge Bergoglio of Buenos Aires, Argentina, now and forevermore known as Pope Francis, became the 266th leader of the Roman Catholic Church, presiding over approximately 1.2 billion followers.
Many attributes of the new pope give hope to the rising importance of assisting the poor and working in developing countries. As the archbishop of Buenos Aires until 2012, Bergoglio was known as a man of few material possessions. He lived in a simple apartment, wore hand-me-down clothes from the previous archbishop, and preferred to remain out of the limelight and work in the villages.
While Argentina is not a third world country, having a pope from South America, a region of the world that suffers from so much poverty and political corruption, will most certainly change the direction of the Catholic church and its leadership role in helping communities contend with economic and social issues.
Since European popes may not feel as strong of a connection to people suffering in developing countries, Pope Francis I has had first-hand experience with the issues and solutions that arise when serving a parish and community made up of such people. His concern about the persistent social inequalities in South America will direct attention to similar issues for both Catholics and non-Catholics alike in other parts of the world.
Aside from his home life, there are other signs that Pope Francis will become a bigger champion of the poor than previous popes have been. By choosing the name Francis, a name never used by a pope, Bergoglio alludes to the infamous Saint Francis of Assisi. According to Vatican spokesman Thomas Rosica, Bergoglio, like Saint Francis, was a lover of the poor. CNN Vatican Expert John Allen comments that the name also symbolizes "poverty, humility, simplicity and rebuilding the Catholic Church."
Being also the first Jesuit pope (the Jesuits are a religious order that is part of the Catholic Church), it is important to note that from the beginning of his religious training he took the infamous Jesuit vow of poverty, among other things. While the Catholic Church has been criticized for its lavish ornaments and spending habits, it seems that Pope Francis has the personality and lifestyle that is sure to change the focus of the Catholic mission partly onto global poverty and social injustice.
https://borgenproject.org/wp-content/uploads/logo.jpg
0
0
Borgen Project
https://borgenproject.org/wp-content/uploads/logo.jpg
Borgen Project
2013-03-14 13:49:04
2020-05-24 23:02:58
Will Pope Francis Be a Voice for the Poor?