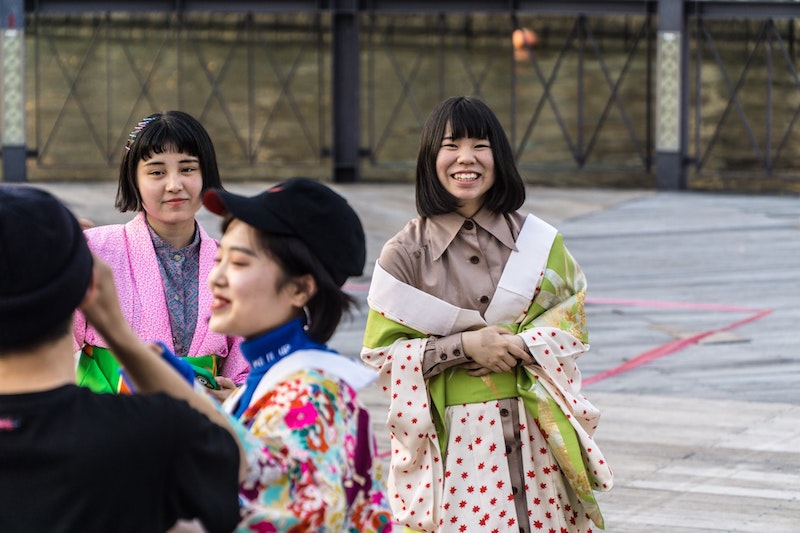 The World Economic Forum ranks countries' progress toward gender equality by assessing gender gaps across four categories: Economic Participation and Opportunity, Educational Attainment, Health and Survival and Political Empowerment. According to its 2021 Global Gender Gap Report, Japan ranks 120th out of the 156 included countries. This lower-end ranking highlights the struggle for the progression of women's rights in Japan. For example, despite Japan's former prime minister Shinzo Abe's intention to implement gender equality reforms, particularly in the workplace, Japan scores very poorly in the Economic Participation and Opportunity index, with only 60.4% of this gap closed as of 2021. A closer look at women's rights in Japan within the political and workplace environments provides insight into the country's progress.
Japan's Political Arena
Women endure significant underrepresentation in Japan's political environment, with only 45 women elected to the 465-member House of Representatives in 2021. As such, the Inter-Parliamentary Union ranked Japan 165th on its index of women in national parliaments. The 2003 prime minister, Junichiro Koizumi, set the missed target of having 30% females in leadership positions by 2020. Since then, Japan has set several other goals for gender equity with little to no action. Yuriko Koike, the governor of Tokyo, referred to the gender inequality barrier for women as an "iron plate" rather than simply a "glass ceiling." With such underrepresentation in government, women's rights in Japan remain an issue with limited advocates for aggressive policy changes.
Women in the Workplace
According to the 2021 Global Gender Gap Report, 72% of Japanese women participate in the workforce, however, "the share of women working part-time roles is almost twice that of men." Although Shinzo Abe, serving from 2012 to 2020, urged companies to bring more women into management positions, his efforts effectively stopped there. While there are laws that ensure equality between men and women and there are courts to hear cases of discrimination, litigation is a long (averaging five years), expensive and inconsistent process. There also remains the cultural shame of pursuing such a case.
Overwhelmingly, parenting in Japan falls on the women to ensure children succeed in a highly competitive educational system. Certain policies have emerged to alleviate some burdens, such as 12 months of parental leave at 50% income. There are also programs in place for the provision of childcare services. However, these changes have proven to be largely ineffective as the demand for childcare services grows significantly faster than the supply and there is a lack of legally binding authority for parental leave policies. Many employers, especially in small organizations, do not have specific policies around parental leave. The societal view of a woman's place within the household is still visible in the workplace, which shows in the policies surrounding women's rights.
Women's Rights Progress
One success for Japanese women is that there is no gender gap in educational opportunity in terms of primary education. In addition, Japan has closed "95.3% of its secondary enrolment education gender gap and 95.2% of its tertiary enrolment education gender gap."
For other areas of improvement, there are organizations advocating for more women in leadership positions. For example, the Japanese Women's Leadership Initiative "empowers Japanese women to become leaders and to make positive social change and innovation in Japan." The initiative started in 2006 in Boston, Massachusetts, with three women, Atsuko Toko Fish, Mary Lassen and Catherine Crone Coburn. The program invited emerging women leaders in Japan to participate in a four-week training during which they would develop action plans to create social change after returning to Japan. After receiving more funding, JWLI expanded to hold public forums in Japan, reaching hundreds of Japanese citizens.
Politically, the new Japanese prime minister, Fumio Kishida, reinforces his predecessor's commitment to promote gender equality and "become one of U.N. Women's top contributors."
The advancement of women's rights in Japan may entail a long journey of fundamental reform within Japanese society, but with the pressing need for women's economic contributions to end poverty and the rise of more women wishing to join the workplace, Japan will need to prioritize changes to women's rights in the workplace. Although slowly, the Japanese government is taking steps toward transforming the nation into a more equitable society. Often, change does not happen linearly, but rather, exponentially. Perhaps it is Japan's time for exponential change.
– Rachael So
Photo: Unsplash
https://borgenproject.org/wp-content/uploads/logo.jpg
0
0
Saiesha
https://borgenproject.org/wp-content/uploads/logo.jpg
Saiesha
2022-05-05 01:30:20
2022-05-09 06:04:35
Women's Rights in Japan