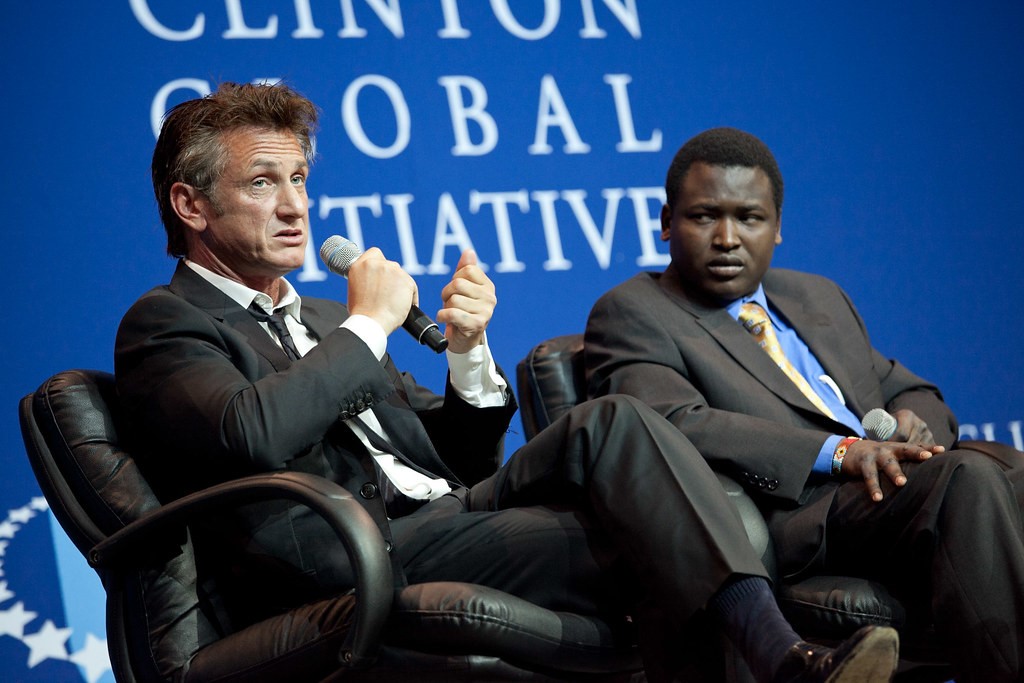 Shortly after a 7.0 magnitude earthquake struck Haiti in January 2010, Sean Penn established the J/P Haitian Relief Organization (J/P HRO). Initially, an emergency relief association, Sean Penn's charitable organization expanded to help vulnerable communities rebuild their lives in healthier and safer neighborhoods. The organization provided access to quality education, health services, improved housing and infrastructure and livelihoods.
Haiti + Beyond Fundraising Gala
As Penn's annual J/P HRO fundraising gala approached its eighth year, the Oscar-winning actor and humanitarian renamed the event on January 5, 2019. Formerly known as Haiti Rising, the gala name changed to Haiti + Beyond to demonstrate the organization's expansion into disaster relief around the world and not just Haiti. While honoring CNN's Anderson Cooper, Puerto Rico's Mayor, Carmen Yulin Cruz, and Ambassador Kenneth Merten, Haiti's special coordinator during the evening's social event, Haiti + Beyond, raised $3.5 million.
Besides entertainment, an auction also figured into part of the soiree along with additional contributions and tickets for the more than 400 guests, which ranged from $5,000 to $10,000. Proceeds will go towards saving lives by strengthening helpless communities in Haiti and the Caribbean and enabling faster reactions and effective assistance in emergencies in the U.S.
Legacy of J/P HRO and Expansion
The earthquake in Haiti impacted an estimated three million people with 250,000 lives lost. In the nine years since its start, the humanitarian relief organization has provided preventative health care, education and community resources. With its success in the region, Penn and J/P HRO have set their sights on expanding efforts around the globe.
Starting in 2019, Penn will focus on investing J/P HRO's resources in particularly disaster-prone areas around the world. J/P HRO, its partners and other like-minded organizations will join forces to work together with communities, municipal governments and the private sector to guarantee a swift response when disaster strikes.
As a result of this new expansion, Sean Penn's charitable organization, J/P HRO, will now go by the name CORE (Community Organized Relief Effort), dedicated to saving lives while empowering communities affected by or susceptible to catastrophe. The vision of CORE is a world where at-risk communities are prepared for disasters, resilient and able to respond quickly and quick to recover.
This move follows J/P HRO's efforts in response to recent hurricanes in Puerto Rico, Antigua, Barbuda, Florida and North Carolina. Although Haiti has been the center of this organization and has a majority of Haitian employees and volunteers, these experiences have given Penn insight into how to react and support communities facing similar disasters in the Caribbean and U.S.
As part of the expansion, the organization will announce an expanded board while longtime board members, such as Penn, will continue to serve and engage new staffers. Consequently, strategic partnerships with other nonprofits to provide emergency services in low-income neighborhoods and at-risk areas will round out this development. While J/P HRO is branching out, Haiti will, nevertheless, be a significant part of Sean Penn's charitable organization as the country remains a primary passion for Penn. The devastation that occurred in Haiti led to Sean Penn's desire to assist in every aspect of rebuilding which lead to the launch of J/P HRO and has remained in place for a decade.
– Colette Sherrington
Photo: Flickr

https://borgenproject.org/wp-content/uploads/logo.jpg
0
0
Kim Thelwell
https://borgenproject.org/wp-content/uploads/logo.jpg
Kim Thelwell
2019-07-12 18:02:37
2019-07-12 18:02:37
Sean Penn's Charitable Organization and Expansion