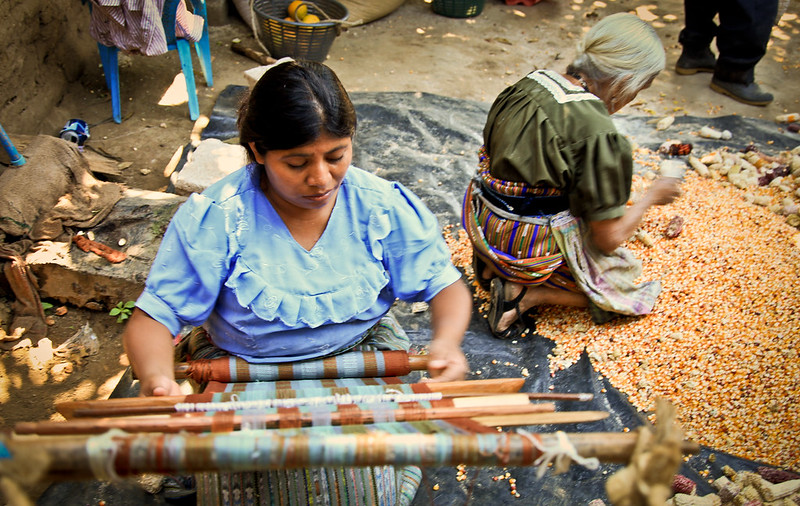 Fast fashion is fashion that producers make cheaply and price low to catch up with current trends. However, indigenous people are trying to change this. With their unique patterns and colorful designs, many indigenous people are using their culture and skills to allow indigenous culture to live forever, especially in the fashion world. More importantly, indigenous people are investing their skills and resources into creating sustainable fashion to combat poverty. Indigenous communities, while representing roughly 5% of the world's population, also represent much of the world's impoverished. Through indigenous fashion, the number of indigenous people in poverty may soon decrease.
History Behind the Pattern
Indigenous people, specifically the indigenous people of Guatemala, have a specific reason for choosing their patterns and distinctive colors. Color and design are deeply integrated into their everlasting culture and history. According to an ancient Mayan myth, the Mayan goddess Ixchel first developed this type of design, called loom weaving. People know her as the goddess of love, the moon, medicine and textile arts. Loom weavers utilize her practices to create fashionable crossbody bags. Whether they work with a company or by themselves, weavers are benefitting from the popularity of their culture's patterns.
Weaving has henceforth become more than just a means for indigenous women to provide for their families. These women have important roles in their communities and these skills are teaching them to push for more self-reliance within themselves.
Mama Tierra
Indigenous Guatemalans are not the only ones taking advantage of this development in indigenous fashion. A nonprofit organization called Mama Tierra (which translates to "Mother Earth" in Spanish) is helping advance self-reliance in the Wayuu community through fashion. Founded in 2014, Mama Tierra assists the Wayuu community of La Guajira in several ways. It works to:
Make sure that women making bags (which comprise sustainable materials such as organic cotton, recycled bottles and pineapple leaves) receive proper pay.
Teach women how to make soap to keep their families healthier.
Provide Wayuu people with accessible solar energy and nutrition programs.
Promote indigenous women's commercial activities around Colombia.
The Wayuu community greatly needs and appreciates Mama Tierra's work. Consisting of 600,000 people, many in the Wayuu community do not have electricity or running water. Environmental changes make their land less suitable for growing food. Additionally, 50 Wayuu children younger than 5 die each month in La Guajira due to malnutrition and related causes. These families display their humanity through the bags they produce: each bag comes with a tag with a picture of the maker and their children. With the help of organizations like Mama Tierra, the Wayuu people are improving their lives and changing their futures.
Moving Forward
Indigenous women are now turning their skills and culture into something that will pay off in the long run. Apart from providing for their families, the women are making something of themselves, putting their names on something that they created. Organizations like Mama Tierra have also created trading routes for this community, displaying their artistic skills to the fashion world. By doing this, indigenous communities' work is becoming commercialized for a broader market to see. With skillful weaving and vivid colors, the women make their own indigenous fashion and show the larger industry they are here to stay.
– Maria Garcia
Photo: Flickr
https://borgenproject.org/wp-content/uploads/logo.jpg
0
0
Kim Thelwell
https://borgenproject.org/wp-content/uploads/logo.jpg
Kim Thelwell
2021-08-27 01:30:16
2021-08-27 01:30:15
Advancements in Indigenous Fashion