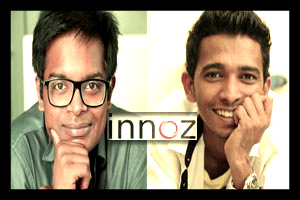 While many of us could not imagine a cell phone plan without unlimited data, it shouldn't come as a surprise that hundreds of millions of people rely on basic messaging phones. Aside from the constant criticism about society being too attached to their cell phones, in reality, mobile browsers and apps provide unbelievable services at the tip of your fingers; students use it to access classroom web pages and complete homework, entire businesses can be run without stepping foot into an office, and you can book an entire European vacation from a single travel app.
One Indian startup company decided to change all that for the hundreds of millions who did not have these services. In 2008, Deepak Ravindran and his friends started Innoz, an external mobile search engine that provides mobile information and applications through SMS.
Through SmsGYAN, their own designed 'answer engine', users are able to use hashtags to designate which app they want to use. A specific question or format is sent in the text message, and an answer is immediately sent to the phone. With hundreds of different apps, Innoz is able to reach more than 120 million mobile phone users and sends out anywhere from 5 to 10 million answers a day.
With 20 different categories to choose from ranging from games and news to sports and productivity, Innoz includes apps such as #MATHS which sends math problems to the users phone. Other useful and interesting apps include: #STEVE, quotes from Steve Jobs, #JOBS, which lists jobs available in the user's area, and #AEROTRIX, which helps teach practical aerospace. There is even #ipc4w which provides information of the different punishments for crimes against women.
This company has opened up a massive world of knowledge and is making it available to people who either cannot afford smart phones or live in areas where such technology has not become part of everyday life. It allows anyone to gain access to college information, hospital information, and even statistics about their favorite cricket players.
It levels the playing field for the farmer who must catch his train on the railway but never had an up-to-date schedule to rely on. It gives the struggling student a chance to learn new material and give themselves a boost in the classroom. For companies such as Innoz, the focus is on an audience that craves to have information at their fingertips but doesn't have the means to receive it, until now.
– Deena Dulgerian
Source: SiliconIndia
https://borgenproject.org/wp-content/uploads/logo.jpg
0
0
Borgen Project
https://borgenproject.org/wp-content/uploads/logo.jpg
Borgen Project
2013-03-19 07:36:54
2020-05-26 00:09:33
Indian Startup Provides Mobile Information