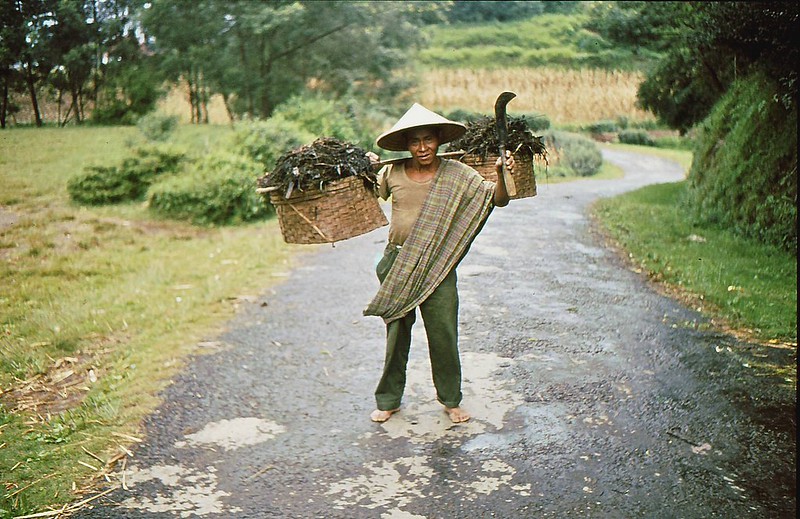 Over the past two decades, employment in agriculture in Indonesia has declined from 45% in 2000 to about 29% in 2019. This decline has been accompanied by an aging farmer population, with 60% to 80% of rice farmers above the age of 45. However, Indonesia is the third largest producer of rice in the world. Its agriculture sector also provides an integral source of income for Indonesian families and export-revenue for the country. Without millennial interest in these jobs, the fading light of agriculture could cast a dark shadow on the economy. Thankfully, vanilla in Indonesia is bringing Indonesian youth back to agriculture and making the sector more profitable. This underscores the vanilla trade's potential as a way out of poverty in Indonesia.
A Tale of Agriculture Revitalized
Sofa Arbiyanto, 30, began farming vanilla in 2018 in Blora, Central Java. Blora is one of two regions that produce most vanilla in Indonesia. After leaving his manufacturing job in South Korea and connecting with vanilla farming groups online, Arbiyanto began farming vanilla on a 1,200-square meter plot. He now has 2,000 vanilla vines.
Arbiyanto made the switch to farming because of the profitability potential he saw in the market. In 2019, vanilla beans from Madagascar, the world's top producer, cost more by weight than silver. Vanilla itself is the second-most traded spice in the world. Vanilla in Indonesia accounted for 29% of the global supply in 2016, making Indonesia its second largest producer.
The lack of millennial attraction to farming is rooted in cultural stigma. Children who grow up in farming families learn from their parents that farming is a dirty job imbued with poverty and hardship. For these families, farming is as a last-resort career for their children. Thus, the people most likely to become farmers seek out other jobs instead.
Hilmi, a graduate student from Cigugur who spoke with The Diplomat, explained that young people in Indonesia see farming as a life of "soiled clothes with no pride." However, vanilla in Indonesia may be changing this outlook. Indeed, Arbiyanto said, "My initial view that farmers live in hardship and poverty has changed. With a touch of innovation and technology, it is a promising opportunity."
Indonesia Vanilla Farmers' Association
Arbiyanto is one of around 250 vanilla farmers ages 25 to 35 who trained with the Indonesian Vanilla Farmers' Association (PPVI). PPVI has a YouTube channel where farmers across the country can access informational videos. The channel has almost 15,000 subscribers, while some of its videos have more than 115,000 views.
This innovative approach to training farmers is revitalizing vanilla in Indonesia. Many millennials, more in touch with technology, have learned farming techniques through this method. Further, PPVI notes that experienced farmers use platforms like WhatsApp to offer the new generation their tips and tricks.
According to McCormick & Co., "Indonesia has strong potential to become an alternative origin [for vanilla], in terms of quantity and quality." Although price volatility puts some risk in vanilla in Indonesia, the spice is bringing life back to a sector that many Indonesians have long associated with poverty.
Vanilla in Indonesia in the Global Trade
To make matters more enticing, the vanilla market has seen an increase in demand during the pandemic. Because of global stay-at-home orders, grocery shopping and home cooking have increased. This means that the average household now consumes more vanilla.
At the same time, the pandemic has caused shipping delays that resulted in an 18% drop in shipments from January to May of 2020. Kasan, a director-general in Indonesia's trade ministry, noted that price volatility puts some risk in this enterprise. Still, the government has maintained its support.
"When the new normal begins and trade activities are gradually increased … vanilla exports will become one of the mainstays of trade that will be expanded," Kasan said. This sentiment is part of a larger desire from the Indonesian government to diversify its agricultural exports, which are largely dominated by palm oil. The government also wants to use vanilla to create pathways out of poverty in Indonesia.
U.S. Aid
The opportunity to reduce poverty via vanilla came when a cyclone hit Madagascar in 2017, cutting off much of the global supply of vanilla and creating a shortage on the global market. This was an opening for other suppliers to gain a greater share of the market. The U.S. Agency for International Development, in collaboration with Cooperative Business International (CBI), stepped in to help. They have established partnerships between more than 5,000 small-scale, Indonesian spice famers and international spice vendors. Thus, U.S. aid further supports growth of vanilla in Indonesia.
Through this co-op, Agustinus Daka, an experienced vanilla farmer, told AEC News Today that his income had doubled. This moved him beyond subsistence farming. Daka harvests his beans after nine months and sends them to a spice factory in Central Java, where some 700 Indonesians work.
Sam Filiaci, senior vice president for Southeast Asia at CBI, explained the broader scope of such partnerships. "Even though we talk about the 700 people working in this facility," Filiaci said, "the employment that it creates in the United States or the destination markets is even greater."
He continued, "Vanilla and these other high-value crops that we grow and produce are a tool to improving people's lives … helping farmers educate their children, build their houses, get health care. I think it's extremely important and strategic for the U.S. government to invest in opportunities like this." Thus, international aid has a large role to play in using vanilla in Indonesia to lift Indonesians out of poverty.
– Olivia du Bois
Photo: Flickr
https://borgenproject.org/wp-content/uploads/logo.jpg
0
0
Jennifer Philipp
https://borgenproject.org/wp-content/uploads/logo.jpg
Jennifer Philipp
2020-10-17 08:52:22
2020-10-17 08:52:22
How Vanilla in Indonesia Lifts Youth out of Poverty