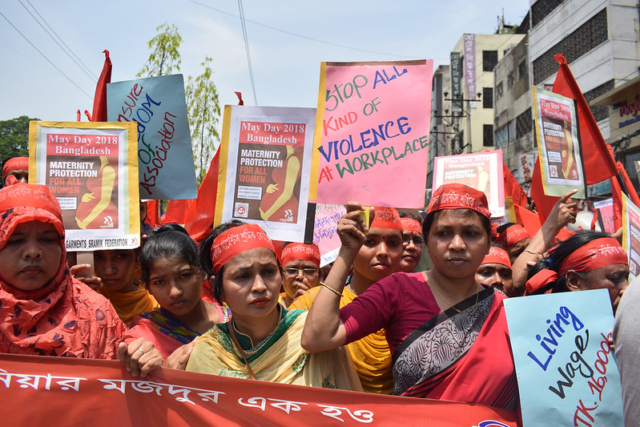 Bangladeshi women are no strangers to fighting for what they believe in. In 1952, the women of Bangladesh fought against the patriarchal regime alongside their husbands for the recognition of the Bengali language. Below are 10 improvements in women's rights in Bangladesh.
10 Improvements in Women's Rights in Bangladesh
Health. The USAID assisted in joint communication between husbands and wives regarding women's health. Therefore, decision-making is mutual and focuses on the future of the family, including healthier pregnancies for both mother and child. Bangladeshi women formed NGOs to mobilize and provide door to door health services, family planning and income-earning opportunities.
Agriculture. Bangladeshi women are not only homemakers, but they are also income earners. Female farmers utilize a new technology, known as the fertilizer deep treatment method. This method uses less fertilizer and produces a higher return on investment. Additionally, Bangladesh also encourages women to sell in markets and pursue other areas of earned income, such as culturing fish and shrimp.
Gender-Based Violence. The USAID works to implement the Domestic Violence Prevention and Protection Act of 2010 in training 50 percent of Bangladeshi women. Further, Bangladesh also supports grassroots efforts of social protection groups as well. Groups act as the ears and eyes of the community, as well as enforcing current human rights laws and providing resources to legal channels. Groups include social workers, doctors, religious leaders, teachers and students.
Voting Rights. The country has set an example of women's equality in voting. In 1972, the Constitution of Bangladesh guaranteed women the same voting rights as their male counterparts. The constitution also guaranteed equal opportunities, such as serving in parliament. For example, in 1991, there was the election of the first female Prime Minister, Khaleda Zia. Today, Sheikh Hasina holds the seat as Prime Minister. Furthermore, Shirin Sharmin Chaudhury holds the seat as House Speaker.
Women and Children Repression (Special Act). In 1995, Bangladesh passed the special act for severe punishment for anyone guilty of forcing women to marry against their will, as well as marrying for dowry. In 2018, the high court also banned and prohibited the two-finger test; it deemed this test irrational and belittling to rape victims. Instead, the government adopted a more appropriate form of health care protocol in line with the World Health Organization.
Education. Research finds that access to education and employment plays a positive role in helping women avoid becoming victims of dowry-related transactions. Illiteracy stifles the opportunity for growth and empowerment for women. The Centre for Policy Dialogue completed a study and found that if homemakers received pay for what people believe is
non-work, they would receive 2.5 to 2.9 times higher pay than paid services income.
Mass Awareness. Bangladesh also encourages mass discussion, debates and programs to bring awareness to gender inequality. According to lawmakers, mass public initiatives must include legislations and policies; this includes awareness that people teach and model at home.
Working Women. Bangladeshi working women increased from 16.2 million in 2010 to 18.6 million in 2016-17. In 2017, the Gender Gap Index reported Bangladesh in the first spot amongst South Asian countries.
Education. In 1990, the implementation of stipends exclusively for female students in efforts to end gender disparity for secondary schools occurred. Also, 150,000 primary school girls improved their reading skills. Participation increased from 57 percent in 2008 to 94.4 percent in 2017. Moreover, 10 million rural and underprivileged women in 490 Upazilas of 64 districts gained technology access. Bangladesh tops the Gender Gap Index in education in the primary and secondary education category.
More Achievements. Bangladesh initiatives thus far include a reduction in infant and child mortality, poverty alleviation, increased female entrepreneurs and increased education and health. Other initiatives include strengthening workplace treatment and security for women against violence. There have also been income-generating initiatives to train over 2 million women at a grassroots level. Finally, Prime Minister Hasina created the Reserve Quota aimed at increasing the number of women in government, judiciary and U.N. peacekeeping missions and roles.
These 10 improvements in women's rights in Bangladesh continue to set an example for other countries where inequality is extremely pervasive. While Bangladesh still requires significant work, these improvements bring more opportunities for Bangladeshi women to succeed in the future.
– Michelle White
Photo: Flickr
https://borgenproject.org/wp-content/uploads/logo.jpg
0
0
Lynsey Alexander
https://borgenproject.org/wp-content/uploads/logo.jpg
Lynsey Alexander
2020-01-18 07:30:53
2020-01-16 09:37:06
10 Improvements in Women's Rights in Bangladesh