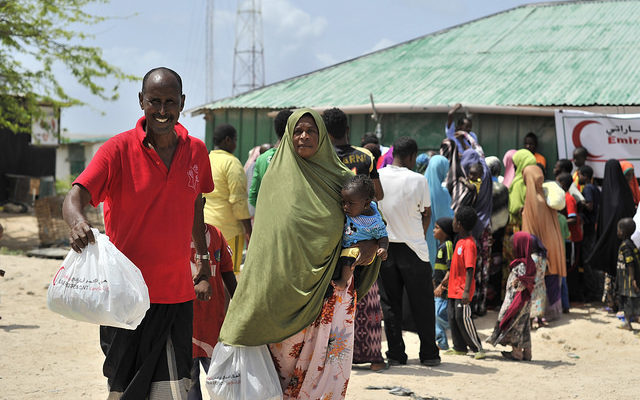 When Marie Kondo's Netflix series, "Tidying Up with Marie Kondo," came out on New Year's day in 2019, it sparked a donation craze in the United States. Within several weeks of the premiere, clothing, shoes and more overwhelmed donation centers. While charities resell or reuse some of these items, not all donations remain in the immediate community. So what happens to donated clothing that charities cannot resell or reuse? In fact, the international impact of donated clothing is greater than it may seem.
Where Do Donations Go?
According to estimates from ABC News, thrift shops and charitable organizations keep or sell less than 10 percent of donated clothing. Charitable organizations redirect the other 90 percent of unusable or unwanted clothing to textile recycling companies. These companies turn the clothes into cleaning rags, furniture filler, insulation and other products.
However, recycling companies cannot use all the material they purchase. Accordingly, they redirect a fourth of purchased material to other markets. These clothing donations become exports to developing countries around the world.
According to M.I.T's Observatory of Economic Complexity, the U.S. is the largest exporter of used clothing (also known as textile waste, clothing or scrap) in the world. The sale of used clothing brings nearly $683 million to the U.S. economy each year. On the other side, Pakistan and Ukraine are the two largest importers, purchasing over six percent and four percent of exported clothes, respectively. While exporting used clothing helps repurpose material from the U.S., it can seriously undermine the textile industries of developing countries.
The International Impact of Donated Clothing
Donated clothing from the U.S. floods the markets in developing countries, providing cheap alternatives to domestically manufactured textiles. Often, donated clothes are more affordable and available than domestic options. Thus, as donated clothes find their way into foreign markets, they undercut domestic producers.
For example, several decades ago, half a million Kenyans had jobs in the garment industry. As of 2017, only 20,000 of those jobs remained. Now the garment industry in Kenya focuses on redistributing and shipping secondhand clothes domestically. Similarly, Zambia lost the majority of its clothing industry over the past 30 years. With increasing imports, Zambians could not afford to buy locally produced garments anymore.
With a constant stream of cheap clothing from developed nations, like the U.S., industries abroad struggle to compete. The constant competition stifles the development of alternatives to imported textiles. However, by keeping clothing donations local, individuals can help lessen the international impact of donated clothing. Try the tips below to keep donations local!
Five Ways to Donate More Responsibly
Find the Right Charity: Do some research before donating. Find a local organization with excellent values and give back to the community. Use this opportunity to find out what kind of items local charities find most useful.
Drop off Donations Personally: Take items directly to the charity of choice, as opposed to leaving them in a donation bin (often found in parking lots or alongside roads). Delivering personal items ensures the supported charity will benefit from the donation. Bonus: dropping off items helps charities minimize transportation costs.
Donate Only What Charities Need: If items are worn out or old, organizations will have a hard time repurposing them. Try to donate only items that are usable. If unsure of what charities are looking for, contact the charity and find out!
Recycle and Repurpose: If clothing is unsuitable for donation, try to find ways to reuse and repurpose them in daily life. For example, old t-shirts can easily become dish rags, cleaning cloths and more.
Consider Consignment or Other Alternatives: Sell personal items and donate the proceeds to an organization of choice. The organization will save valuable time and resources to process and resell the donated items.
– Morgan Harden
Photo: Flickr
https://borgenproject.org/wp-content/uploads/logo.jpg
0
0
Kim Thelwell
https://borgenproject.org/wp-content/uploads/logo.jpg
Kim Thelwell
2019-05-01 08:51:05
2019-05-01 08:51:05
The International Impact of Donated Clothing