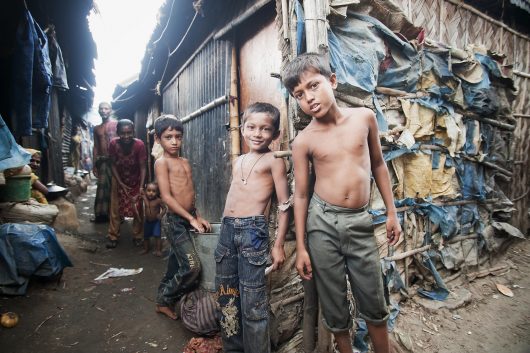 Nearly half of the world's population lives at or below the poverty line; out of the 2.2 billion children in the world, one billion of them live in poverty. Though this issue may not be as prevalent or visible in the U.S., it is an issue that affects everyone. Small steps can be taken to better this problem, leading to possible solutions to global poverty.
Properly Identifying Issues
One of the largest issues involving poverty is the inability to properly identify contributing factors at the micro and macro level. Many organizations assume that local aid alone will better the problem, but it is only with the combined efforts of local, state and national governments that poverty will lessen.
Allocating Proper Time and Resources
Preventable diseases such as pneumonia claim the lives of nearly two million children per year. Without proper planning, which includes allocating enough time, money and volunteer work, global poverty will continue to exist. Currently, the U.S. spends only about one percent of the federal budget on foreign aid. By creating detailed plans and projects aimed at helping other nations, global poverty will begin to lessen.
Creating organizations and communities to work locally
Enacting policy is not the only solution to global poverty, as policy often does not affect those suffering directly. As previously stated, efforts must come from both local and federal domains. Essentially, while policy is created to change legislation, local organizations enact the changes, directly helping those in need. On top of that, working with entire communities instead of specific individuals has been proven to be more effective.
Creating Jobs
Creating jobs in poverty-ridden communities allows individuals to pull themselves out of poverty. This solution to global poverty is arguably one of the most effective. Federal governments can achieve this by rebuilding their infrastructures, developing renewable energy sources, renovating abandoned housing and raising the minimum wage.
By raising the minimum wage in existing jobs, companies would combat recent inflation in both developed and developing countries. This change in the states (in places such as Seattle and Washington) has been shown to reduce poverty.
Providing Access to Healthcare
Unpaid medical bills are the leading cause of bankruptcy. Having access to free or affordable healthcare would allow families to allocate the money they would normally spend on healthcare elsewhere.
Empowering Women
Female empowerment in developing countries often comes from organizations that work to reduce poverty by allowing them to take leadership positions and advance socially and economically.
Microfinancing
Microfinancing provides improvements to socioeconomic status by providing access to more, larger loans, providing better repayment rates for women, as they are less likely to default on their loans than men and extending education programs for loan-payers' children. It can also improve health and welfare by providing access to clean water and better sanitation, create new jobs and teach developing countries to be more sustainable.
Microfinancing continues to prove that even the smallest amounts of credit can be one of the many solutions to global poverty.
Provide paid leave and paid sick days
Paid maternal and paternal leave allows families to save money after childbirth, as having a child is a leading cause of economic hardship. Furthermore, giving workers paid sick days allows them to properly get over their illness without worrying about missing a paycheck or receiving a paycheck with fewer funds than normal.
Supporting equal pay for men and women
Closing the wage gap between men and women would reduce 50 percent of poverty experienced by women and their families. This would also add money to the nation's gross domestic product.
Global poverty has proven to be an unruly, frustrating cycle, but eradicating it is within our means. These solutions to global poverty can and should be implemented to begin the end of poverty.
– Chylene Babb
Photo: Flickr
https://borgenproject.org/wp-content/uploads/logo.jpg
0
0
Borgen Project
https://borgenproject.org/wp-content/uploads/logo.jpg
Borgen Project
2018-03-30 01:30:16
2019-11-17 11:59:54
10 Solutions to Global Poverty That Can Be Implemented Today