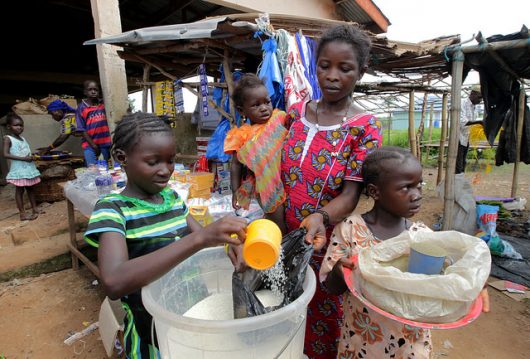 Hunger affects more than 700 million people in the world. About one in nine people on this planet do not have the proper amount of food to sustain a healthy lifestyle. The majority of people suffering from starvation live in developing countries in Africa and parts of Asia.
Hunger also has a significant adverse impact on children. Poor nutrition causes about 45 percent of deaths in children under five. This amounts to approximately 3.1 million children each year. Sixty-six million young children attend school hungry, and 22 million of those children are from Africa. In developing countries, one out of three children are stunted, and at least 100 million of these children are underweight.
Malnutrition and world hunger are significant factors in poverty, but organizations such as the Hunger Project work to combat these factors.
What is the Hunger Project?
The Hunger Project was established in 1977, and its primary goal is to help everyone live a fulfilling and healthy life by ending world hunger.
The organization's focus is world hunger, and it has pinpointed other variables that contribute to achieving its ultimate goal. Simultaneously, it works to enhance human dignity, gender equality, empowerment, interconnectedness, sustainability, social transformation and transformative leadership.
The Hunger Project faces each challenge with three approaches. Firstly, it works to empower women, because they are essential to decreasing world hunger. It then focuses on making dependent communities self-reliant through mobilization. Finally, it works to improve local governments through partnerships.
The Hunger Project Improving Ghana and Burkina Faso
Recently, the Hunger Project partnered with the Economic Community of West African States to work on projects in Ghana and Burkina Faso. Together, they will finance these projects to improve leadership in communities. With better guidance, the organizations hope that it will lead to people being able to obtain their basic daily needs.
Another goal of these projects is to teach communities how to create boreholes during harvest. Boreholes are holes that are drilled into a surface to extract vital material. Boreholes are useful for drilling for water, as well as oil and mineral extraction.
Finally, as part of the series of projects, the organizations will work to equip Ghana and Burkina Faso with more modern tools and skills.
The Hunger Project's Maternal Care
Ghana's maternal healthcare system is in dire need of improvement. As of 2010, 164 out of 100,000 births resulted in death. The Hunger Project is working to make a difference by partnering with the Ghana Health Service to teach women how to become midwives.
Ghana is suffering from a shortage of midwives, which can lead to complications during childbirth, especially when a trained attendant is not present. The organization strives to place trained midwives across 15 districts in Ghana. These midwives will offer 24-hour maternal care, especially in the regions that have a shortage.
Hunger is crippling a significant number of people in the world, but with organizations such as the Hunger Project working to address the causes, improvements are sure to come shortly.
– Cassidy Dyce
Photo: Flickr
https://borgenproject.org/wp-content/uploads/logo.jpg
0
0
Borgen Project
https://borgenproject.org/wp-content/uploads/logo.jpg
Borgen Project
2018-02-28 01:30:05
2019-08-20 10:10:33
Fighting World Hunger Through the Hunger Project