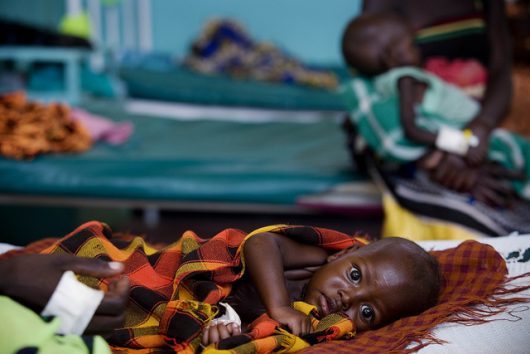 Thousands of children are facing starvation and hunger in Zimbabwe due to the worst drought in two decades. According to the World Food Programme, nearly four million Zimbabweans are struggling to meet their basic food needs.
Zimbabwe is considered a food-deficit country, ranked 156 out of 187 on the Global Hunger Index. Although food insecurity affects people of all ages, it is even more detrimental to children.
Studies show that proper nutrition is critical to children's physical and emotional development. Children struggling with hunger are more likely to repeat a grade in primary school, experience impairments in language and motor skills, or have social and behavioral problems.
In Zimbabwe, only 17.3% of children between the ages of two and six receive the recommended minimum diet for adequate nutrition. A child suffering from malnutrition is more likely to contract diseases, such as HIV, or suffer from stunting. Currently, one in every three Zimbabwean children suffers from chronic malnutrition or stunting. Stunting alone contributes to more than 12,000 deaths per year.
Hunger in Zimbabwe has become a major issue, particularly for low-income families and their children. Struggling families are often pressured to accept a dowry for their young daughters. This provides food for the rest of the family, as well as a potentially more food-secure situation for their daughter.
Approximately one out of every three girls in Zimbabwe are married before their 18th birthday. Girls living in the poorest 20% of households were more than four times as likely to marry before the age of 18 than those living in the wealthiest 20% of households.
Both poverty and hunger in Zimbabwe have resulted in an unsafe environment for children.
In order to combat hunger in Zimbabwe, the World Food Programme has implemented the Protracted Relief and Recovery Operation (PRRO). The three primary focus areas of the operation are disaster response, food assistance and nutrition.
The disaster response and risk reduction program are designed to support food-insecure households affected by severe drought during the growing season.
Food Assistance for Assets provides cash and in-kind transfers, along with activities that promote self-reliance. It empowers vulnerable communities to move away from a dependence on food assistance.
The health and nutrition promotion is responsible for the Moderately Acutely Malnourished treatment, which assists pregnant and nursing women and children under the age of five. A stunting prevention program was also established in the same district.
With the help of the World Food Programme and other international organizations, hunger in Zimbabwe is decreasing and children are able to live healthier and happier lives.
– Kristyn Rohrer
Photo: Flickr
https://borgenproject.org/wp-content/uploads/logo.jpg
0
0
Borgen Project
https://borgenproject.org/wp-content/uploads/logo.jpg
Borgen Project
2016-08-29 01:30:43
2020-06-17 15:17:57
Hunger in Zimbabwe: Overcoming Child Malnutrition