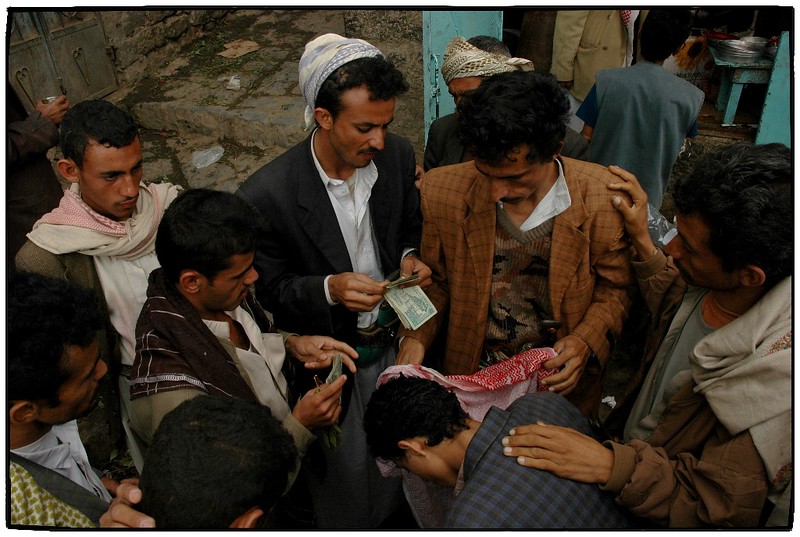 Eight years of civil war have thrust Yemen into a state of economic and humanitarian emergency. The conflict has left 2.3 million children acutely malnourished, giving the media and nonprofits alike no choice but to report a dismal picture. There is, however, an untold story at play. The story of remittance to Yemen demonstrates that familial solidarity remains steadfast in times of crisis.
In short, remittance to Yemen refers to money transfers sent home by Yemenis who are working overseas, usually from the Gulf states, the U.S. and the U.K. More than 200 million migrants worldwide send remittances home to their families every year.
The World Bank estimates that, as of 2023, 24.1 million people in Yemen were at risk of hunger and disease. A further 14 million required acute assistance. It is these statistics that set the precedent for the importance of remittance for alleviating the country's humanitarian emergency. Here is an overview of just some of the ways that remittance to Yemen is making a difference. 
Preventing Hunger and Starvation
The World Bank has declared that vast numbers of Yemenis are living on the verge of famine. "My daughter had malnutrition due to our harsh living conditions and lack of income", Waleed Al-Ahdal told UNICEF. Al-Ahdal's story is one of many. With countless others surfacing, it is unsurprising that UNICEF has warned that "no place in Yemen is safe for children."
However, without the security of remittance payments, the situation would be even more grave. Oxfam's Yemen Country Director, Muhsin Siddiquey, has warned that Yemenis would have to rely on international aid "without the safety net of remittances." With one in 10 people in Yemen relying solely on money transfers to meet their basic needs, the cruciality of remittance to Yemeni survival becomes clear. 
A Display of Solidarity
As well as combatting starvation, overseas Yemenis supporting their families to fend for themselves shows solidarity. The International Day of Family Remittances falls on June 16 every year and is a universally-recognized observance. This symbolic day celebrates migrant workers' dedication to the well-being of their loved ones. 
Just 20 years ago, remittances were unaccounted for in international statistics — as were the sacrifices of migrant workers. Acknowledging remittance to Yemen as a powerful tool of poverty prevention is setting the precedence for the international community to follow suit and take humanitarian action. 
Setting the Precedence for Foreign Aid
The necessity for overseas money transfers to meet basic needs has put Yemen's humanitarian crisis on the international radar. When allied with remittance payments, global action is having a real impact on the ground.
For example, The Yemen Social Fund for Development's Cash for Nutrition program targets pregnant women and women with children less than 5 years old, teaching them about child nutrition and providing them with money for food. The World Bank estimates that 165,000 pregnant or lactating women and 175,000 children have been reached by the project so far.
An Economic Investment
Gilbert Houngbo, chief of IFAD, has described remittances sent by migrant workers as a "win-win solution". He explains that remittance payments are positive for the workers' countries of origin as well as the host countries. Houngbo estimates that 15% of each salary earned by overseas migrants in a host country is sent home in the form of remittance. The significance here is that this leaves an average of 85% of migrant income circulating in the host country, contributing to the national GDP. 
Of course, the humanitarian necessity of remittance is more pressing, but the economic benefits play a key part in encouraging states and service providers to facilitate the money transfers of migrants into and out of their countries. Economically speaking, remittance is a mutually beneficial enterprise. 
More Needs To Be Done
Remittance payments have their drawbacks. They do not target the root causes of extreme poverty in Yemen. Instead, they merely counteract the devastating impact war has had on the population's basic needs. 
Moreover, the flow of remittance into Yemen is an unstable source of aid. One remittance service provider in Sa'ada saw a reduction in migrant money transfers of 96% between January 2020 and April of the same year. Likely a result of the COVID-19 pandemic, the global crisis exposed the insecurity of remittance with devastating consequences.
"I purchase food on credit from the grocery and have two months overdue rent," Abu Ameer told Oxfam. Ameer's plight worsened when his son stopped working due to the lockdown. As a result, Ameer's son ceased payments to his father from Saudi Arabia. Ameer's reliance on his son's income laid bare the fragility of remittance as a method of reducing extreme poverty. 
While remittance to Yemen has evidently not ended the civil war, nor has it eradicated extreme poverty in the country, it remains a symbol of unity and a provider of aid for those most in need.  
– Imogen Townsend
Photo: Flickr
https://borgenproject.org/wp-content/uploads/logo.jpg
0
0
Lynsey Alexander
https://borgenproject.org/wp-content/uploads/logo.jpg
Lynsey Alexander
2023-08-08 07:30:36
2023-08-09 11:39:58
How Remittances to Yemen is Making a Difference