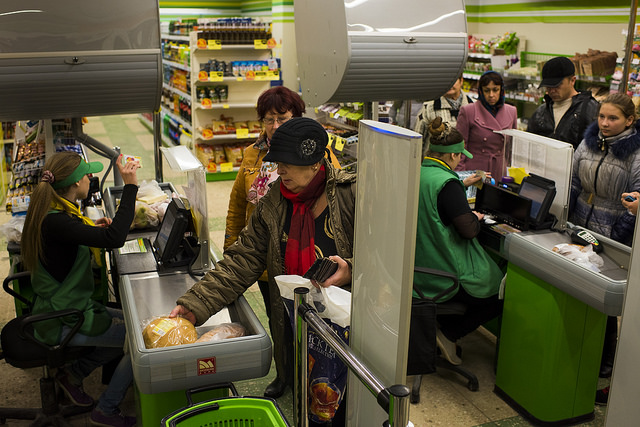 Ukraine made global headlines just over three years ago, when weeks of protests culminated in the Maidan revolution that unseated President Viktor Yanukovych. Russia's subsequent seizure of Crimea and the outbreak of war in the Russian-speaking east caused the country's economy to collapse, plunging many Ukrainians into poverty and hunger.
Ukraine's GDP decreased by 6.6 percent in 2014 and 9.8 percent in 2015, when fighting in the east escalated and devastated the once-rich industrial regions of Donetsk and Luhansk. According to the U.N.'s Food and Agriculture Organization (FAO), Ukraine is now home to one of the most violent conflicts on the planet.
Around 1.5 million Ukrainians suffered from hunger due to the conflict in eastern Ukraine after two years of fighting in 2016, with 300,000 in need of immediate help and food aid. The ongoing war led Ukraine to become the only European country to require assistance from the World Food Programme (WFP), which distributed rations and aid to Ukrainians in the east. The WFP has assisted over one million people in the country since it began operations there in August 2014.
Hunger is also a problem in western and central Ukraine, untouched by the conflict but still deeply affected by the country's economic crisis. Corruption is still seen as a major problem after the 2014 revolution, and protests against the government of President Petro Poroshenko have erupted over concerns of rising poverty and corruption.
While the war has left over 2,500 civilians dead, the conflict has stalled and Ukraine is making progress in reducing poverty since the most violent periods of the war. According to the International Food Policy Research Institute's 2017 Global Hunger Index, Ukraine sharply reduced its rate of hunger over the last several years and was one of the strongest performers after China since 2008.
– Giacomo Tognini
Photo: Flickr
https://borgenproject.org/wp-content/uploads/logo.jpg
0
0
Borgen Project
https://borgenproject.org/wp-content/uploads/logo.jpg
Borgen Project
2017-11-14 01:30:15
2019-11-21 01:43:23
Hunger in Ukraine: Corruption in the West, War in the East