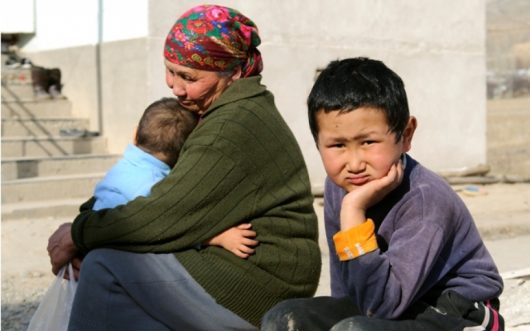 The Central Asian Republic of Kyrgyzstan, also known as Kyrgyz Republic, is a landlocked and a largely mountainous country with a population of about six million. Humanitarian aid to Kyrgyz Republic has helped the country's economy recover from the 2009 financial crisis and the 2010 inter-ethnic clashes.
U.S. and Kyrgyz Republic
In 2010, the United States announced a $32 million assistance plan for humanitarian relief, reconstruction and community stabilization efforts in the violence-plagued regions of both Kyrgyz Republic and Uzbekistan.
Kyrgyz Republic is one of the five republics of Central Asia and is very prone to natural disasters such as landslides, floods, earthquakes, droughts and melting glaciers. These natural disasters disrupt the normal flow of life and cause substantial damage to developmental projects.
European Commission
The European Commission (EC) has assisted people in the aftermath of these natural disasters via various projects. These efforts include improving food security in the wake of the harsh winter climate and providing small-scale support after floods, avalanches and earthquakes.
The EC also manages a disaster risk reduction program called DIPECHO which has funded more than 110 projects at the cost of €47 million (about $58 million dollars). DIPECHO's tenth action plan for Central Asia (2017-2018) has encouraged EC's partners to replicate previous successful community-based disaster risk reduction models to foster more local and national self-sufficiency and development.
Project HOPE
In 2017, aid organization Project HOPE donated $243,000 to medical facilities and non-government organizations. This humanitarian aid to Kyrgyz Republic was used to provide free health services and medical supplies to over 35,000 people. Project HOPE has been active in the Kyrgyz Republic since 2006.
The U.S. State Department noted in 2010 that the U.S. humanitarian aid to the Kyrgyz Republic has improved the country's economic growth, promoted democratic reform by strengthening the civil society and helped the government combat international threats. Basic reforms in education, agriculture, energy and other ongoing priorities have also been instituted.
USAID
The United States Agency for International Development (USAID) has helped the Kyrgyz Republic maintain a parliamentary democratic system even as the country oscillated between two bouts of authoritarianism. Democratic reforms are especially important as Kyrgyz Republic is the only freely elected parliamentary democracy in post-Soviet Central Asia.
USAID works with the regional USAID Mission to Central Asia to propel the New Silk Road initiative which is aimed to strengthen the economic and cultural connections of South and Central Asian people which, in turn, helps propel the stability and prosperity of the region.
Diversification and Humanitarian Aid to Kyrgyz Republic
The World Bank has said that the Kyrgyz Republic needs to diversify its economic activities by increased private sector development and occupational training, especially to the young. Humanitarian aid to Kyrgyz Republic can thus help the government improve its governance at both local and national levels and promote the country's economic and social development.
– Mohammed Khalid
Photo: Google
https://borgenproject.org/wp-content/uploads/logo.jpg
0
0
Borgen Project
https://borgenproject.org/wp-content/uploads/logo.jpg
Borgen Project
2018-03-14 01:30:49
2019-11-28 15:53:54
Humanitarian Aid to Kyrgyz Republic Promotes Development