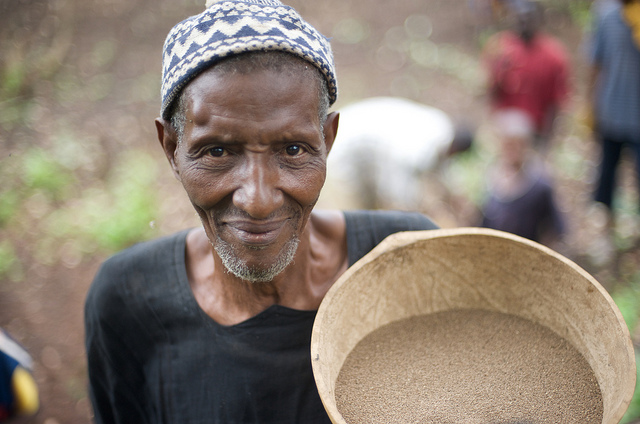 A West African country bordering the North Atlantic Ocean that has been called potentially one of Africa's richest, Guinea is a mineral-rich state with a population that is among the poorest in Africa. Humanitarian aid to Guinea is an important step in improving the livelihoods of Guineans.
Situated between Guinea-Bissau and Sierra Leone, Guinea is home to about a third of the world's bauxite reserves which have not been smelted and refined into aluminum largely owing to the political instability in the country. Chronic underdevelopment has also angered many locals who have, in desperation, disrupted operations at the country's mines to bring attention to their plight.
According to the U.S. State Department's Office of Investment Affairs, Guinea suffers from "persistent corruption and fiscal management." However, the country is not only resource-rich but also filled with economic potentials in the energy and the agricultural sector.
With over four billion tons of untapped high-grade iron ore, abundant rainfall, gold and diamond reserves, off-shore oil reserves and indeterminate amounts of uranium, Guinea has many economic drivers. The country's natural geography also makes it very hospitable to renewable energy sources such as hydroelectric dams and turbines.
In May 2015, the 240 megawatt Kaleta Dam project was built after a $526 million investment by China. Kaleta more than doubled the country's electricity supply and encouraged the government to seek aid for more energy infrastructure, mainly in the solar and hydroelectric sector.
According to USAID, Guinea suffered heavy losses to its economical revenue and outlook in the wake of the Ebola outbreak. Many widespread preventable and treatable diseases, such as malaria, prevail in the country and infant and maternal mortality rates remain very high. Furthermore, the agricultural sector is not able to completely function to provide the much-needed source of income and revenue for the people and the government.
The success of humanitarian aid to Guinea is underlined by USAID's work in the country. In March 2015, USAID provided more than $7 million through the United Nations World Food Programme (WFP) to improve food security and nutrition as a means to combat poverty and hunger in Guinea.
This culminated in WFP making the largest-ever purchase of locally-produced rice, which supported the local agricultural sector and provided children with meals in hundreds of schools across the country. Furthermore, farmers were educated about the business and contracting process, including working with development partners, and were encouraged to establish relationships with banks to obtain credits and rates they could use to sustain their farms.
It has been said that Guinea's entire population of 12 million people is at risk of malaria. Malaria control efforts and prevention policies are underway in the country, but the damage is ongoing. According to the Ministry of Health, most of the hospitalizations, consultations and deaths in Guinea are a result of malaria.
Aid organizations such as Plan International have been working for decades to provide humanitarian aid to Guinea. Plan International improves children's access to health, education and sanitation. This is done by ensuring that sustainable, quality education is provided to all children. Children are afforded access to clean water and sanitation facilities. Furthermore, a safe environment designed to empower children is nurtured.
The International Organization for Migration (IOM) Guinea actively helps vulnerable people and migrants to resettle in other countries by advocating on their behalf and lending support at every step of the resettlement process, including performing medical health assessments on behalf of the resettlement countries. Funding for IOM Guinea is mainly provided by the same governments of resettlement countries, and the international community can and should support the efforts of these countries.
With more humanitarian aid to Guinea, this resource-rich country certainly carries the potential to infuse its wealth of resources into the livelihoods of all Guineans.
– Mohammed Khalid
Photo: Flickr
https://borgenproject.org/wp-content/uploads/logo.jpg
0
0
Borgen Project
https://borgenproject.org/wp-content/uploads/logo.jpg
Borgen Project
2018-02-14 07:30:17
2019-12-09 06:03:20
Humanitarian Aid to Guinea Improves Livelihoods of All Guineans