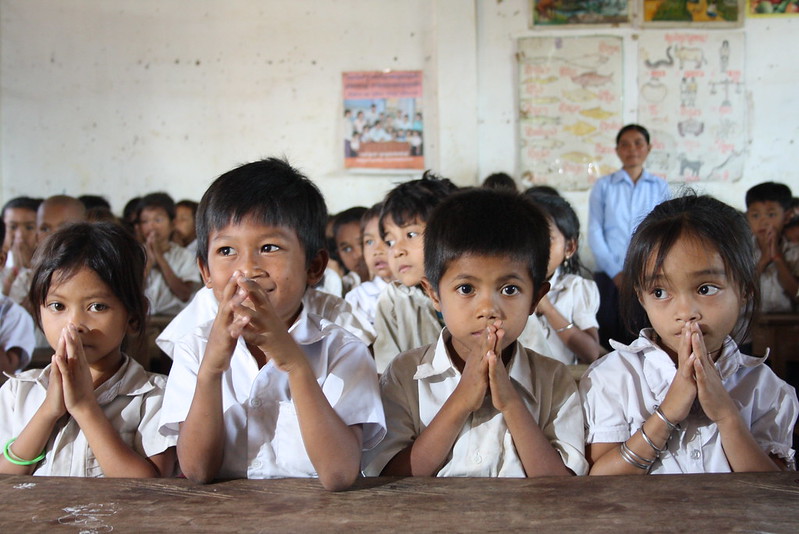 Human trafficking in Cambodia is consistently on the rise. Therefore, the U.S. State Department has classified the nation as a Tier 2 Watch List country for the third year in a row due to its limited efforts to combat trafficking. This ranking means that "the Government of Cambodia does not fully meet the minimum standards for the elimination of trafficking but is making significant efforts to do so." All of Cambodia's 25 provinces are sources of human trafficking and exploitation of women, men and children. According to World Vision, "Cambodia is a source, transit and destination country for men, women and children trafficked into sexual exploitation and forced labor." In 2001, the coalition of 16 organizations, Cambodia against Child Trafficking (Cambodia ACTs), came into existence. Cambodia ACTs serves 22 provinces and municipalities to ensure all Cambodian children live a life free from trafficking, exploitation and abuse.
A Closer Look at Human Trafficking in Cambodia
The Global Slavery Index, a study of the prevalence of modern slavery, ranked Cambodia third out of 167 countries in 2016 in terms of the prevalence of modern slavery in the nation. This is a very poor ranking as the estimated number of people facing modern slavery in Cambodia in 2016 stood at 256,800, which equates to 1.65% of the population.
Why is this? According to the 2016 Global Slavery Index, most human trafficking incidents in Cambodia materialize as forced marriages, trafficking for marriages, forced labor, commercial sexual exploitation forced begging and orphanage tourism. However, the COVID-19 pandemic has also exacerbated human trafficking in Cambodia due to the increasing vulnerability of populations as a consequence of rising poverty levels and widespread unemployment.
According to the Cambodia Socio-Economic Survey for 2019/20, at the newly defined national poverty line of $2.70 per person per day, 18% of the population faces poverty. Without enough money to provide for themselves and their families, Cambodians are at increased risk of trafficking lures and often look to child labor to make ends meet. Sometimes families unknowingly send their children to work in environments that are exploitative and unsafe to make extra money. In the Trafficking in Persons Report for 2018, the U.S. State Department deemed Cambodia one of the most vulnerable countries in terms of human trafficking.
How Cambodia ACTs Helps
Cambodia ACTs offer survivors a safe place to share their stories anonymously as it believes silence only aids in the problem of human trafficking. This is why Cambodia ACTs works tirelessly to raise awareness of human trafficking and educate and aid children who are at risk, all while strengthening Cambodian laws to stop human trafficking.
Cambodia ACTs uses a 4P strategy to combat the trafficking of children: prevention, prosecution, provision and promotion. Cambodia ACTs prevent trafficking through education, awareness-raising activities and workshops in the community. The coalition aids in the prosecution of perpetrators and seeks justice for victims. As for provision, Cambodia ACTs provides for survivors by offering essential care, social services and psychological assistance. Lastly, its promotion activities involve working with government agencies to enact policy change.
How to Aid Survivors
The work of Cambodia ACTs has continued to expand since its start in 2001. However, this is only possible due to the generosity of people who wish to see human trafficking come to an end. Through donations and grants, Cambodia ACTs can continue to fight human trafficking. In 2015, using its prevention strategy, Cambodia ACTs gave "awareness training" to 25,000 Cambodian adults and children. In addition to this, Cambodia ACTs created "6,000 posters, 5,000 leaflets, 4,000 stickers and [four] billboards" to help end human trafficking in Cambodia. To help Cambodia ACTs continue its great mission, even ordinary individuals can play a role by donating or using social media to raise awareness.
– Kaley Anderson
Photo: Flickr
https://borgenproject.org/wp-content/uploads/logo.jpg
0
0
Saiesha
https://borgenproject.org/wp-content/uploads/logo.jpg
Saiesha
2022-05-17 01:30:19
2022-05-06 05:25:40
Addressing Human Trafficking in Cambodia