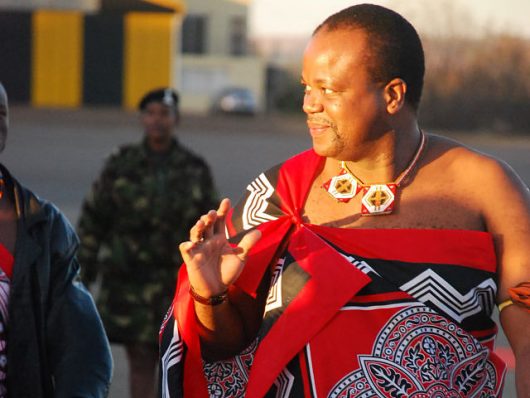 Swaziland is a landlocked country located in Southern Africa, and has been ruled by the absolute monarch, King Mswati III, since 1986. The current state of human rights in Swaziland is lamentable. Although the Constitution of the Kingdom of Swaziland Act – which guarantees basic human rights – took effect in 2005, numerous incidents of human rights violations have been reported, including repression of political dissent and banning of political parties.
In 2016, specific cases of infringement of human rights in Swaziland included restrictions on freedom of assembly. The police took advantage of the Urban Act, which requires protesters to report any plans of a public protest two weeks prior to the event, and cracked down on it by attacking protesters. For example, in February the Swazi police arrested two leaders of the Swaziland National Association of Teachers (SNAT), Mcolisi Ngcamphalala and Mbongwa Dlamini, who were participating in protests.
On September 22, 2016, the Human Rights Watch released a statement that criticized the Swazi government for not implementing the recommendations it accepted during its last Universal Periodic Review (URP) in 2011. These recommendations – which were aimed at ensuring progress in human rights reform in the country – comprised: elimination of all restrictions on fundamental civil and political rights, allowing political freedom through fair and transparent democratic elections and decriminalization of same-sex relations. Despite the apparent absence of democracy in Swaziland, the king has recently carried out a deceptive campaign to convince his citizens that their country is a democratic kingdom.
The future of human rights in Swaziland is unclear. However, the recent performance by the country's High Court is notable. In September 2016, the court declared the Suppression of Terrorism Act, which had been used by the government to ban opposition to King Mswati's rule, as unconstitutional. If similar political decisions are made in the future, it would mean more progress for human rights in Swaziland.
– Minh Joo Yi
Photo: Google
https://borgenproject.org/wp-content/uploads/logo.jpg
0
0
Amy
https://borgenproject.org/wp-content/uploads/logo.jpg
Amy
2017-08-27 01:30:32
2020-06-24 11:04:51
Human Rights in Swaziland