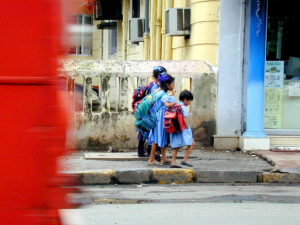 While it can often feel challenging to raise awareness and take action in the fight against poverty, a group of street children across northern India is proving that being proactive can result in progress and change. These children are taking their fates into their own hands and fighting for the alleviation of child poverty in India by telling and spreading their own stories across the country.
Balaknama is a monthly newspaper run by a team of 40 street children spread across seven districts in northern India. Apart from the advisor, editor, sub-editor and seven reporters who are in charge of writing, editing and printing, there are 30 reporters, or Batumi, who find leads and pitch stories. However, they cannot read or write, and many are familiar with homelessness. The stories focus on the lives of India's poorest, with the aim of garnering enough public attention to compel the Indian government into taking action.
Balaknama's Purpose
The eight-page newspaper presents one of the only openings into the realities of Delhi's 80,000 street children. From its conception almost 20 years ago, Balaknama's purpose has been to highlight the injustices that street and working children experience across India and the world. It says of its purpose, "When children did not find space among adults, they decided to pen down their issues and glories, [in] an attempt to change people's perception and ensur[e] identity, dignity and participation of street children." The newspaper covers a range of topics pertinent to child poverty. These topics include child labor, street children's homelessness and malnutrition.
Run by current and former working children, Balaknama gives its contributors the chance to improve their lives through their own agency. Many who have worked for the newspaper have gone on to attend school and work for Childhood Enhancement through Training and Action (CHETNA), the NGO that helped make Balaknama possible. This helps bring more Indian children out of poverty.
Balaknama's Long History
Balaknama has been running since 2003. In May 2002, CHETNA organized a leadership-building workshop that attracted 35 street and working children. During the workshop, the organization realized that child poverty in India was hugely under-researched. As a result, it decided to take the matter of educating the Indian public into its own hands.
These children then went on to found their own organization, Badhte Kadam, which translates into "Stepping Forward." The children of Badhte Kadam published the first edition of Balaknama in September 2003. They published in Hindi on a quarterly basis until 2014, from which point onward it became a monthly publication. Today, while Balaknama continues to be printed in Hindi and English and is preparing for its 20th anniversary, CHETNA continues to hold weekly support group meetings, allowing street and working children in the area to voice their troubles and concerns.
The Paper's Impact
Balaknama has been a huge springboard for many talented and ambitious children to fight for greater attention and care to be given to child poverty in India. Balaknama's current editor, 18-year-old Kishan Rathore, was able to live in a shared house and begin proper studies with the help of a stipend from CHETNA, which also contributes to the required funds that keep the newspaper operating. Another editor, Shambhu Kumar, was able to study for a psychology degree at Indira Gandhi National Open University in Delhi after his experience with Balaknama and CHETNA opened new doors for him. He said, "I have seen my life transform – from getting beaten on the streets to living a life of dignity through education."
Balaknama's contributors have also gone on to raise awareness for child poverty in India at the international level. In 2016, Chandni, then a journalist for the newspaper, gave a TED talk about the importance of child journalists and the challenges they face every day. Chandni also appeared in a report for the Hindustan Times where she said, "Children are the future of our country. If [the] Government sincerely wants to develop our country, [it] need[s] to focus on children first." She said, "I want to provide education to the children like me who can't go to school on their own, those who are still stuck somewhere like me and dream of better education. I want to provide them with that education. This is my only dream now."
Looking Ahead
Apart from raising awareness for child poverty in India, Balaknama has become a site of opportunity for children who contribute to its pages. One day, Badhte Kadam hopes, children will have their rights protected so that they will no longer work on the streets of Delhi.
– Tiffany Chan
Photo: Flickr
https://borgenproject.org/wp-content/uploads/logo.jpg
0
0
Jennifer Philipp
https://borgenproject.org/wp-content/uploads/logo.jpg
Jennifer Philipp
2023-06-02 01:30:46
2023-05-29 03:17:19
Newspaper Run by Street Children Is Fighting Child Poverty in India