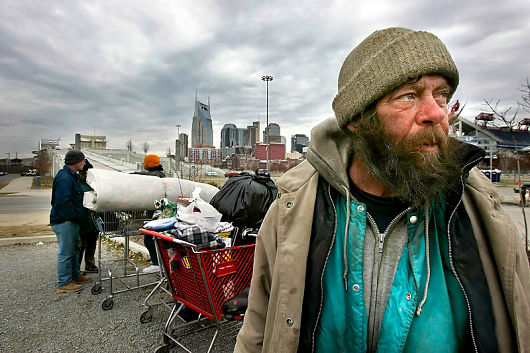 The Huffington Post has started exploring the lives of America's poor in a novel way. Rather than reporting on them, it asks the poor themselves to write about their experiences. All their stories are consolidated under a page entitled "All Work and No Pay: False Promises of the American Economy" on the Huffington Post's website. While many are from people who live under the poverty line, others are from those who earn well above it–and still struggle to make ends meet. Here are a couple of common themes in these stories:
You can work incredibly long hours for almost no money but still look for more opportunities for extra hours. You are almost always exhausted, and leisure time becomes impossible.
Saving and planning for the long-term becomes very hard when you are living paycheck to paycheck. In addition, there's a nagging fear of losing everything you have anyway. Disaster, often in the form of a simple unaffordable car crash, can be just around the corner.
The struggle of the "in-betweeners." You work multiple jobs to make ends meet, but by doing so, earn too much to qualify for government assistance. This creates multiple problems. For instance, you are not eligible for day-care assistance for your children but are yourself so busy that it is difficult to look after them.
It can cost a lot of money just to keep your job or try and find a new one. Transportation and car maintenance costs are often unaffordable. A better job with longer-term prospects can be out of reach because it is simply too far away.
Even if you have high qualifications and lower your standards drastically by agreeing to work for minimum wage, it is still very difficult to find work. Many employers shun "overqualified" or older people, believing they will be more demanding.
You make shortsighted financial and health decisions because having small pleasures from time to time makes life worth living. For instance, you might pick up smoking to relieve your stress, while choosing to ignore its long-term effects.
Investing in your future, such as going to school, can make your life more miserable. It adds to your stress and depression and makes it harder to pay your bills. Crippling student debt has driven people towards a lifetime of debt.
It is difficult to socialize with friends because you are too busy and do not want to spend extra money.
You often avoid basic medical treatments, like going to the dentist. Even when you are experiencing something more serious, the tendency is to avoid going to the doctor for as long as possible.
Sometimes you just go hungry. Especially if you have kids and need to feed them instead.
Having kids is something that needs to be a decision that is very carefully examined. Partners often realize that they cannot afford children and give up the dream of having them.
– Radhika Singh
Sources: Huffington Post 1, Huffington Post 2
Photo: Epic Times
https://borgenproject.org/wp-content/uploads/logo.jpg
0
0
Borgen Project
https://borgenproject.org/wp-content/uploads/logo.jpg
Borgen Project
2015-07-27 14:08:07
2020-07-10 16:16:06
Stories from America's Poor