In 2017, nearly 18 million people were displaced due to natural disasters. This was roughly 7 million more than there were people displaced by violence or conflict. This number is also expected to grow to 143 million people by 2050 if actions are not taken against climate change.
All of these people represent climate refugees. They represent a growing phenomenon that lacks a formal definition.
There are several nongovernmental organizations that are working to help these people. In the text below, top organizations helping climate refugees are presented.
Climate Refugees
Climate Refugees is an organization that aims to raise awareness about climate refugees through field reports and social media. With the information that they have gathered, Climate Refugees meets with governments and the United Nations to prioritize policies that protect climate refugees.
In 2017, they released their first field report on the connection between climate change and displacement in the Lake Chad Basin.
The Environmental Justice Foundation
The Environmental Justice Foundation (EJF) is one of the many organizations helping climate refugees. It works to help create a more sustainable world through film and photography. The EJF started in 2000 and is based in eight countries around the world.
The EJF also provides activist training that helps the organization research and document human rights abuses. The EJF directs it work towards climate refugees in several ways and one of the most prominent is through video.
It released one video titled "Falling Through the Cracks," that explains what climate refugees are, why they matter and how to help solve the growing problem of climate refugees.
The EJF also released an exhibition on climate refugees and their stories. Both of these projects aim to humanize the effects of climate change.
United Nations High Commissioner for Refugees
Founded in 1950, the United Nations High Commissioner for Refugees (UNHCR) works to protect and advocate for refugees around the world. The UNHCR works in 128 countries around the world and has helped 50 million refugees find a new life since its creation.
The UNHCR started its work with climate change and disaster displacement in the 1990s but expanded its scope in 2000s due to the growing need of working with climate refugees.
The organization's work is broken down into four categories: operational practices, legal development, policy coherence and research.
Since 1999 the UNHCR was involved in 43 disasters that led to the displacement of people. The range of what UNHCR provided depended on the country and disaster.
International Organization for Migration
The International Organization for Migration (IOM) is an intergovernmental organization that works to ensure a process of migration that recognizes human rights around the world.
Since 1998, IOM worked on nearly 1,000 projects responding to migration due to environmental disasters. In 2015, the IOM founded the Migration, Environment and Climate Change Division (MECC), that specifically focuses on the connection between climate change and displacement.
MECC works in several countries around the world including Cameroon, Chad, Niger and Nigeria. In all of these countries, MECC is working on research that tracks climate-related migration.
This research will help the IOM support policy development, in order to directly address the needs of climate refugees.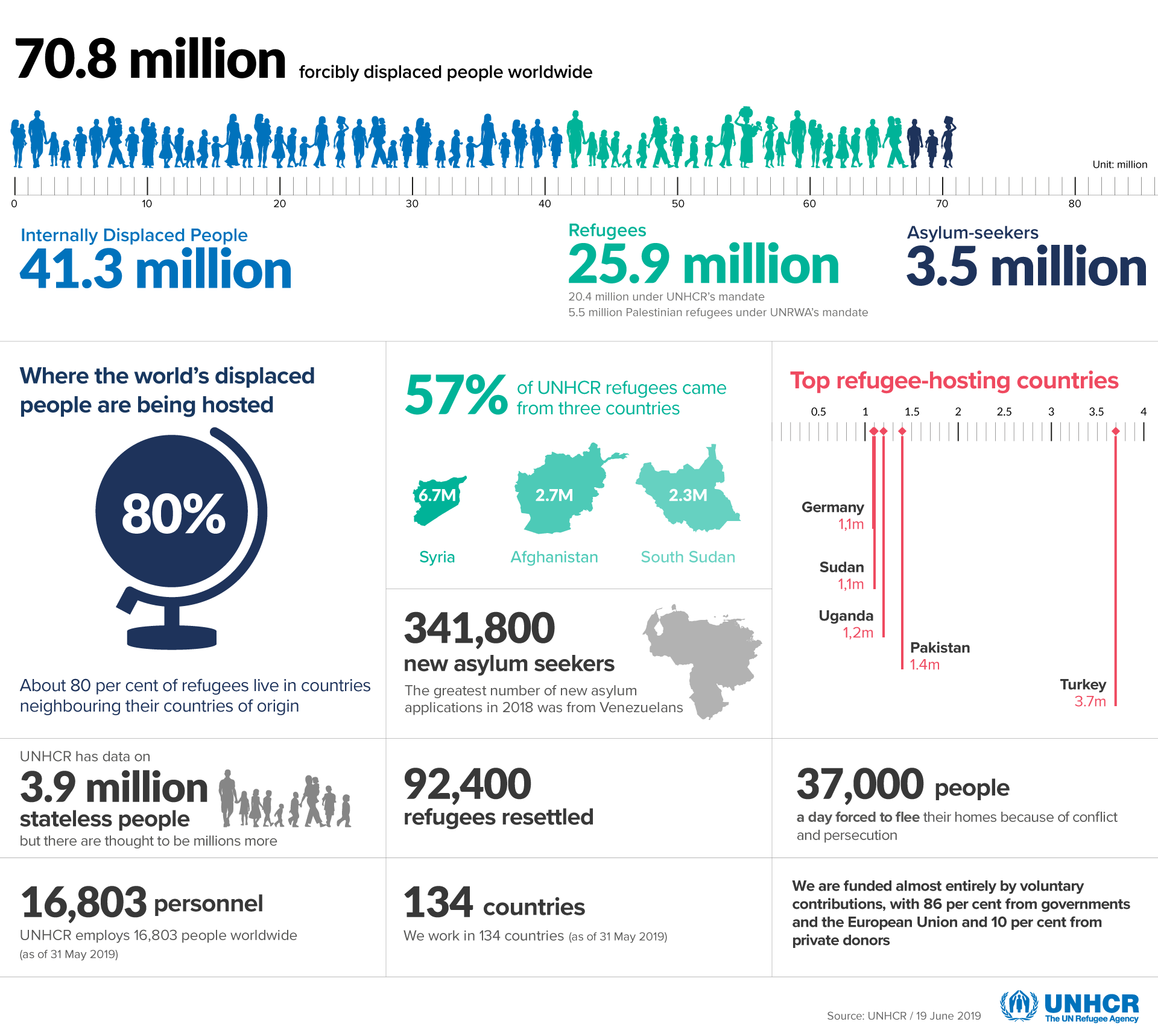 Refugees International
Refugees International (RI) is an independent organization that works to advocate for refugees through reports and analyzes. The organization analyses work done by other nongovernmental organizations and governments.
It works in 14 countries and climate displacement is one of the two issues that RI dedicates itself to. One of the main efforts that RI does to help climate refugees is conducting fieldwork every year. The data that is collected from this work is then used to lobby policymakers and aid agencies that help climate refugees.
While the climate refugee still lack a formal definition and while their number is expected to expand in the next 40 years, there are still several organizations helping climate refugees and ensuring that their voices and needs are heard.
Among others, the most important organizations that tackle this issue are Climate Refugees, the Environmental Justice Foundation, the United Nations High Commissioner for Refugees, International Organization for Migration and Refugees International.
– Drew Garbe
Photo: Flickr
https://borgenproject.org/wp-content/uploads/logo.jpg
0
0
Kim Thelwell
https://borgenproject.org/wp-content/uploads/logo.jpg
Kim Thelwell
2018-12-25 13:30:32
2019-06-24 12:50:30
Organizations Helping Climate Refugees